Thomas Vanek's verbal commitment to the University of Minnesota surprised many people in the United States Hockey League (USHL). Tony Gasparini, Vanek's head coach with the Sioux Falls Stampede, was not among them.
"He's got his head on his shoulders. I think he feels his needs may be best suited [by college]," said Gasparini. "He needs to improve on becoming a complete hockey player, and I think he's excited for the college experience."
Even the casual hockey fan can easily spot Vanek's offensive talents. You don't even have to see him on the ice to see those. His 17 goals and 17 assists in 15 USHL games so far this season speak for themselves. Coaches and scouts, however, know there is more to hockey than good offensive statistics.
The first two things any hockey scout will look for is size and speed. Vanek has both of these in spades. His 6-foot-2-inch and 205-pound frame — at just 17-years old — make him appear like a man amongst boys in the USHL at times.
The good speed is present, but, more importantly, deceptive. On a recent evening, he stepped around no fewer than three different defensemen, all of whom appeared to have angled him off until he was behind them.
In addition to those factors, Vanek is an outstanding puck handler. Watching him work in the offensive zone, you can't help but compare him to a young Keith Tkachuk. He has a great combination of power and soft touch passing, with a shot that occasionally hits either the back boards or the net before a goaltender has a chance to react. With that combination, it's easy to see why the NHL scouts have such an interest in him.
Rounding out Vanek's offensive prowess are great vision and hand-eye coordination. If there is a lane for either the puck or his body, you can be sure it will be hit. Throw in the ability to win almost every one-on-one battle against the boards, and you have the quintessential power forward.
With all that offensive skill, you might wonder why Vanek would choose to go to college at all. The answer lies on the other side of the red line.
While there is no doubt his offensive game is ready for professional hockey, Vanek is still in the process of fully developing his defensive game.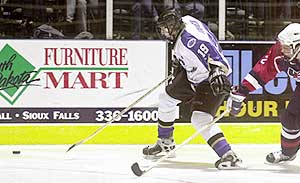 Somewhat jokingly, Gasparini said, "In his mind, the best defense is offense, and I tend to agree with him sometimes, however, he needs to become a complete hockey player."
There are times when Vanek seems a bit lethargic in the defensive zone, but they are largely limited to 5-on-5 situations. When killing penalties, his ability to muscle another player off the puck re-emerge on the defensive side of the ice.
Vanek will have an immediate impact when he joins the Golden Gophers next season. The extent of his impact, however, will probably be determined by how much he progresses in the goals set for him by Gasparini this season.
"At times he shows flashes of being an unbelievable talent, but it's all on the offensive end. We want to work on developing a complete game for Thomas," said Gasparini.
If he succeeds, the Gophers may not get to keep Vanek's contributions for all four years of eligibility, but they will be a force as long as they do keep him. After that, they will have to be content with one more graduate of their program on the way to the National Hockey League.
Not at all a bad consolation.
On the side
1. Thomas Vanek's Stampede teammate D Mike Vannelli (Mendota Heights, Minn.) will join him at Minnesota next season.
2. Sioux Falls Stampede head coach Tony Gasparini's father is USHL commissioner — and former North Dakota coach — Gino Gasparini. His younger brother, Joe, is a player for the USHL's Cedar Rapids Rough Riders.
3. The Sioux Falls Stampede currently lead the USHL with eight Division I college commitments this season.
4. Thomas Vanek won two of the first four USHL Offensive Player of the Week awards this season.
5. Vanek (Graz, Austria) would join Grant Potulny (Grand Forks, N.D.) as the only player on the Minnesota squad not from the state of Minnesota, and would be the only player from outside the United States.