Stop Me If You've Heard This One Before
Say, have you heard the one about the league where any team could beat any team on any night? You know the one. A Spartan, a Wildcat, a Nanook, and a Bulldog walk into a rink…
For years, CCHA fans have listened to the rhetoric about parity, that buzzword thrown around by coaches to explain why a "lower-tier" team can occasionally come up and bite an "upper-tier" team right in the points.
At the end of the 1998-99 season, Michigan State head coach Ron Mason put into words what concerned CCHA coaches most about the postseason NCAA selection process — and what most CCHA coaches feared that other conferences didn't understand — when he talked about parity and strength of conference schedule after the CCHA championship at Joe Louis Arena.
"Our third-, fourth-, fifth-, and sixth-place teams in the league — their RPIs are never very good, because we're beating up on each other," said Mason.
While three consecutive years of decidedly mediocre NCAA postseason play by CCHA teams has quieted the parity party platform, the league's improved nonconference record for the 2000-01 season and the early-season going have resurrected this charming chestnut yet again.
"The reason why there's real parity this year is because Michigan State and Michigan aren't as dominant early on," says Mason this season. "When the top programs are rebuilding, it levels the playing field a bit."
So, Michigan and Michigan State are apparently having somewhat of a down year, but does that mean that the CCHA is a league of — dare we say it — real parity?
The league's current top team, Northern Michigan (6-1-1, 6-1-1 CCHA), has played a schedule that has been arguably in its favor. Three points at home against Bowling Green, a mid-level team in recent years, two road wins against the allegedly rebuilding Wolverines, a split with unproven Notre Dame, and back-to-back spankings of the team that will probably remain in the cellar, Lake Superior State.
Second-place Michigan State (6-2-1, 5-2-1 CCHA) tied with fellow rebuilders, Michigan, lost twice to the decidedly top-tier Nebraska-Omaha Mavericks, and beat Lake State, Ferris State, Bowling Green, and UMass-Amherst.
Third in the early going is Miami (6-3-1, 4-1-1 CCHA), whose conference wins include two over Ferris State, one over Western (will the Broncos play hard the entire season, or fold at the end like last year?), and one over Bowling Green. The league loss was to BG and the tie to Western. In nonconference play, the RedHawks split with Merrimack and Clarkson.
UNO and OSU split. UNO swept MSU. WMU split with UAF as well as UNO, and Alaska Fairbanks (6-4-0, 2-4-0 CCHA) is in 11th place in the league standings.
Hmmm. My Merriam-Webster's defines parity as "the quality or state of being equal or equivalent."
Can't "being equal" mean "being similarly bad" as well as "being similarly good," or "similarly mediocre?"
The CCHA is 17-9-3 against nonconference opponents, a statistic that might be considered a good measure of relative strength among Division I programs — if those nonconference opponents included top teams from other conferences. So Wayne State is probably the top program in College Hockey America, and the Warriors have been beaten four times by CCHA teams.
But the list of below-.500 opponents abounds: Colgate, Air Force, Alaska-Anchorage, St. Lawrence, even beleagured Providence. With few exceptions, it's safe to say that so far this season, teams in the CCHA have played a not-completely-challenging nonconference schedule.
Sure, the CCHA seems capable of dominating the middle and lower teams from other leagues (with the exception of the WCHA, where, apparently, the last-place team can visit the raucous barn of one of the CCHA's best squads and not only defeat the rebuilding Wolverines, but the gracious host as well), but does that give the league any right to discuss parity as though such a commodity were a good thing?
Northern Michigan head coach Rick Comley, who treads lightly on this subject because of his "old-guy-new-guy" status in the league, says, "I see the CCHA kind of going through the same period the WCHA went through years ago.
"When we first went into the WCHA, it was Minnesota [and] Wisconsin, and did anybody think anybody could ever catch them? And then the teams that were last — Denver, Colorado — have become two of the better teams. Sure, Minnesota's good this year, but you just don't know year to year. That old dominance of the same two teams was taken away.
"I haven't seen it here yet. Since we were in it [the CCHA] and since we've come back, the same one-two has been the same one-two."
Comley says that while "Miami snuck in there, Ohio State snuck in there," and his own Wildcats have been strong a couple of times, and although Michigan and Michigan State have dominated the league to the exclusion of nearly all others for as far back as the eye can see, he sees that "the depth of the league is going lower and lower in the teams," and adds, "[when] that happens the better it is for everybody."
It's a tough argument to counter. Perhaps, just perhaps, there's the possibility of real competitive parity within the league this season, but whether that translates into success beyond the Realm is anyone's guess.
The Not-Yet-Ready-for-Household-Name-Status Players
A simple glance at scoring statistics through mid-November tells a little story about the notion of parity within the CCHA.
Ferris State's Rob Collins (7-12-19) leads the league in overall points, followed by Nebraska-Omaha's Andrew Wong (5-11-16), Miami's Jason Deskins (3-13-16), UNO's Jeff Hoggan (8-7-15), UNO's Aaron Smith (4-10-14), Miami's Greg Hogeboom (8-6-14), Northern Michigan's Chad Theuer (5-7-12), Alaska Fairbanks's Daniel Carriere (3-9-12), and Notre Dame's Connor Dunlop (2-10-12).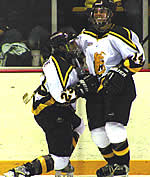 That's the league's top nine scorers. Get the picture?
Not a Wolverine among them. Nor a Spartan. Nor, for that matter, a first-round draft pick Buckeye.
There are, however, three Mavericks crowding the top, and a couple of RedHawks.
The first Spartan to make an appearance is Jim Slater, who's tied with a bunch of other CCHA players who have 11 points each, including the first Wolverine to show himself, Mike Cammalleri.
A quick glance through the scoring stats will also tell you something unsettling about the CCHA: no one is scoring goals. Of the top nine scorers, only Hoggan and Hogeboom have more goals than assists (eight each), and they're tied in goal production with FSU's Chris Kunitz (8-3-11). No one has hit double digits in goal production in the CCHA.
In the WCHA, a league that has seen a comparable number of overall and league games, three players — Minnesota's Jeff Taffe, and St. Cloud's Matt Hendricks and Mike Doyle — have 10 goals each.
It is worth mentioning, however, that one CCHA player, Spartan Adam Hall, has earned a hat trick.
Parity in the CCHA? Perhaps. Maybe. Catch me in ten weeks.
Boys Will Be Boys
In a league known for its, um, physical play, some players are more, um, adept than others.
Leading the CCHA in penalties so far this season is Notre Dame's Rob Globke, whose 12 calls have earned him 43 minutes.
Other top offenders include FSU's Chad McIver (10-31), OSU's Dave Steckel (9-29), UAF's Aaron Voros (8-27), Notre Dame's Neil Komadoski (12-27), and OSU's Mike McCormick (9-26).
Then there's my personal favorite, Michigan's Mike Komisarek, who simply prefers to earn his minutes the old-fashioned way, two at a time (14-28).
Games of the Week
Another No. six comes to town. Will the Buckeyes be prepared?
No. 6 Northern Michigan (6-1-1, 6-1-1 CCHA) at Ohio State (5-2-1, 3-2-1 CCHA)
Friday 7:35 p.m., Saturday 7:05 p.m., Value City Arena, Columbus, Ohio
It's Wildcat Craig Kowalski (1.72 GAA, .932 SV%) versus Buckeye Mike Betz (2.24 GAA, .915 SV%), two recent CCHA Defensive Players of the Week, and goaltenders who squared off and matched well early last season.
It's also Northern Michigan's first trip to Columbus since one infamous day in November, 1998, a 3-1 OSU victory in the old Ice Rink, or maybe it was 4-2. My recall of that game is rather fuzzy.
And the Wildcats are the only CCHA team that hasn't yet played in the Schottenstein Center.
"I've been looking forward to seeing it," says head coach Rick Comley. "There are only a few buildings like this. My hope would be that a building like this could serve more purpose than just Ohio State. I certainly can see our [the CCHA] championship being considered very seriously here, and the NCAA championship.
"I think it's great. I go way back, and I remember the Jerry Welsh days…and to see it now from where it was, I think that's just great. Now, obviously, the challenge is to put people in the building on a regular basis. You don't just put it up and they come, no matter what the old saying is. It takes time. Hopefully, it's going to work."
Comley's counterpart, OSU head coach John Markell, is simply happy to be playing the Wildcats at home. The 2001-02 season marks the first time Ohio State's 39-year history during which the Buckeyes do not have to make the long bus trip to Michigan's Upper Peninsula to play either Northern Michigan or Lake Superior State.
"I think if you want to compete in the upper echelon of this league — or anywhere — you have to beat teams like this," says Markell, "and finally we get them here at home after three long years.
"I don't know how they're going to react coming into this building the first night. I doubt that will be in awe or anything like that. They've never played here in our new rink, and I hope it's not a situation where they enjoy themselves."
You can laugh. Markell did.
Comley says that Northern Michigan owes its early success to a number of factors, but cautions that the season is young. "I think we've played pretty well. We haven't had any one particular player blow the roof off. We've had some good goaltending, and I think he'll be good pretty much every night.
"I think the schedule's been favorable, as far as who we've played and where we've played. Eight games is not enough to really measure yourself against everybody in the league. It's great to be six-one- and-one, but I wouldn't make too much of it."
The Wildcats arrive in Columbus after beating up on the Lakers, winning 5-0 in Sault Ste. Marie Nov. 9, and 9-1 at home the following night. Comley says that he and his coaching staff have reminded their players that Columbus is not Sault Ste. Marie.
"Other than Michigan, it's [Ohio State] the second team that was picked ahead of us that we've played," says Comley. "I tell the guys, you have to see how you're going to do against those people who are predicted to be better than you are.
"They have very good talent. Two number-one draft picks who are outstanding feature kids. The team is very well put together, very well coached — good speed, good talent — so I think it's going to be a real good match up."
Ohio State's two top-round draft picks, R.J. Umberger (4-5-9) and Dave Steckel (1-4-5) may be outstanding players, but Markell wasn't thrilled with either of them last week, as each took a couple of unnecessary penalties in OSU's 3-2 win over Wayne State Nov. 10.
Umberger's second penalty of the night — and just his third of the season — was particularly entertaining. In the third period at the end of a shift, Umberger headed toward the OSU bench, spun and roughed a Wayne State player in open ice, in full sight of the ref.
"Right now it's a couple of guys getting frustrated, and they can't do that," says Markell. "That's putting yourself above the team.
"Now, do I reprimand them and hurt the whole team, or do I try to teach them? I prefer to teach. If it continues to happen, I'll have to do something about it, but I hope they can grow from it. It hasn't cost us yet, but with a 33 percent power play [against us], it will cost us."
Northern Michigan's power play is indeed operating at 33.3 percent, the best in the league. The Wildcats are also leading the league in goals per game (4.12) and goals allowed per game (1.75). Chad Theuer (5-7-12) leads the team in scoring, followed by Chris Gobert (3-8-11) and Bryce Cockburn (3-7-10).
"I think that team [NMU] can score a lot of goals," says Markell, "and…obviously we'd better stay out of the box. We're well aware of what their strengths and weaknesses — I don't think they have many weaknesses, so we have to prepare accordingly here and hopefully do our best."
The best the Buckeyes can bring includes Scott May (4-4-7), who centers a tough second line with Daymen Bencharski (2-4-6) and Miguel Lafleche (2-4-6), a line so good that I'll have to name it soon.
Wildcat fans should also be on the lookout for Mike McCormick (2-5-7), who attributes his fast start in his senior year to a final opportunity to — and this is a direct quote — "kick the 'Cat."
Ohio State would like to break its tradition, dating back to last season, of playing big Friday night and letting down Saturday. Markell says he's not sure why his players don't play 120 minutes of hockey every weekend.
"Maybe I have to take them away and sequester them in a hotel somewhere," Markell says. "The game is the same day as a football game. Unfortunately, that's the way it is for Ohio State. We're very happy for the football team, but it might take a little bit away from our focus on what we have to get done. We've addressed that, and hopefully the guys will understand that."
Northern Michigan leads this series 21-19-3, but the Buckeyes are 12- 5-1 in Columbus against NMU.
OSU has improved from game to game, weekend to weekend, moving up in the league in goals per game (3.50, fifth), goals allowed (2.50, sixth), power play percentage (.194, fourth), penalty kill (.875, third), and — believe it or not — penalty minutes per game (21.12, ninth, up from 11th).
"I think we're capable of playing with anybody. I think we can compete against them. They command the respect and get the respect from our players," says Markell. "I think we're at their level; it's just a matter of whether we bring it."
Comley says that although the Wildcats are perceived to work hard every shift, he sees things a bit differently. "It's funny. Everybody says that, and my concern is that we don't work hard enough."
Markell just wants two good games. "I'm confident that we'll come in with a good effort, but in this league you can work hard and not win."
Ah. Parity.
Picks: The 'Cats and Bucks split in Marquette during the first weekend of regular-season play last year, with OSU winning the first night, NMU the second. Old habits die hard. OSU 3-2, NMU 3-2
Grudge of the Week
This one's personal.
When the Schottenstein Center opened, I was grateful for more than just no longer having to leave the rink to go to the bathroom, and the feeling of my blood circulating through my fingers in a heated press box.
The Schott has spoiled me in more ways than one. There's the distance between the ice surface and the press box, for example.
I wonder where that puck ended up.