Northeastern's Keni Gibson hopes to have better memories of playing the 2002 Beanpot in the FleetCenter than his father holds of playing in the Boston Garden 37 years ago.
That shouldn't be difficult. Keni's dad left a couple teeth on the Garden ice.
Dennis Gibson, then 18, was the top goaltender for the Oshawa Generals, a junior team that had three future Boston Bruins in the lineup: Wayne Cashman, Nick Beverly and a 15-year-old defenseman named Bobby Orr. Both the Generals and the [nl]Niagara Falls Flyers were Bruins affiliates in those days, which preceded the amateur draft, so the two junior teams were brought into town once a year to show fans the up-and-coming stars of tomorrow.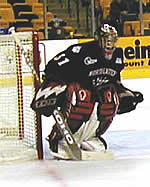 In 1964, Oshawa and [nl]Niagara Falls faced off in a December afternoon contest, sat down for a meal, and then watched the Bruins take on the New York Rangers that evening.
"It was a big thing for a bunch of young lads [like us]," says Dennis Gibson. "I was from Thunder Bay, so just to go to Boston was a big thing."
The big thing in the fans' eyes was number four even though he was four or five years younger than other future NHLers in the two lineups.
"Bobby Orr was the big drawing card," says Gibson. "At the age of 14, the first year I played with him, he was already pretty well known. When we played in the Boston Garden, he was probably 15.
"Even at his young age, he was probably the best defenseman I had playing in front of me. He was playing in a league [where] the average age was probably between 18 and 20. There weren't too many 15-year-olds.
"But when he was on the ice, he was usually the outstanding player."
As would be the case during 10 magical years in Boston from 1966-76, Orr was able to rush the puck without getting caught up ice time after time.
"He had the gift that he could rush and be back and guard his end even after making the rush," says Gibson. "He was amazing, skating-wise, and he just had that sixth sense or whatever it was. He knew when to go and if the other team rushed back, nine times out of 10 he'd be the first defender back.
"It was a long time ago, but I don't ever remember him getting caught, not being back after rushing. He was definitely a good skater, but he just had that instinct of where to be and when to be there. He read the ice really well."
Unfortunately, not even Orr could protect Gibson from the misfortune that befell him that evening at the Garden.
"Bill Goldsworthy had a breakaway," says Gibson. "I stopped him. The puck was kind of loose and I covered it up. As I covered it up, he went to hit it and he caught me in the face with the stick.
"Of course, we didn't have face masks then so I lost two teeth. [Masks] were just coming in then. Jacques Plante had worn one after getting injured. A lot of teams' goalies used them in practice.
"I think in my second year about halfway through I started wearing one. [But by that time], my teeth were gone. I lost a couple others, too. That was part of the game then."
Oshawa would go on to win, 3-0, so Dennis Gibson would share a Garden shutout with his backup, Ian Young. Young, a 15-year-old compared to Bernie Parent in terms of his potential, would in subsequent years suffer an injury that made losing teeth seem trivial by comparison. He caught a puck flush in the eye and lost sight in it completely, ending a promising career. Such was the life of a goaltender in the days before masks became standard equipment.
Gibson went on to tend goal for the Oklahoma Blazers of the Central Pro League. Not only has Keni followed in his netminding footsteps, but also older brother Jodi, who played in the USHL for two years. However, this lineage in the crease has not been by design.
"I tried to talk him out of playing goal," says the father with a laugh. "I told him to try forward and defense and if he still wanted to play goal then he could go back to it. He tried both and he was actually a pretty good defenseman, but one day he came home with a pair of pads he'd bought with the money he'd saved from his paper route. And that was it.
"He's always been determined. Since he was 12 or 13, he's said that he wanted to play hockey and he wanted to go to school in the States on a hockey scholarship."
Keni worked with goaltender coach Tom Dempsey in Ottawa, a mentor to former Husky standout Marc Robitaille. The connection helped land him on Huntington Avenue.
"Now he loves where he's at," says Dennis Gibson. "He loves the game. He loves the school life. What more could you ask for when you're 20 years old?"
Despite the differences of 37 years, the parallels between the elder Gibson's Boston experience and Keni's are not lost on the freshman.
"When I was taping my stick, looking at the ice, I thought about my dad playing at the Garden and me playing here at the FleetCenter," he says. "It was really exciting."
Aside from the mere presence on Beantown's biggest hockey stage, Keni also shares his father's experience of playing behind a gifted offensive defenseman. While it would be sacrilege to compare any collegiate blueliner to Bobby Orr, Northeastern's Jim Fahey does rank as the nation's top-scoring defenseman.
"He can put the puck in the net," says Keni. "Our power play is pretty much him skating the puck all the way down the ice to the other end. It works pretty good for us.
"And [yet] he's the first one back. And on a penalty kill, Jimmy will be blocking shots and blocking passes."
On this first Monday night of February, Keni Gibson also followed his father's precedent of heading home a winner while others got the headlines. Overshadowed by Mike Ryan's hat trick and Jason Guerriero's clever playmaking that led to three assists, Gibson made the requisite stops when it was still a tight game en route to a workmanlike 5-2 win.
"My teammates played great defense," he says. "I didn't have to make too many big saves or anything. A couple of them I wouldn't mind getting back, but the team just played exceptionally well and made my life easy."
Presumably a lot easier than getting a couple teeth knocked out like his father had.
"Losing two teeth," says Dennis Gibson with a laugh. "That's my memory of the Boston Garden."
Even so, the elder had found a silver lining in the dental cloud that evening.
"After our game, we went up to the press room or whatever it was and they put on a meal for us there," he says. "I remember the clam chowder was out of this world. Even with a sore mouth."
The son, however, will be shooting for more than out-of-this-world clam chowder next Monday. Keni Gibson will be looking to break a Northeastern drought that has lasted since 1988.
Gibson's desire?
One Beanpot championship, hold the chowder.