Throughout the week, it builds to a crescendo.
It starts as soon as the previous weekend ends. What kind of fish to buy? Where to buy it? It all needs to be planned in advance. Then the game-day preparations: How to transport the fish? How are we "sneaking" it in? When are we getting there?
Finally, it's time to get to the arena, where there's a little more buzz than usual. Where everyone wants to make sure they are in their seat early this time.
And then it happens — a moment only four thousand carnelian-red-clad crazies and Douglas Adams could love. The opponent is introduced, and they are met rudely with flying fish. An unsophisticated act of vengeance from this otherwise sophisticated crowd. But this is Harvard — it deserves it. Duty calls.
And when it's over, the ice resembles The Spectrum during a Flyers-Bruins game of the '70s: blood and guts. Fish guts. No matter how much the upperclassmen try to warn them, the Harvard freshmen still look on in awe of the splattered fish guts that streak the ice.
Yes, this is a rivalry that really stinks. And, no, not because the not-ready-for-prime-time Harvard Crimson were thoroughly outclassed and humiliated by the Big Red this time around — although the stench was quite apropos for Harvard's performance in Friday night's affair, the 111th in this storied series.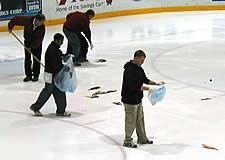 No, it's those darned fish. Whole fish. White fish, bass, whatever they are. And some squid. And perhaps some fishsticks. And gummi fish are always popular. Once a year, when Harvard's in town, they all come raining down in a frenzy.
Harvard tried to put a wrinkle in the plans this year, coming out the entrance farthest from the student section. But no one was taking the bait, and it only went to prove that Cornell was in the Crimson's heads before the game had even started.
The Harvard-Cornell rivalry, which goes back to 1910, is quite often highlighted by two good teams doing battle. This year, in particular, there was a lot of hype for this game, no matter how you slice it. Harvard handed the Big Red their first loss of the season, with a last-second overtime goal in Cambridge. It left a very bad taste in Cornell players' mouths.
But the annual fish toss is what dominates the conversation.
Anyplace else, anytime else, such an incident would be rightfully scorned — a classless act that does nothing but delay the game and make the ice a mess.
But we're talking about the Cornell crowd, and Lynah Rink. A crowd that merges high decibels and high sophistication into an environment unmatched anywhere in the nation. The Lynah Faithful — though not quite at their '80s best — is still the best crowd per capita in college sports north of Duke basketball's Cameron Crazies.
There's nothing coy or sophisticated about this moment, however. It's unadulterated messiness. We'll grant them one such moment a year.
Referee Tim Kotyra was patient, then made sure legendary public address announcer Arthur Mintz warned the crowd that future fish-tossing would result in a bench minor penalty on Cornell. This didn't stop the dimwitted freshman class from tossing a few extra fish when Harvard took to the ice in the second period, indeed costing Cornell two minutes, prompting the rest of the students to berate them with "It's all your fault."
They'll learn. Of course, this is a perpetual rite of passage. Next year's freshman class will likely make the same mistake, and it's 50-50 whether it will be a penalty.
Only marginally patient was Harvard coach Mark Mazzoleni. As the two teams entered the ice, Cornell coach Mike Schafer had to pass Mazzoleni, and did so sheepishly. Schafer has done a fanstastic job in his tenure toeing the line between maintaining tradition, and eliminating rudeness and vulgarity.
But this is one tradition he has little control over.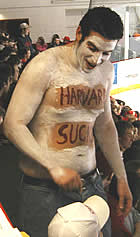 Of course, for Mazzoleni, this is all still incredibly new. Yes, this is his third season, but the previous two Harvard coaches — Ronn Tomassoni and Bill Cleary — both were there, as players, assistant coaches and/or head coaches, from the beginning of the fish-tossing era.
This tradition, as it were, started some time in the '70s, from everyone's best recollection. It seems as though some Harvard students tied a chicken to the Cornell goalpost during the intermission of a game at Lynah, making fun of Cornell's agricultural reputation.
The next year, Cornell students threw fish at Harvard when the Big Red scored its first goal — and some students tied a chicken to Harvard's goalpost.
"The fish continued to varying degrees, as you know," says Age Mannocchia, a member of the Lynah Faithful who, like most everyone else, not only faithfully performs these passed-down rituals, but knows their history. "The chicken continued until Public Safety — now Cornell Police — stopped the guys trying to get onto the ice with it in the late '80s. This was followed for a couple of years with a guy dressed in a chicken suit, then it died completely."
But the fish live on. Well, not literally, of course. Their goose is pretty much cooked by the time they arrive.
Harvard folks seem to wonder what all the fuss is about. They claim not to really consider Cornell to be a big rival. But maybe that has more to do with the general apathy of their fans. Maybe their Beanpot rivals are bigger rivals while the Beanpot is going on, but otherwise, they're not even in the same conference.
All of which is of no concern to Cornell fans, who particularly enjoyed themselves during this year's occasion. Cornell outplayed Harvard in every phase of the game from start to finish, exposing a team that had come in with a national ranking just below the Big Red's. Harvard is a quick team, but Cornell had it skating like a fish out of water.
Play got rough late in the third, and as the Cornell crowd chanted "overrated" and "frustrated," the embarassment got worse. And then Mazzoleni was nearly ejected for throwing a stick and arguing with the referee.
Late in the game, there was a rumble that led to 96 minutes in penalties. As Kotyra sorted things out, the game was delayed 15 minutes, which only served to add insult to injury as Mazzoleni and his crew were forced to endure more derision from a crowd that not only stuck around, but was reveling in the opportunity to rub it in for an extra 15 minutes.
The only thing that went wrong for the Red all night was when Manocchia –Lynah's reigning "Cowbell Guy" — dropped the miniature bat he uses to create the cowbell cadence, right in the middle of his "performance."
But the Big Red hit all the right notes.
They disposed the Crimson … hook, line and stinker.