Mark Hartigan admitted he was a little nervous when addressing the audience after receiving the WCHA's player of the year award.
At least now he knows how his opponents feel.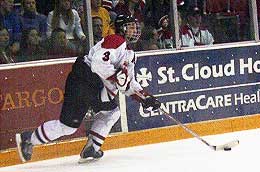 Hartigan, a St. Cloud State junior who leads the nation in scoring, was named the league's top player on Thursday. He also was named one of the finalists for the Hobey Baker Memorial Award at the same awards presentation before the first game of the Final Five.
"I guess I got a little lucky," Hartigan deadpanned. "They must have messed up on the balloting or something, but I'll take it."
Denver coach George Gwozdecky, who led the Pioneers to their first regular-season title since 1986, was named the league's coach of the year.
It was the second such honor for Gwozdecky. He earned the same award in 1995, his first season with Denver.
The Pioneers were picked by the coaches to finish fifth in the league, but went 21-6-1 in the league to claim the MacNaughton Cup.
"The regular-season championship in this league is the most difficult thing to win in Division I hockey," Gwozdecky said.
Minnesota's Jordan Leopold and John Pohl were named to the league's first team, joining Hartigan, Colorado College's Mark Cullen, Minnesota-Duluth's Andy Reierson and Denver's Wade Dubielewicz.
Leopold, who tied with Hartigan as the top vote getters on the first team, was also tabbed as the league's defensive player of the year.
North Dakota forward Brandon Bochenski was the rookie of the year and Cullen was honored as the league's top student-athlete.
Here are the league's second, third and rookie teams:
Second team: Ryan Bayda, F, North Dakota; Nate DiCasmirro, F, St. Cloud State; Judd Medak, F, Minnesota-Duluth; Matt Shasby, D, Alaska-Anchorage; Paul Martin, D, Minnesota; Dean Weasler, G, St. Cloud State.
Third team: Jeff Taffe, F, Minnesota; Connor James, F, Denver; Peter Sejna, F, Denver; Tom Preissing, D, Colorado College; Aaron MacKenzie, D, Denver; Adam Berkhoel, G, Denver.
Rookie team: Mike Doyle, F, St. Cloud State; Brandon Bochenski, F, North Dakota; Peter Szabo, F, St. Cloud State; Keith Ballard, D, Minnesota; Matt Gens, D, St. Cloud State; Bernd Bruckler, G, Wisconsin.