Sure the ECAC had its worst out-of-conference season ever. And, sure, that fact justifies the concern observers have over the conference's future.
But, with everyone in wonderous Lake Placid for championship weekend, now is not the time to dwell on those points. Now is the time to sit back and appreciate just how crazy this season was, and how much there still is to look forward to.
Can ECAC teams compete, night-in, night-out with the nation's best? Well, at least for this year, the answer generally was no. Which is a hard thing to admit for someone used to defending the conference in the past against outsiders whose perceptions were that it couldn't compete, when reality was quite different.
But, either way, if you stay focused on the competitiveness within the conference itself, you have to appreciate how truly extraordinary it was.
Every year since I can remember, observers say, "Wow, this is the tightest the ECAC race has ever been." Yet, every year, somehow, it genuinely gets even tighter. For as tight as things have been the last few years, this season took the cake (excepting last-place Vermont, and first-place Cornell, which each ran away with their respective distinctions).
Consider that second-place Clarkson was closer to being out of the playoffs than it was to first place.
And then, just when you are sure that every first-round series will be a war, all the top seeds advanced in two-game sweeps. Go figure.
It's this kind of thing — and the league's wonderful tradition — that makes ECAC observers keep coming back for more.
Taylor Remains a Good Fit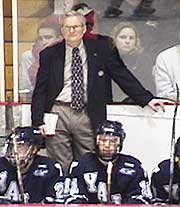 With long-time hockey dignitaries Ron Mason and Jeff Sauer stepping down from their respective head coaching positions at the end of this year, it's worth wondering how long Yale patriarch Tim Taylor has left. One of hockey's most respected gentlemen, Taylor is coming off a tough season with the Bulldogs.
But the 60-year old seems far from ready to step down.
"It crosses your mind. You can't coach forever," he said. "But I enjoy it. As long as I enjoy it and they want me around, I'll do it."
So no surprise announcements in July?
"I don't think so."
Taylor said he really enjoyed coaching this year's scrappy 10th-place bunch. Yale lost a lot of close games this year, and the future it hopeful.
"There's a room full of tearful guys," said Taylor following Saturday's season-ending playoff loss to Cornell, "but this is one of the best teams I've coached in terms of accepting their roles, being together, doing their job. We had great seniors, like [Luke] Earl and [Dan] Lombard.
"I look around the league, and there's not a lot of seniors walking away out of the top teams. [But] we have the Rookie of the Year from the last two years in the Ivy League. We have young players on the power play. We have a cornerstone player in [Chris] Higgins to build around. Our younger players benefitted by what happened this year. We lost a lot of close ones."
Taylor is not "fiery," he won't get in a player's face to inspire his team, he won't yap at officials. His record is below .500.
What he is, is a treasure, an ECAC icon. And we're glad he's sticking around.
Unwelcome Rest
More than anything, the trademark of Cornell's steamroll over the ECAC this year was its depth. The Big Red can send out four solid lines and six steady defenseman every night, and goalies Matt Underhill and David LeNeveau both have long careers ahead of them.
In that sense, having the rest of their games on television may be somewhat of a neutralizer for Cornell opponents.
It started with Saturday's win against Yale, which was televised on NESN. The ECAC tournament games in Lake Placid will be televised, as will, of course, the NCAA tournament.
Obviously it didn't hurt the Red on Saturday, but coach Mike Schafer does notice a difference.
"With the TV timeouts, you can't get on a roll. It does slow things down," he said.
"We'd love to roll over four lines all night. … But we couldn't do that. But it gives you a chance to play your better players more often."
Of course, the Big Red don't have a lot of spectacular offensive players. So, defining who their "better players" are, is not easy, outside of, perhaps, defenseman Doug Murray.
"I don't think we're blessed with a lot of natural goal scorers, but we get our chances," Schafer said.
Murray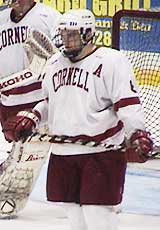 Speaking of Doug Murray, Schafer was doing some last-minute politicking for him to win the league's Player of the Year Award, a race that's come down, essentially, to him and RPI's Marc Cavosie.
"Murray should be Player of the Year in our league," said Schafer. "You look at who it goes to, it's usually the guy with the stats. But it's a shame if Doug doesn't get it. He brings so much more to the table then just scoring. His physical nature, and he's still our leading scorer."
Cavosie's numbers are certainly impressive, and he is a gifted player. And, surely, his coach, Dan Fridgen, would have an equally strong statement to make on his star's behalf.
But it says here, the best player on what was by far the league's best team, should get the honor.
As previously discussed, Cornell's depth was its strength, and it's hard to pick out any one player as a star. But the Big Red were so far out in front of everyone, you have to figure out a way to get the award to someone from their team. And Murray is the one Cornell player who does stand above the others.
First-round Flings
So much for the big showdown in the North Country. Of course, Clarkson was clearly the better team this year, though in the rivalry with St. Lawrence, you can throw that out the window. Surely it was the last team Knights' coach Mark Morris wanted to face.

Tensions were high in this series, as you'd expect, and I doubt we've heard the last of it.
Kudos to RPI for playing a very strong series against a Princeton team that had been on a roll. Of course, RPI is a long-time Princeton nemesis, and the Tigers have never won a game from the Engineers in the postseason, including the 1995 championship game, and the 1999 consolation when a win would have put Princeton in the NCAA tournament.

Dan Fridgen has taken a lot of flak from the Rensselaer faithful in recent years, wondering when this once-dominant program will be an NCAA team again. Perhaps some of the criticism is justified. But he had his team ready to play this past weekend, and he's hardly alone in that category of programs that were one-time consistent NCAA challengers.

Buddy Powers, who always wanted RPI to jump ship for Hockey East, left seven years ago for so-called greener pastures at Bowling Green. Fridgen took over the Engineers. Both coaches had great first campaigns, with Powers winning CCHA Coach of the Year and Fridgen taking RPI to the ECAC tournament championship. Things went slowly but surely downhill from there, though much more dramatically at Bowling Green. Now Powers is gone, but Fridgen is still going.

RPI's problem has just been consistency. The players seem to be in place, but they wind up falling apart for stretches that kill their season.

But there's still a decent groundwork there, and Fridgen has earned the right at another shot with this program.
Harvard's series with Brown was all about redemption, after everyone seemingly had them written off, and deservedly so. But not even Yann Danis could save the Bears, as the Crimson won in two games from their travel partner.

A two-game series win against Brown hardly redeems Harvard's spotty play this season, after it came in with such high expectations. But it does afford the Crimson the chance to keep playing, and perhaps get some genuine redemption this weekend.

Brown is just as big a story, for the opposite reasons. After years of being mired in the basement under Roger Grillo, the Bears got some leadership, and got the great goaltending from Danis this year. While teams like Clarkson, Harvard and Dartmouth struggled to carry the torch for the league out of conference, here was little old Brown beating some of the nation's best.
Dilemma
If you're an ECAC fan, you want to see the league's teams make the NCAA tournament. But, perhaps even moreso, you want to see those teams do well in the tournament.
When the NCAA eliminated the second automatic bid for each conference last year, so went the chance of the ECAC having two teams in the tournament. Although, these are not really related issues. Even though the ECAC was assured two bids in years past, there was always at least two teams that deserved it on the basis of the PairWise Rankings anyway.
Last year, the league lost the second automatic bid, and, coincidentally, severely slipped in out-of-conference play, leaving only the ECAC tournament champ — St. Lawrence — to make the NCAAs.
This year, Cornell could actually make it as an at-large team, but only Cornell. To once again get two teams in the NCAAs, someone else must win the ECAC tournament.
So, what do you do?
Do you hope that Cornell gets upset at Lake Placid, paving the way for a second ECAC team to get the automatic bid while assuming the Red keep an at-large berth? Or, do you root like mad for Cornell to win the ECAC tournament, and hope things break right so it gets a bye in the first round of the NCAAs, thus increasing its chances of making the Frozen Four?
Putting aside all loyalties to whatever particular program you root for, and just looking at it from a neutral observer's standpoint, it's a tough call.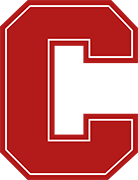 We do know that Cornell is in good shape to earn the bye if it defeats Clarkson in the ECAC final. If it defeats Harvard in the final, it all but assures Cornell won't get the bye, because the Crimson are a sub-.500 team, and thus not considered a team under NCAA consideration. Getting wins against TUCs is critical toward winning comparisons and improving your PWR.
Some other things have to break right, but, in essence, if Cornell defeats Clarkson in the final, it will probably get a bye.
Now, this assumes the NCAA committee overlooks the ECAC's weak conference Ratings Percentage Index (RPI). You can make a great case that Cornell's PWR is highly inflated because of playing in the ECAC. And, I don't think you could blame the committee if it makes a subjective judgment to bump Cornell out of the bye slot based on conference RPI.
But, odds are, they won't take that bold and unprecedented a step. So, we're going on the assumption that, if the Red take care of business, they will earn the bye.
The bye obviously is huge. It means you face a tired team in the second round for a right to go to the Frozen Four. Cornell hasn't done that in about three decades.
Of course, we're getting way ahead of ourselves.
Perhaps we should just discuss Cornell's chances in the NCAAs. To do that, we have to ascertain just how good it really is. It's a hard thing to figure.
No question the Red completely dominated the ECAC (except Dartmouth), but they beat teams who are largely in the bottom half of nation, and only mid-level at best. They play extremely consistent hockey, which is a huge plus, and allows them to avoid being picked off by lesser ECAC opponents. But does it bode well for an NCAA matchup against the likes of St. Cloud, Colorado College or Michigan?
Again, it's hard to say. They pounded Alabama-Huntsville twice. OK. Then came a weekend at Boston University where they played quite well in earning a split. That's definitely in the plus column for the Red.
The only other out-of-conference test came at the Everblades Classic holiday tournament. A 4-3 loss in double overtime to a solid Northern Michigan team is nothing to be ashamed of. The next night, playing tired, they lost a 2-0 game to Ohio State, which included an empty-net goal.
A win over Ohio State, the seventh seed in the CCHA tournament, would've convinced me the Big Red were ready for the NCAAs. It would've meant they had beaten every team they were "supposed" to be beat, and played tough with some other ranked opponents, including a nice win at BU.
But, excuses of having tired legs aside, Cornell lost that game. If you're a true NCAA contender, you'd beat the seventh-best CCHA team.
Still, it's hard to tell. I suppose we have to sit back and see how it plays out.
Having it all to look forward to is half the fun.