It took just nine minutes and 43 seconds for Lucas Lawson to begin believing in himself this season at Maine.
The junior forward, who had scored 25 points in his first two seasons, got his third campaign in the bitter cold of northern New England off on the right foot, scoring the first goal of the season for the Black Bears in a 9-1 victory over Bowling Green.
But as quickly as he attained that confidence, so too did he let it slip away.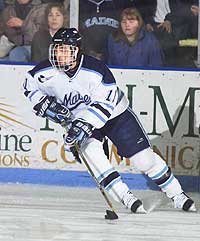 "I scored that goal and then didn't score for another eight games," said Lawson, who began playing hockey at age four, when his mom would take him to an outdoor rink in his hometown of Braeside, Ont. "I was frustrated. I was struggling and not producing."
"Struggling" was putting it mildly for the junior, who had high expectations for himself playing on a line with standout Martin Kariya and captain Niko Dimitrakos. Through the Christmas break, Lawson had potted just four goals and six assists, and was worried about his lack of production.
"When we got back from break I went and talked to Coach [Tim Whitehead]," said Lawson. "He told me I was playing better than I thought I was and not to worry. He told me that I'm taking care of my defensive end, and that if I do that the points would come."
Who knew that Whitehead could be such a prognosticator? As the Black Bears returned from the break, they immediately met Ohio State and Northern Michigan in the Everblades Tournament in Estero, Fla. Lawson scored a goal and three assists in that tournament, earning him a spot on the all-tournament team.
"We went down to Florida and played well and I think that turned things around," said Lawson. "At that point I had stopped pressing too hard and worrying about goals and assists. I just had to do things like go to the net and do what I do well."
So began a second half that Lawson won't forget anytime soon. As January and early February progressed, the points still didn't come fast and furious, but his confidence level was higher. On February 15, Lawson scored the only goal in Maine's 1-0 victory at Providence. The next night he buried another.
A weekend later, Lawson repeated those feats, scoring a goal in each of two games versus UMass-Amherst. As March rolled around, Lawson extended the goal-scoring streak to six, potting one in each of the final two regular-season games at Boston University. And Lawson then offered an encore performance in the first round of the Hockey East playoffs, scoring in two games against Boston College.
When it was over, Lawson had scored in eight consecutive games — every game over a one-month span beginning the 15th of February through the 15th of March.
Moreover, a player who struggled to find confidence at the beginning of the season had etched his name in the hallowed Maine record book, tying Ron Hellen's 1984-85 record for the longest goal-scoring streak by a Black Bear.
That was no surprise to Whitehead.
"Lucas has very consistently increased his role … and become a valuable member of our hockey team," said Whitehead, who has guided the Black Bears to the Frozen Four in his first season behind the bench. "He's really emerged for us this season as a real strong two-way player."
On top of Lawson's offensive emergence, it's the other side of the puck that Whitehead believes keeps him in the lineup day in and day out.
"He's very conscientious on defense and that makes him a real asset to us because we can keep him out there against anybody," said Whitehead.
With a focus on defense, it's a wonder that Lawson does score so many goals — he has 17 this season entering the Frozen Four. That he credits to his linemates.
"Playing with Niko [Dimitrakos] and Marty [Kariya] … you're getting a lot of chances every game," said Lawson who currently is the team's ironman, having played in 87 consecutive games, Maine's longest active streak.
"You have to love being out there with those guys. Marty's one of the best setup guys in our league and Niko has NHL talent. There's probably not one guy in all of college hockey more skilled than either of them. They get a lot of attention drawn to them, so it kind of opens me up."
That philosophy worked again last weekend, when Lawson scored twice and added an assist in Maine's 4-3 win over Boston University to earn the Frozen Four berth.
"There's no better time to be hot. Having a good game like [that] gives me a lot of confidence going in against UNH," said Lawson, who will look to draw on his college experience as well as his junior playing days when his team, the Kanata Valley Lasers, competed for the Canadian Junior championship in 1997.
"Playing in the Frozen Four is an opportunity you work for your whole life. You definitely don't want to take a chance like this for granted. It's right in front of us, and we're going to give it our all.
"There's not a time you'd rather be playing in the season than right now."