Minnesota defenseman Jordan Leopold was named Friday as the winner of the 2002 Hobey Baker Memorial Award, given annually to college hockey's most outstanding player.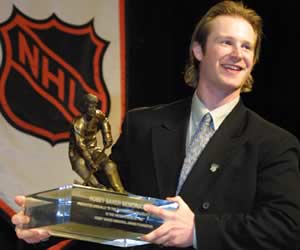 Leopold was selected over fellow "Hobey Hat Trick" finalists Darren Haydar of New Hampshire and Mark Hartigan of St. Cloud State.
The three-man format, adopted for the first time this year, was drawn from the traditional set of 10 finalists on March 27.
The 6-foot, 210-pound senior from Golden Valley, Minn., was the WCHA Defensive Player of the Year and leads the nation's defensemen in scoring with 47 points on 20 goals and 27 assists. Earlier in the season, he broke the Minnesota record for career goals by a defenseman.
Leopold, a two-time First-Team All-American and a finalist for the award last season, is the fourth defenseman to win the Hobey Baker, and the fourth Golden Gopher.
"This is a remarkable feeling," said Leopold. "We've had three Hobey Baker Award winners here at the University of Minnesota, and I'm proud to add my name to that list."
Leopold will next have the chance to claim a team honor, as the Gophers play Maine for the national championship Saturday at 7 p.m. Eastern time.
Finalists for the Hobey Baker Memorial Award are determined by an initial round of balloting by all 60 Division I college coaches; 10 names are then advanced to the award's selection committee, a geographically balanced group of 24 members composed of media, NHL scouts, college hockey coaches and supervisors of officials.
Additionally, a vote hosted by USCHO.com and conducted online at www.hobeybaker.com allows college hockey fans a one-percent vote in each round of balloting.