There is nothing like a little recognition to make you feel good. So for that, my sincere thanks to Guy Gadowsky.
"This is the first time ever that UAF has not been picked by the media to finish dead-last," said Gadowsky at CCHA media day. "So with the exception of Paula Weston and Eric Olsen, I want to thank you very much for that."
No, Eric — who writes for the Omaha World-Herald — did not vote the Nanooks last this season. In fact, we did not vote the Nanooks dead-last last season. It seems that Mr. Olsen and I knew something that only the UAF faithful knew last year.
And one good turn deserves another, Coach Gadowsky. Here's to your Nanooks breaking the Coach-of-the-Year Curse.
How To Counter A Curse In One Easy Step
Scott Borek was named the 1999-00 CCHA Coach of the Year. He was fired one year later.
Enrico Blasi was named the 2000-01 CCHA Coach of the Year. The RedHawks finished 9-17-2 in conference play one year later.
Guy Gadowsky was the 2001-02 CCHA Coach of the Year. Someone send this guy a talisman.
Actually, Gadowsky and his Nanooks have only one thing with which to be concerned this year, and that is that UAF will surprise no one in 2002-03. Returning all but three players, the Nanooks are poised to repeat last season's performance.
"We're pretty happy with our team," said Gadowsky. "All three goaltenders are returning. Two of them split last year starting, and both Lance Mayes and Preston McKay showed that they can win hockey games.
"They worked hard during the summer, and we certainly think that they're going to do the same during this season. To improve on what we accomplished last season, we are going to rely heavily on them. It's nice having a tandem. That's a huge strength for our program."
It is unusual to have a two-goalie team in the CCHA; in fact, there will probably be only two other tandems in the league, one residing in East Lansing and the other in Sault Ste. Marie.
UAF has always had a history of strong goaltending, even when the Nanooks were anchoring the league standings. The difference for the Nanooks last season was a hard-working sophomore class and stellar leadership from three tough seniors.
The sophomores are now juniors, but the seniors are gone. That, said Gadowsky, is a real blow.
Blessings In Disguise
Two of the three departed were defensemen who logged more ice time than any other UAF blueliners. Gadowsky knows that this could be an issue. "For us to get better, our senior defenseman Scott Farrell is going to have to have a great year, as is our junior defenseman, Felipe Larranaga. I think both have the potential to do as well as the seniors who departed, but we need a big season out of them."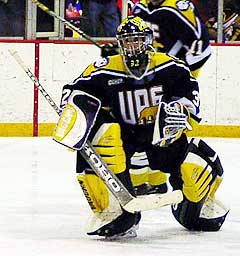 Then there's the question of who is capable of replacing Bobby Andrews, the Nanooks' workhorse who earned CCHA Defensive Forward of the Year honors for 2001-02.
"Bobby Andrews was our senior captain last year and the only forward that we lost; however, he meant so much to us offensively, defensively, on penalty kill, on power plays, as our best faceoff guy, probably our hardest worker — he just meant the world to us, and I think it's up to a number of players to step up and take his spot," said Gadowsky.
"Quite honestly, I think a lot of our forwards are a little sick of hearing about him and of wondering who it's going to be. A lot of them have the desire to step up and make sure that people don't recognize that he is the big difference in this team. Cam Keith is one of those. I think we have a number of forwards who are looking to step up and take his spot, both offensively and defensively."
Cleansing The Spirit Of Aaron Voros
Gadowsky rightly said that two other forwards, junior Ryan Campbell and sophomore Aaron Voros, have what it takes to fill Andrews' skates.
Voros is a tremendous player — with a tremendous temper. He led the league in penalty minutes last season as a freshman; confirming what fans around the league already thought, he ran OSU goaltender Mike Betz in the opening minutes of CCHA quarterfinal play.
For the love of Pete — or Guy, in this case — please, Mr. Voros, stay out of the box.
Taking Faith To Its Limits
"I can tell you that Fairbanks as a community is very excited [about this season]," said Gadowsky. "In Fairbanks, the CCHA is pretty much God."
Daily Affirmation
Every UAF player should meditate on this concept: "Aaron Voros is a peaceable person."
That ought to do it.