If not for the early departure of defenseman Regan Kelly, the Friars would rival Boston College for the least attrition in the league. With a talented, senior-dominated lineup, there's the potential for a big move upward in the standings.
"You win with your upperclassmen and they certainly are going to lead the way for us," says coach Paul Pooley.
That begins up front with Jon DiSalvatore (16-25–41), Peter Fregoe (15-23–38) and Devin Rask (16-19–35), who match up well with almost any other trio in the league. The challenge will be for the rest of the forwards to increase their production so that collectively PC finishes higher than seventh in the league in total offense, as it did last year.
"[Everyone] obviously looks at Rask, Fregoe and DiSalvatore to have big years, but the guys who scored three and four goals last year need to pick it up and score seven, eight, nine or ten," says Pooley. "But I like our mix up front. We have a lot more depth than we ever had before. We've got five lines right now and a lot of people are interchangeable.
"I'm going to keep Rask, Fregoe and DiSalvatore together and then move people around to see where everybody fits. But I think we've got nice balance and we'll be more physical up front. Our kids have really worked hard in the offseason and are tremendously filled out and a lot stronger. We'll surprise some people with what we have up front."
With the big three up front, it's inconceivable that the Friars will repeat with Hockey East's worst power play (12.9 percent). It defies explanation as to why the group had such difficulty scoring last year on the man advantage; they should at least return to the middle-of-the-pack production of the previous season.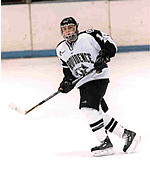 "Our specialty teams are going to be better," says Pooley. "Our power play has to be better in order for us to be successful."
The team defense will need to rebound from last year's performance, when PC goaltenders had to make more saves per game than every team's but Merrimack. (Merrimack, 33.4; Providence, 31.2; UMass, 27.5; all others, below 26). If that happens again this year, kiss thoughts of Friar playoff home ice goodbye.
"We have one senior, two juniors, two sophomores and three freshmen so we're pretty balanced instead of the two seniors and four sophomores type of imbalance that we've always had at the position," says Pooley. "Now we're really balanced. For us to be successful, we certainly have to have our returning guys pick up the pace, be steady and improve.
"I look at Shawn Weiman, Steven Wood and Jason Platt — our three real upperclassmen — and Eric Lundberg and Jeff Mason, our two people who gained a lot of experience last year. They really need to accelerate their game and be very, very steady for us. Our three freshmen are solid and they bring different attributes to the table. One [Matt Mannina] is offensive-minded and the other two [James Pemberton and Luke Irwin] are a combination of good defense and can play on the offensive side with the puck, too.
"There's no question that we will be more physical on the blue line. That's one of the things we've wanted to recruit."
Assuming improved team defense, the onus will be on goaltender Nolan Schaefer to return to the form that earned him All-America honors as a sophomore. Going from a 2.47 goals against average and a .915 save percentage in 2000-01 to last year's numbers of 3.29 and .904, respectively, wasn't just a product of the team defense. Schaefer wasn't as sharp as he needed to be.
If sophomore David Cacciola doesn't provide enough of a push, then highly regarded freshman Bobby Goepfert (USHL Player of the Year and Top Goaltender) likely will.
"Nolan is a lot more confident in what he is doing," says Pooley. "He had a great summer and he looks very, very good in practice. He looks very, very sharp. He's really focussed. I just think he's ready for a great year. He's very hungry, very committed, very dedicated.
"Then we have the two other kids who are certainly going to challenge to play… I think our goaltending is going to be very strong. We're building our team around our goaltending. That's our number one priority. You win with your team defense and that starts with your goaltenders."
Are there missing pieces to the puzzle? Perhaps. But it's also easy to envision this team not only elbowing aside some contender for playoff home ice but also earning a spot in the NCAA tournament.
"We're very hungry as a program," says Pooley. "I look on the ice and I sense a common bond in terms of what we want to accomplish as a team and what our priorities are as a team. I sense that we will play as a team this year and we will be a team and will work as a team and hopefully have a lot of success as a team. That will be our main focus."