The Ferris State Bulldogs had a surprising 2001-02 season. The last-minute departure of stalwart goaltender Phil Osaer appeared to leave FSU in a tight spot, but two rookie goaltenders, Mike Brown and John DeCaro, picked up the slack nicely.
Then there were Rob Collins and Chris Kunitz. Collins led the league in scoring, and Kunitz led the league in goals.
Of course, the surprise there is that the Ferris State offense was only the sixth most productive in the league. Ditto for their power play.
"I think we, over the last four or five years, have made a move to be more of an offensive type of team, more of a skating type of team, and we're getting close to where we hope to be," said Bob Daniels.
When you have both the top point scorer and goal scorer in the league, you're doing something right. But maybe the lesson that needs to be learned in Big Rapids is that hockey is a team sport.
Sharing Is Caring
The Bulldogs were sixth in the CCHA in offense, defense, power play, and penalty kill last season. Now, sixth may not be bad — just average, really — and the top six teams host a first-round playoff series at the end of the year.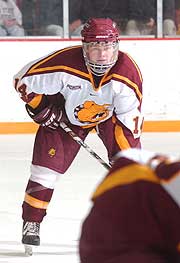 The problem for FSU with being sixth in every important category last season, however, was that six really meant nine, as in a ninth-place league finish.
What to do? More of the same, apparently.
"We're going to have a team led by our forwards, led by our offense," said Daniels, "and the highlight in that group is Chris Kunitz, who arguably is the best player in the CCHA in terms of forwards, maybe in the country. Other players up front include Phil Lewandowski and Jeff Legue."
That's all fine and good, but for the Bulldogs to be a more competitive hockey team, they'll need to get offensive production from more than three players.
The Fundamentals Still Apply
One strength of this Ferris State team is its steady goaltending. Neither Brown nor DeCaro was spectacular last season, but when you have good, dependable goaltending — even with an inconsistent defense — and you're scoring goals, you're going to win more than a few games.
"A year ago we lost Phil Osaer right before the start of the season and we had two freshmen unknowns [in goal], Mike Brown and John DeCaro both stepped in and did a great job," said Daniels. "Mike Brown by the second half of the year had won the starting role. He got injured late in the season but returned for the playoffs and played very well. He's still a little bit of a question mark, but we have an awful lot of confidence in both Mike Brown and John DeCaro."
The blue line in front of that tandem improved last season from the year before, and the Bulldogs finished on the plus side of things (+11) as a team in conference play. To move up the standings, though, FSU is going to need better team defense as well as better play in its own end — and that could be an issue this season.
"On defense, we return three very good defensemen, Troy Milam, Matt York, and Simon Mangos," said Daniels. "We're also going to have to rely on probably three freshmen to step in and play. If there's an Achilles heel for our team or an unknown, it could be on our defense where we need some freshmen to step in and log some minutes and do a good job for us."
Play Nice, And If You Can't Play Nice, Play Smart
The Bulldogs had the second-highest penalty minute total in the CCHA last season, which surprises absolutely no one — not the players, not their fans, and certainly not the opposition.
Chippy is judgment call. Let's just say that FSU plays hard.
To improve, however, the Bulldogs need to learn how to play hard and smart. Stupid penalties will cripple any team, but a squad with a so-so penalty kill should be more careful about elbows, hips, and sticks.
Daily Affirmation
There are many affirmations and meditations that could benefit the Bulldogs. They already know that speed kills, and if they play faster and smarter, they'll be competitive every night.
The Bulldogs already know that the best offense is sometimes a good defense. They're working on that.
What the Ferris State players really need to learn — and learn but good — is that stupid penalties will kill any chance the Bulldogs have of earning home ice in the first round of the CCHA playoffs.
So, to that end, Bulldogs, ask yourself this question, daily: "A good elbow is a careful elbow."