In all seriousness, Michigan's loss is the CCHA's loss. When a player the caliber of Mike Cammalleri leaves a program early, the entire league feels the absence.
Yes, some folks may be happy about the departures of Cammalleri, Mike Komisarek and Michigan State's Ryan Miller, thinking that this somehow levels the playing field for the rest of the league, but when those players were on the ice — especially Cammalleri — every other player on the ice had to play up to a certain level just to compete.
Put simply, when Mike Cammalleri was on the ice for Michigan, everyone — including opponents — played better hockey. That is something fans will miss this season.
That having been said, if you think that the Wolverines will be hobbled by early departures, you're just plain nuts. This is one talented squad.
We Are Good Enough, We Are Smart Enough …
The biggest question for Michigan, of course, is goaltending. Josh Blackburn was the netminder of record for most of his four years as a Wolverine, and naturally fans will wonder how a rookie goalie will perform.
Even though Al Montoya is only 17 years old, Red Berenson calls him "someone to watch."
Montoya comes to Michigan by way of the U.S. NTDP Under-17 Team, where he posted a .912 save percentage in 2000-01, and led the team to a gold medal at the World Under-17 Challenge.
He's also a bright young man. Having sped through high school, he's enrolled in the University of Michigan's Division of Kinesiology.
Do you even know what that is? Do you?
… So — Doggone It! — Why Don't People Like Us?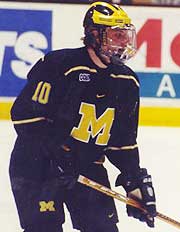 CCHA fans love to hate the Wolverines. In the past, perhaps this was justified, when certain players whined, dived, and played chippy hockey.
But have you seen this Michigan team? These Wolverines are an intoxicating combination of blue-collar work ethic and serious finesse. And there's none of that prima donna mentality of teams past.
Okay, so you're not going to embrace the Wolverines if you're not already a fan, but can you at least admit that you could admire them … if they didn't wear the big "M" and play in Ann Arbor?
Just look at this sophomore class. Milan Gajic, Dwight Helminen, David Moss, Eric Nystrom, Jason Ryznar — if these guys aren't household names already, they will be soon.
And they play with an enthusiasm for the game that is downright contagious.
The beauty of this Michigan team is that it is more than the sum of its sophomore class. "Up front, we need our captains to be our leaders again," said Berenson. "Jed Ortmeyer and Johnny Shouneyia will be key players for us, and they look for a player like Jeff Tambellini to be an impact freshman."
Komisarek's gone, so who's left on the blue line?
"We think junior Andy Burnes will pick up the slack," said Berenson, "and we have a young kid named Danny Richmond coming in. He should be an exciting offensive-type defenseman."
If At First You Don't Succeed, Try, Try Again
Perhaps one of the best things to happen to Michigan last season was losing to Minnesota in the Frozen Four.
Remember what happened in Boston in 1998? Two freshmen combined for an overtime goal that gave the Wolverines the national championship, and that same freshmen class went on to underachieve for the next three years.
(And they were a whiney lot, too, with the notable exception of Bobby Matzka.)
So a trip to the Frozen Four is nice right off the bat, but leaving that tournament hungry is probably better in the long run.
Daily Affirmation
It would be nice if the fans at Yost (and at Lawson, in all fairness) would remember that there are children in attendance at every game, but I'm giving up on that.
The Michigan players, though, should repeat this daily and think about it often:
"Humility is a virtue."
If the Wolverines keep it down to earth and play with a love of the game, they'll be nearly impossible to stop.