No one is looking forward to the start of the 2002-03 season more than Mike Kemp. When the season begins, after all, the offseason is officially over.
"It's been an interesting summer for us in Omaha," said Kemp. "We started out the summer with seven surgeries — four knees, three shoulders — added two new assistant coaches, rebuilt our staff. Had two late-summer medical diagnoses that took a couple of depth players out of our roster, at least for the foreseeable future, and two days before school, had one of our returning defensemen come in and say that he's going to go to NHL camp and forego his final three years of eligibility."
Sounds like somebody needs a hug.
That Which Doesn't Kill Us …
The Mavs begin the season recovering from surgery and two men down. Gus Groslie is still feeling the aftereffects of a concussion suffered last season, and Jeremiah Johnson fainted during the summer — literally while walking — and the docs still don't know what caused it.
Add to that a rookie-heavy roster, and what do you get?
Dan Ellis, of course. Talk about an easy equation.
Ellis is arguably the best returning goaltender in the CCHA, and one of the best in the country. His talent and confidence have been a major factor in the Mavs' success during the past two seasons, and there's no reason to think anything different for this year.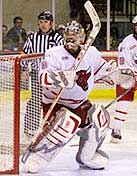 "Our team will go as our strength, our goaltending," said Kemp. "Dan Ellis, coming back for his junior year, a second-round draft pick for Dallas, has been the cornerstone of our team. As Dan Ellis goes, so go the Mavericks. We look to him to have another outstanding season."
In fact, perhaps the Mavericks will be praying for him to have another outstanding season.
Make New Friends, But Keep The Old
"It will be the youngest team we fielded at UNO since our inaugural season of 1997-98," said Kemp. "We'll have 10 freshmen and newcomers around the roster at the start of the season.
"It will be a test for us early to see who fits in where, who's going to pick up the slack.
Joel Andresen, a defenseman out of St. Albert, was voted the top defenseman in the Alberta Junior League last year. He should make an impact along with Mike Lefley, the MVP of Alberta Junior League, out of Grand Prairie, we picked up very, very late this summer.
"Another player, Micah Sanford, who came to us from Chilliwack of the British Columbia Junior League, was the leading goal-scorer in the BCJL last year and really has only been playing hockey on ice for five years. Prior to that time, he'd been a roller hockey player in Las Vegas, and we think he's got some tremendous skill, and he's shown an ability to score on every level and he can come in and make an impact for us right away."
Roller hockey. Honest.
It's Not Polite To Point … Except On The Power Play
So, the Mavericks are recovering from surgery, down a couple of guys, loaded with newcomers, but still possessing some veteran talent. Let's not forget Greg Zanon, David Brisson, and Andrew Wong.
There are two areas in which UNO seriously needs to improve in order to achieve some measure of success this season. For the past couple of years, the Maverick power play has been more than merely anemic — pathetic would be a good term for a man-advantage on a club with guys like Zanon, Brisson, and Wong.
"I think for our team to really have the kind of season we hope to have, we need to improve our offensive production," said Kemp. "Last year we struggled at times to score goals, and certainly that's an area we're really going to emphasize, along with our power play, which was woefully inadequate over the last couple of seasons."
And as fine a netminder as is Ellis, these Mavs have been making him work really, really hard.
Said Kemp, "We need to tighten up our team defense a bit. It's interesting [that] Dan Ellis gets a great deal of attention [because] … he led the nation in saves last year, and I have to say that while we're proud of Dan, that's not a statistic we're proud of as a team. Obviously, we'd like to be a little stingier with opportunities around our own end, and that's going to be something we're going to really have to look at."
Daily Affirmation
Every UNO fan should meditate daily on the general health of this team. I am not kidding.
And for you Mav players, try this one: "See the puck. Feel the puck. Be the puck."