The NCAA selection committee may have bestowed the No. 1 overall seed in the tournament upon Cornell, but the Big Red doesn't necessarily see it that way.
On Sunday, the committee had conflicting mandates — avoid first-round intraconference matchups, and protect the top teams in the field in terms of the draw. Regional considerations prevailed, meaning that the top-ranked Big Red will face Minnesota State, rather than either of the bottom two seeds, in the first round in Providence, R.I.
In case you haven't heard, Cornell — which earned the top ranking with its ECAC tournament championship win over Harvard — isn't thrilled with the pairings.
However, Minnesota State has had recent problems of its own. The Mavericks stumbled into their first NCAAs, losing two games at the WCHA Final Five after dropping only one of their previous 23.
The other East Regional game, meanwhile, involves two of the other six teams in the 2003 tournament who weren't present for last year's championships. Two seed Boston College beat out Maine for the right to stay close to home, and will face Ohio State.
With Hockey East closing out the season early, the Eagles got last weekend off. Ohio State comes in a bit unhappy with its performance at the CCHA Super Six, where the Buckeyes lost two of three games, including the consolation.
Whoever comes out of the East will face the Northeast Regional champion at the Frozen Four.
No. 1 Cornell (28-4-1, 19-2-1 ECAC) vs No. 4 Minnesota State (20-10-10, 15-6-7 WCHA)
Saturday, 12 p.m. Eastern, Dunkin' Donuts Center, Providence, R.I.
Cornell University Big Red
Current national ranking: No. 1
How in: ECAC tournament champions
Last appearance: 2002 quarterfinals
Last weekend Cornell captured its 10th ECAC Championship with a thrilling 3-2 overtime win over Harvard on Sam Paolini's goal.
The Big Red had a 1-0 lead going into the third period but saw the Crimson score twice to take the lead. With just 33 seconds left in regulation, the Big Red tied it before winning in overtime.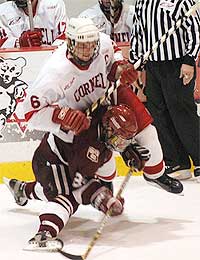 It was a sweet victory for Cornell, which was denied last year by the Crimson in double overtime of the ECAC championship.
"This team remembered what happened last year against Harvard, and we carried it with us all offseason in the weight room, and all this year," head coach Mike Schafer said. "We carried that will and determination for 365 days. I couldn't be more proud of these guys."
The win, coupled with Colorado College's loss to Minnesota, made the Big Red the number-one team in the country, the number-one team in the PairWise Rankings and the number-one seed overall in the NCAA tournament.
The Big Red's prize? Minnesota State.
"We worked hard all year to get the highest seed possible, we knew that getting to the Frozen Four was going to be a difficult challenge. The first-round matchup, I really don't understand the NCAA's reasoning," Schafer said. "It doesn't make any sense in my mind. We're the No. 1 team in the country and we deserve to play one of those 15th or 16th seeds regardless of what the criteria say.
"I didn't think the selection committee did a very good job protecting us as the No. 1 seed at the expense of avoiding intraconference matchups. I don't agree with it."
"But we're playing the 14th seed. Such is life."
Despite the hubbub, the bottom line is that it takes four wins to raise the banner. The Big Red have the tools and the talent to do so. For starters, Cornell will once again look to Hobey Baker finalist and Co-ECAC Player of the Year David LeNeveu in goal.
LeNeveu, just a sophomore, tied the mark for shutouts in the ECAC tournament in his career and broke the league record for shutouts with his blankings of Rensselaer and Brown this season. He also now holds the record for consecutive shutout minutes with 177:14.
In front of LeNeveu the Big Red boasts both offense and defense on the blue line. Led by Doug Murray, who provides a physical punch and a booming shot, the Big Red hold talent and a great presence of mind, as evidenced by allowing Brown just 11 shots on goal in the ECAC semifinals.
Up front the Big Red boast a strong attack. The first line consists of Matt Moulson, Ryan Vesce and Stephen Baby, and behind them the other Big Red forwards contribute extensively. The Big Red have eight players with 20 points and 14 players with at least 10.
That depth will be a huge plus for the Big Red as they try to win four games en route to the NCAA championship. That was evidenced by Greg Hornby scoring the game winning goal against Brown in the ECAC semifinal, then Paolini with two goals in the championship.
"It's very rewarding, because depth has been one of the most important factors for us this year," said Schafer.
Not only will Cornell's depth play a role, but so will Minnesota State having to play on an NHL-sized ice sheet.
"[MSU] plays on an Olympic sheet and they're going to have to come down to an NHL rink," Schafer said.
The Big Red are ready for the task. Cornell came close last year before New Hampshire ousted it; this time the Big Red are looking for more.
"It's rewarding knowing that all our hard work is finally paying off, but we're still not done," said LeNeveu. "We're still going on to the NCAA championship, and we're going to the Frozen Four."
Minnesota State University-Mankato Mavericks
Current national ranking: No. 11
How in: At-large bid
Last appearance: First NCAA tournament berth
They may not be going into the national tournament in the manner they'd like, but the Minnesota State-Mankato Mavericks are going into the national tournament.
When it's your school's NCAA debut, how you got there doesn't matter as much.
"It's an exciting time for the program, obviously being the first time in the national tournament," Mavericks coach Troy Jutting said. "It's a goal we had as a program when we started off in Division I hockey (in 1996), and you never know how long it's going to take you achieve the goal. But to make it to the national tournament is a big step for our program."
In advance of their first-round game with Cornell, however, the Mavericks lost two games at the WCHA Final Five last weekend — and were outshot by large margins in both — after losing only once in the 23 games prior.
It may be premature to say Mankato's run is over, because the Mavericks have the firepower to make some waves in the NCAA tournament. But unless they can even out the gap in shots they experienced last weekend, they'll have a tough time at the national level.
They were outshot 49-16 against Minnesota and 40-27 against Minnesota-Duluth. Jutting admitted it was a concern, but said his banged-up defense has had some time to regroup and his team is "pretty healthy."
Despite the losses in St. Paul, Minn., the Mavericks took away from the Final Five some of what they can expect this weekend. The NCAA tournament is a new experience to all of the players, but Jutting holds the Final Five as a similar experience and something the Mavs can build on.
"That's a pretty big pressure situation in itself, to be playing in that tournament and having the number of Minnesota teams that were in it and having the kind of tournament that it is," Jutting said. "I think it's a great preparation for the national tournament."
Mankato features two first-team all-WCHA forwards in Shane Joseph and Grant Stevenson. Joseph has 29 goals and 64 points, while Stevenson has 27 goals and 62 points. They're unquestionably the leaders of the Mavericks' offense, but getting support for them is crucial.
Cole Bassett has 14 goals, Brock Becker and Adam Gerlach add 13 apiece, captain B.J. Abel has 12 and Dana Sorenson has 11.
"While [Joseph and Stevenson] had great years, one of the things that goes maybe a little unnoticed is we've got seven kids in double digits in goals," Jutting said. "There is a support group for those two kids to where they don't have to and shouldn't feel like they have to be the end-all.
"But we're going to have to get production from everybody. This time of the season and the types of games we're going to be hopefully involved in over the next week, all of the kids are going to have to contribute in ways that they're capable of contributing."
Jutting said sophomore Jon Volp, who made 46 saves in the loss to Minnesota, will start against Cornell.
No. 2 Boston College (23-10-4, 16-6-2 Hockey East) vs. No. 3 Ohio State (25-12-5, 16-8-4 CCHA)
Saturday, 3:30 p.m. Eastern, Dunkin' Donuts Center, Providence, R.I.
Boston College Eagles
Current national ranking: No. 8
How in: At-large bid
Last appearance: 2001 NCAA champions
Boston College fans breathed a sigh of relief when the Eagles' expected fate became Maine's: traveling West to face Michigan on its home ice in the first round, followed by a potential matchup with Colorado College. Instead BC brings many of its fans to nearby Providence where it will face Ohio State in the first round and, if successful, the winner of Cornell vs. MSU-Mankato.
In a sense, BC got the best treatment of the four Hockey East teams despite being the lowest seed. Unlike Maine, it is staying East and avoiding a dreaded host team at a campus site; unlike New Hampshire and Boston University, it won't face another league team for the umpteenth time until the Frozen Four.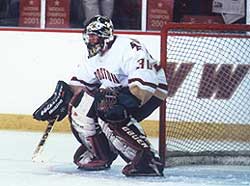 "Our regional has the four established leagues all represented," BC coach Jerry York says. "I love that about the national tournament. It's a true cross-section of the entire country.
"Some of the best venues in college hockey are on campuses. Michigan is one of them and Minnesota is another. Those are great sites to be part of the regional, but it does make it difficult [to face a host]. But the Buckeyes present some pretty good obstacles, too."
Indeed they do, despite stumbling into the CCHA playoffs with a 1-4-2 record. They finished in the middle of the CCHA pack offensively, but R.J. Umberger (26-27–53) is a major threat and it's defense that carries the Buckeyes.
As such, the matchup represents a study in contrasts: BC's offensive prowess (3.97 goals per game, tops in Hockey East) and power play (22.7 percent, second in Hockey East) against the Buckeye defense (2.25 goals per game) and penalty kill (88.2 percent), both CCHA bests. BC's depth in team speed and skill, led by Ben Eaves (18-38–56) and Tony Voce (22-22–44), counters Ohio State's size, best manifested in Umberger (6-2, 205) and fellow behemoth Dave Steckel (6-5, 210).
"Ohio State has had a good year," York says. "They've got the two big first-round draft choices, Steckel and Umberger. [Ryan] Kesler, the freshman center, has had a real good year."
If BC advances to face top-seeded Cornell, the contrasts will become even more significant. The Big Red features size up and down the lineup.
"[Doug] Murray is one of the largest defensemen in college hockey and [Stephen] Baby may be the biggest winger in college hockey," York says. "But that little kid, [Ryan] Vesce — the small, clever center-ice-man — plays very well for them.
"You can talk about their size and their strength, but their goaltender makes them a really dangerous opponent to play. It's incredible the goals against and the save percentage numbers [Dave] LeNeveu has put up."
LeNeveu (1.13 GAA, .943 Sv%) is on pace to break Ken Dryden's all-time goals against average record. This contrasts with the haunting image BC fans have of Matti Kaltiainen (2.33, .897) struggling in the Eagles' Hockey East semifinal loss to Boston University. Kaltiainen surrendered six goals on 35 shots and looked to be fighting the puck all evening after giving up a soft one in the opening minute.
The sophomore had been steady to that point, not allowing more than three goals in any of 21 games since November. Considering the intensity of the BU rivalry, however, BC fans might counter, "Other than that, Mrs. Lincoln, how did you like the play?"
"Matti is a real competitor and he'd been playing very well down the stretch, one goal each night against Merrimack [in the quarterfinals]," York says. "The first goal that he gave up against BU, that's one he would have liked to have had back. It really set him on his heels for the rest of the night, although I thought he did come on strong late in the game with some saves.
"He's reviewed the tapes, he's watched how he played and he certainly feels that was a game he could have played better at and he's practiced very hard this week. You can't win without great goaltending, not at this level. We expect Matti to get back on track and play very well this weekend."
That will likely determine just how far Boston College can go.
Ohio State University Buckeyes
Current national ranking: No. 13
How in: At-large bid
Last appearance: 1999 first round
Would the real Ohio State Buckeyes please stand up?
In early January, it looked like OSU would give Ferris State competition for the CCHA regular-season title. Sitting pretty in second place with one of the best defenses in the country, two goaltenders who could play, and a slew of goalscorers, the Buckeyes looked poised to make a run.
Then Mr. Hyde appeared, with Dr. Jekyll nowhere to be found during a span of 11 games that saw the Buckeyes go 4-6-1, hardly a contending record.
It was no secret that OSU's potentially explosive offense had essentially imploded in February and early March, and head coach John Markell attributed the slump to a certain kind of lack of focus.
"They [the forwards] were gripping their sticks a bit hard, trying to get cute in the offensive zone. We needed to get back to basics," Markell said.
Which is exactly what the Buckeyes did toward the end of the season, tying Michigan twice in Columbus, Oh., handily dispatching the Mavericks in the first round of the CCHA playoffs, and playing four decent periods of hockey at the CCHA Super Six in Detroit last weekend.
See the problem here? OSU played three games at Joe Louis Arena. They were slow and quiet for their first two periods in their 3-1 win over Notre Dame in the quarterfinals, fast and physical in their 3-0 loss to Michigan in the semis, and nonexistent in their 4-1 loss to Northern Michigan in the consolation game.
That's the story of the Buckeyes: all the ability in the world, an incredibly deep team, and an absolute lack of consistency.
Much is said about RJ Umberger, and it should be. Umberger (26-27–53) can take your breath away. The puck loves him, and he can move like the wind. He can set up a decent play, and he can fight his way through opposition, and he can dig into the corners — but he doesn't always, and that's an issue.
His classmates Scott May (10-25–35) and Paul Caponigri (10-22–32) can be lethal with the puck … lots of times.
The bottom line for OSU is that the top two Buckeye lines don't always bring their "A" game, and that defines the team's inconsistency.
The rest of the squad is hard-working, tough, and generally plays up to its potential. Senior Miguel Lafleche (10-8–18) is one of the toughest players in the league. Fellow senior Luke Pavlas (0-5–5) has earned time on the roster because of injuries to key players, and he never, ever dogs it.
Others to watch up front: freshman Rod Pelley (8-3–11) has come on toward the end of the season, and his classmate Ryan Kesler (11-20–31) has a mean streak in him as wide as the Olentangy River.
Dave Steckel (10-8–18) is quietly having an outstanding season, even though he's playing with knee pain; Steckel is becoming one of the best defensive forwards in the CCHA. Chris Olsgard and JB Bittner are role players who can do more than maintain.
Speaking of defense, Buckeye fan favorite Pete Broccoli — who plays as though he's six feet tall but really isn't — should return to the blue line after suffering a shoulder injury in the game against Notre Dame. The defensive corps is solid, with the likes of Doug Andress, rookie Nate Guenin, and seniors Scott Titus and Erik Skaug.
And Mike Betz (2.28 GAA, .902 SV%) is a playoff goaltender.
If OSU's top two lines show up in Providence, this team will give itself a good chance to advance.