Out of the frying pan, into the fire.
When Colorado College lost the WCHA championship to Minnesota last weekend, it moved the Gophers up to a No. 1 seed, That meant the Tigers, who were assured a top seed regardless of Saturday's outcome, could not be bracketed with West Regional host Minnesota on the Gophers' home ice.
Before the conspiracy theories get started, CC's "prize" for losing was no such thing. Rather than Minneapolis, the Tigers ended up atop the Midwest Regional at Yost Ice Arena — home of third-seeded Michigan.
The Wolverines earned their way into the NCAAs with another CCHA tournament championship, defeating Ferris State to head into the national tourney on a roll. It didn't help Michigan in a tangible way, though, since the Wolverines ended up a No. 3 seed anyhow.
The hosts will face Maine, which became the odd team out when Hockey East earned three No. 2 seeds in the tournament. The Black Bears were sent westward for what should be an intriguing first-round contest.
Finally, No. 4 seed Wayne State claimed its spot with the CHA tournament championship, picking up that conference's first-ever NCAA autobid with a win over Bemidji State. The Warriors will attempt to follow the example of the CHA's original NCAA invitee, Niagara, which stunned New Hampshire in the first round of the 2000 NCAA tournament.
No. 1 Colorado College (29-6-5, 19-4-5 WCHA) vs. No. 4 Wayne State (21-16-2, 11-7-2 CHA)
Saturday, 12 p.m. Eastern, Yost Ice Arena, Ann Arbor, Mich.
Colorado College Tigers
Current national ranking: No. 2
How in: At-large bid
Last appearance: 2002 quarterfinals
Colorado College could field an all-star team by itself. Start it with Hobey Baker Award finalists Peter Sejna at forward and Tom Preissing on defense, and add WCHA first-team goaltender Curtis McElhinney, second-team forward Noah Clarke and rookie-team members Brett Sterling at forward and Mark Stuart at defense.
There you have it — the best chance the Tigers have had at reaching the Frozen Four since they last made it there, in 1997.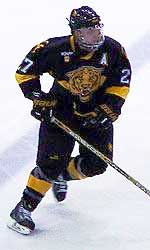 But those six players won't be able to get CC out of the Midwest Regional by themselves, not with a second-round matchup with Maine or host Michigan staring the Tigers in the face if they get past Wayne State.
The chain of support is critical for the Tigers, who have been carried by Sejna, the national scoring leader at 79 points. If they make it to Buffalo, it might be because of players like Joe Cullen, Tyler Liebel and Andrew Canzanello.
"We know we'll get points out of Sejna and Clarke," CC coach Scott Owens said. "We just have to try to get a power-play goal and a little bit of scoring out of those other lines."
The Tigers lost to Minnesota in the WCHA tournament final last Saturday night, something that Owens said he didn't feel too badly about. But in that loss and an overtime win over Minnesota-Duluth in the semifinals, he saw good things from the line of Colin Stuart, Aaron Slattengren and Joey Crabb.
Meanwhile, the "Vegas Gold" line of Sterling, Cullen and Liebel — named after the color of the Tigers' third jerseys — also has been providing adequate backup for the Sejna-Marty Sertich-Clarke combination.
And, if nothing else, the Tigers have their national-best power play to fall back on. That's where Canzanello has been key, helping the Tigers to a 30.2 percent success rate.
The Tigers also are counting on their playoff experience to play a big role this weekend, especially in the first-round game against Wayne State, which has never been to the big dance.
"There's no doubt [playoff experience is key], but we've got to be ready to play," Owens said. "And I think we need to play a little better than we did at St. Paul, and I do think we're capable of it."
This is the second year in a row that the Tigers have been sent to Yost Arena. Last season, they beat Michigan State in the first round before losing to eventual champion Minnesota in the quarterfinals. The bracket allowed them to avoid playing the host, but the same may not be true this year.
"I don't mind going back there. We got treated real well there," Owens said. "We're familiar with the building and the locker rooms and the whole area. We've got a lot of guys that were there last year.
"The big drawback [could be], if we do advance, playing Michigan in their building, where they've been so good. We saw them dismantle both St. Cloud State and Denver last year."
There's an 80 to 90 percent chance defenseman Jason Josza will play this weekend after missing last weekend's WCHA Final Five with a shoulder injury.

Wayne State University Warriors
Current national ranking: unranked
How in: CHA tournament champions
Last appearance: First NCAA tournament berth

Wayne State head coach Bill Wilkinson is under no illusions about his Warriors' role in the NCAA tournament.

"It's the David-and-Goliath scenario for sure," Wilkinson told the Detroit Free Press. "And we know we're David."

That they are. Wayne State takes on top seed, and national No. 2, Colorado College in the first round at Yost Arena Saturday, without a lot of advantages. The Warriors weren't even the CHA's regular-season champion: that honor went to Alabama-Huntsville, which lost in the conference's tournament semifinals.

The Warriors finished tied for third in the league's final standings, but came through in the playoffs to earn their third straight CHA tournament championship. This one, of course, came with a bigger prize than the first two.

Wayne State became the CHA's first autobid winner — though not the conference's first representative, an honor Niagara earned three years ago. That year, the Purple Eagles made NCAA history by upending heavily-favored New Hampshire to reach the quarterfinals, where they lost to eventual champion North Dakota.

Will history repeat itself? Well, like that Niagara squad, Wayne State is senior-laden. In both cases, in fact, the senior class in question was their first. Wayne State began varsity play as a founding member of the CHA in 1999-2000, meaning that this group of seniors will hold a special place in Warrior history for two reasons.

Lest one believe the Warriors have no players other than those that are graduating, the freshman class includes All-Rookie Teamer Derek MacKay (16-12–28), who is third in scoring for Wayne State.

The senior class is prominent all across the ice, however. Up front, Dusty Kingston (17-23–40) and Jason Durbin (12-24–36) are one-two in scoring, while David Guerrera anchors the Warriors in net.

Guerrera, the 2002 CHA Player of the Year, saw his numbers drop off from that award-winning season, but will have to reclaim that form if the Warriors expect to have a chance against CC. He will have second-team All-CHA defenseman Keith Stanich in front of him to assist in keeping the Tigers' high-powered offense off the scoreboard.

Turning back to advantages, the Warriors may have two: first, they enter the NCAAs on a roll, having won seven straight games including the three at the CHA tournament. Second, Ann Arbor, Mich., is just down the road from the Wayne State campus, which should boost the Warriors' fan support.

Still, those are slim odds to bet on when the opponent features the nation's scoring leader (two of its top three, in fact), its top power play, its top scoring offense … well, you get the picture.

For the time being, though, nothing can take the luster off the Warriors' appearance on the national stage.

"We made it through a long, grueling battle," Durbin said after the Warriors' CHA title win. "This is a dream come true."

No. 2 Maine (24-9-5, 14-6-4 Hockey East) vs. No. 3 Michigan (28-9-3, 18-7-3 CCHA)
Saturday, 3:30 p.m. Eastern, Yost Ice Arena, Ann Arbor, Mich.

University of Maine Black Bears
Current national ranking: No. 9
How in: At-large bid
Last appearance: 2002 NCAA runners-up

Here's the real reason Maine got sent West into the hands-down worst position for any number-two seed. Maine fans noticed that on Friday nights their team played like a Stephen King vampire in broad daylight. All but two of the Black Bears' nine losses came on a Friday. Of their last five Friday night games, they lost every single one.

As a result, somewhere, somehow a Maine fan requested the intervention of the higher powers (or the lower powers if you stick with the Stephen King theme, heh-heh-heh).

"Please spare us more Friday night games."

Well, the Maine-iac got what he prayed for (or sacrificed chickens at midnight for, heh-heh-heh).

No matter what, the Black Bears have played their final Friday game of the season. Having been sent West — although "banished West" might better capture the Downeast sentiments — the Black Bears' run at a national title will appear on the calendar as Saturday-Sunday-Thursday-Saturday.

What more could a Maine fan ask for?

Well, how about staying East so as to not lose those thousands of Black Bear zealots who would have descended on Worcester or Providence? How about not having to face Michigan in Yost Ice Arena (for King fans — the Black House), a venue where the third-seeded Wolverines will likely resemble a number-one seed? How about not following that brutal matchup with Colorado College, which will likely be fresh off a cakewalk over Wayne State?

The hero often beats the odds in a Stephen King novel, so maybe that's a good omen since Maine is a serious underdog. Aside from the daunting foes, the Black Bears flat out played poorly down the stretch. Through Jan. 24, they were 24-2-3. Since then they have failed to win back-to-back games even once, going 4-7-2.

"I was a little surprised we're not in Worcester or Providence based on the PairWise," Maine coach Tim Whitehead says. "We thought that if they went strictly by the PairWise we'd be matched up with Ohio State at one of the Eastern sites, probably at Providence. That would be great for the fans that are following us.

"But ending up out West could be a positive for us. We slumped a bit at the end of the season so this gives us a chance to get away. Certainly, we've got a very challenging matchup, Michigan in their own rink and they're playing at their best having just won the CCHA championship. We know we have our hands full.

"But in many ways, that's fine. If we're able to get by Michigan in their own rink when they're playing at their best in game one, then I think we'll be a very dangerous team to contend with for the rest of the tournament. So why not go up against it all right in game one?"

Key number one is whether the Maine defense will make the costly turnovers and mistakes in its own end that prompted the stretch drive stumbles. Key number two is how strong the goaltending is. Jimmy Howard excelled through much of the season, but hit a wall in February, falling from one of the top save percentages in the country to a modest .916. Howard got the hook in both losses to Massachusetts in the Hockey East quarterfinals, so Frank Doyle could supplant the Hockey East Rookie of the Year. Key number three is how well Maine reacts to a three-week layoff.

Whitehead dealt with the latter two problems by canceling practices for a week following the UMass upsets, saying "Three [weeks] is a little more than you'd want, but that's why we're taking this week off.

"As far as our game sharpness, on game day we're going to have to be as sharp as we can be because it's one game and you're out. We'll just have to wait and see how it affects us. But I think our guys are going to be very excited to play and very hungry."

Amidst all the doom and gloom, one reason for optimism remains: this is largely a veteran team that dealt with crushing adversity last year and still came within a minute of a national championship. All the signs may point to an early exit, but it may not be wise to count this team out quite yet.

University of Michigan Wolverines
Current national ranking: No. 7
How in: CCHA tournament champions
Last appearance: 2002 Frozen Four

After the NCAA selection show aired, while some folks were grousing about who got in and who was left behind, Michigan head coach Red Berenson had other things on his mind.

"Some of the coaches are more academic than I am," said Berenson. "They are more involved in the [selection] process.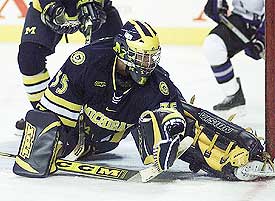 "I am more involved in finding out who we play and getting ready to play."
And why not? These days, Michigan is a perennial near-lock for the NCAA tourney, having made 26 appearances overall, and has the longest current streak of 13 years running. The Wolverines have the second-most wins in NCAA tournament history (40) — and they knew where they'd be playing.
It's all Berenson's doing. He's brought teams chock-full of "elite" players to the tournament — remember the class of John Madden, Brendan Morrison, Blake Sloan? — as well as teams like this one, a squad that scores by committee, with a tenacious defense and a rookie goaltender.
CCHA Rookie of the Year Jeff Tambellini (26-17–43) chairs the Wolverines' scoring committee, and six other Michigan players have 10 or more goals. Four of those players — Dwight Helminen (17-15–32), David Moss (14-16–30), Eric Nystrom (13-9–22), and Milan Gajic (10-10–20) — are part of a seasoned sophomore class that can grow into one of the most productive, hardest-working classes in the CCHA.
If they stay grounded, that is.
Michigan, the team that captured the Mason Cup for the second straight year with its 5-3 win over Ferris State in the CCHA title game last weekend, is the team that CCHA fans love to hate, and perhaps in the past there was good reason for this. With a reputation for "attitude" and a propensity to win — and win, and win — the Wolverines were an easy target for derision.
But this Wolverine squad is worth cheering. Not only can that sophomore class blossom into something spectacular — should those sophomores stay the course — but Michigan's senior class is strictly blue-collar, with the kind of players who lead by example.
Assistant captain John Shouneyia (17-18–35) is the perfect example of a grinder, and captain Jed Ortmeyer (16-16–32) is as consistent in a two-way game as they come; defenseman Andy Burnes has had to contend with a very young blue line, and has more than made do.
And the entire team, down to a man — including freshman netminder Al Montoya (2.34 GAA, .910 SV%) — displayed an enviable workmanlike attitude at the CCHA Super Six: they had a job to do, and they didn't stop until they were done.
The team is confident, not cocky, going into the Midwest Regional at Yost this weekend.
"It's something we've talked about all year," said Shouneyia, "winning the playoffs and then coming into the stretch run … feeling good about ourselves.
"But that's all over now, so we just need to get hot again."
Spoken like the true leader and blue-collar player he is.
Yes, Michigan is playing at home, but Michigan is 0-3-0 all-time against Maine in NCAA tournament play. Nothing other than the Wolverines' appearance is a lock.
And one more thing: the Wolverines are at a distinct disadvantage when the going gets physical.
Timothy M. McDonald and Budd McLaughlin contributed to this report.