There's a reason hockey types often describe goals in the first few minutes of a game as critical. They set up the plan for the rest of the game, determining whether a team will have to take some risks or be safe in its style of play.
Get that crucial early goal and, a lot of the time, you're on your way.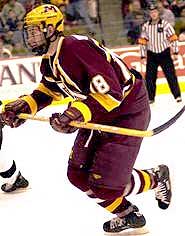 So it shouldn't be tough to draw the connection between Minnesota's offensive inefficiencies in the first period early this season and its choppy start. Injuries played a role, but at Christmas, the Gophers were 9-4-4. In those 17 games, they scored only 12 first-period goals.
No fast start, no fast start.
"Boy, that first half of the year, I don't know how many times — I think we were about halfway through the WCHA season and we'd scored about 12 goals in the first period," Gophers coach Don Lucia said, "the lowest in the whole league."
But what Minnesota has done in its buildup to the Frozen Four has shoved that stat into a corner. The Gophers go into the national semifinals having scored 11 first-period goals in their last three games.
Seven of those have been in the first 5 minutes, 25 seconds — goals that have put the Gophers in the enviable position of playing with a big lead.
In the first 17 games, they scored only four times in the first 5:25.
"We're ready to play finally," Gophers sophomore defenseman Keith Ballard said after Minnesota advanced to Buffalo, N.Y., with a five-goal-first-period-fueled 7-4 victory over Ferris State in the West Regional final.
"It took a while and it took a few bumps in the road, a few games that we came out and we weren't ready, but this weekend we were mentally prepared and it really helped getting a quick lead."
Junior captain Grant Potulny figured in five first-period goals in the last three games, including all three in the WCHA Final Five championship victory over Colorado College. But his absence with a broken leg and ligament damage early in the season, and the nine-game span without forward Barry Tallackson because of a shoulder injury, got in the way of the Gophers' plans for a clean start this season.
Lucia credits the play of his forwards with the turnaround.
"When they get pucks deep, when they get up and after it on the forecheck, when they finish it, when they're moving their feet, when they're moving the puck, we're a much better team," he said. "When our legs are spread and we're kind of watching and they don't want to get after it, then we start to struggle."
It was no struggle in the regional final. Matt Koalska scored 13 seconds in, then Ballard put the Gophers up 2-0 after just 98 seconds. A night before, against Mercyhurst, they went ahead at 1:15 and went up by two at 4:33.
"That might be one of those situations where you learn from your mistakes," Ballard said.
Freshman forward Thomas Vanek interrupted.
"I was thinking all year," he said with a grin, "I'm kinda sick of the coaches yelling at us."
Apparently, the Gophers got the message.