Hockey fans visiting Buffalo will no doubt want to sample some authentic Buffalo chicken wings — after all, the recipe was invented at the Anchor Bar here in 1964.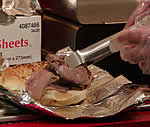 The legend of their creation goes something like this: Dominic Bellissimo was tending bar late one Friday night when a bunch of his friends stopped by, looking for something to eat.
Dominic asked his mother Teressa to see what she could whip up. Around midnight, she came out with a couple of plates of what looked like chicken wings — usually used in soup stock — with a pungent aroma wafting from them that caught everyone's attention. Teressa had deep fried the wings and coated them with butter and hot sauce.
The new dish was such a hit that it soon became a staple on the menu, not just at the Anchor Bar, but in watering holes all around Buffalo.
But besides Buffalo wings — by the way, they just call them wings here — there are a couple of other regional food peculiarities available at the game that sporting gourmands will want to sample.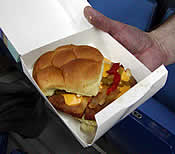 One tavern staple served at the arena, and rarely available or even heard of outside of Western New York, is the Beef on Weck sandwich. "Weck" is short for kimmelweck, a kaiser roll with covered with caraway seeds and coarse salt. Steamed roast beef is layered on the roll, which is best topped with a healthy dose of pickled horseradish.
Another Buffalo favorite served at the game is the fried bologna sandwich, popularized here by the city's large Polish immigrant population. A quarter-inch thick slab of bologna is topped with fried onions and peppers and a slice of American cheese.
If you try these regional delicacies, make sure you sample them at a local joint, especially the wings. A chain restaurant's version just won't be authentic, even if it is located here in Buffalo.