When Peter Sejna arrived in the United States five years ago to begin a junior hockey career with the Des Moines (Iowa) Buccaneers of the United States Hockey League, he knew there would be adjustments to be made.
The main one, according to the native of Liptovsky Mikulas, Slovakia, was the language barrier.
"When I came to Des Moines I could barely speak English, and I didn't understand too much," said Sejna.

While learning English along the way, Sejna also did a lot of talking with his hockey stick, and capped off a brilliant season at Colorado College by winning the 2003 Hobey Baker Award.
"I'm very thrilled," said Sejna. "This has been just a great, great opportunity. When I came here five years ago, I never thought that this would happen. The more I heard about college, the more psyched I got about playing college hockey."
Sejna led the nation in scoring this season with 82 points, including 36 goals, also tops in Division I. He recorded at least one point in all but one of the 42 games he played this season for the Tigers, including a school-record 31 straight games this year and 33 overall.
"We're very proud at Colorado College," said coach Scott Owens, who also coached Sejna in juniors. "A better person and player couldn't have been picked.
"He is truly deserving."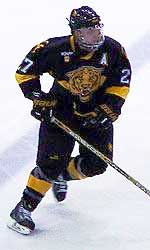 Sejna said he was able to overcome the language barrier thanks to the host family he lived with in Des Moines.
"The George family really helped me," he said. "They put stickers on things to learn the names and I would go around the house and read them. They would stay up with me and talk to help me. I said that if I could talk with their youngest kid — because he was hardest to understand — and if I could understand him, then I knew I could speak English pretty well."
It's obviously not a problem anymore. Sejna maintains a 3.61 grade point average as a Mathematical Economics major, and has been able to successfully juggle hockey and school thanks to a strong work ethic.
"When the best player on your team is your hardest worker, it rubs off," said Owens. "And Peter has, since the day he got there, has been the been the hardest working player on the team."
Sejna recently signed with the St. Louis Blues and scored his first NHL goal in his first professional game last Sunday against the Colorado Avalanche. He then returned to class on Monday.
"He's flying back to CC tonight to take his final exam in art history tomorrow," said Owens. "Then he's flying to Slovakia to join the Slovakian national team on Saturday."
Reflecting on his college career, Sejna says he is glad that he made the most of his opportunities, and hopes that it will set an example for other European players.
"[College hockey] is not very known among European players," he said. "I was lucky enough to have two years of junior hockey [in the U.S.], and I became more aware of college hockey.
"I just hope it helps other European players see that this is the right way to go — playing college hockey."