George Gwozdecky looked into the eyes of his players and saw shock and disbelief. Looking back six months later, he's glad he did.
The Denver players never suspected their 2002-03 season would end the way it did — with them falling short of their goals. So when the Pioneers were ousted from the first round of the WCHA playoffs in a Game 3 overtime last March, the memory of his players' stunned reactions was embedded in the mind of Gwozdecky, the Denver coach.
Chances are, the same can be said for the players. Many of them return this season having experienced the highs and lows of college hockey in the span of two years. Two seasons ago, they were WCHA regular-season champions; last season, they finished seventh in the league.
The bewilderment Gwozdecky saw at the end of last season told him his players never gave up on their goals, an admirable trait for a team. Now, having been through it all just might be what pulls it all together for the Pioneers in a season where no one really is sure what to expect from them.
"I definitely think it can be used for great motivation," Gwozdecky said of the range of emotions. "You definitely learn never to take anything for granted and to appreciate what you have. Last year, we had very high expectations for ourselves. Without a doubt, we didn't come close to reaching those expectations."
The expectation for this season is that there will be plenty of development going on — not always the words the home fans want to hear — but a solid group of players acting as mentors.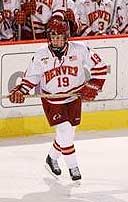 Connor James, the top returning scorer, will show some of the younger players what it takes to be a big-game player. Ryan Caldwell will step into the departed Aaron MacKenzie's role as the defensive stalwart, helping to bring players along on and off the ice.
But the group to watch — as it has been for the last three seasons — is in goal. It's hard to imagine a better scenario to lose a goalie as accomplished as Wade Dubielewicz than the one Denver has put together. Adam Berkhoel, Dubielewicz's partner for three seasons, enters his senior season as the unquestioned No. 1 goaltender — not the 1-A he had been designated in the past — and with plenty of experience to lean on.
He'll be asked to pass on some of that wisdom to freshman Glenn Fisher in the hopes they can end the season in the classic Pioneers rotation.
"We haven't lost a beat, so to speak, as far as having the kind of quality and talent at that position," Gwozdecky said. "Along those same lines, Wade and Adam had a very strong relationship — an excellent relationship. And that same type of relationship is slowly developing between Adam and Glenn. It's a relationship that is trusting and supportive, and yet competitive. They're going to compete hard against each other and push each other to make each other better. That's why I think Wade and Adam succeeded in the philosophy that they played under."
Caldwell, meanwhile, has a big challenge ahead of him in replacing MacKenzie, the WCHA's co-defensive player of the year. But he has the confidence of Gwozdecky and the rest of the team, so much so that he's the captain this season.
Much as Caldwell, who was a team-best plus-18 last season, learned from MacKenzie, the rest of this year's defensemen can learn a thing or two from the New York Islanders draft pick, Gwozdecky said. He's especially impressed with the way Caldwell conducts himself off the ice, not to mention his skills on it.
He'll have to help mold players like Brett Skinner, who had a 17-point freshman season, and Matt Carle, a freshman who's expected to step right into the lineup.
"I think Ryan has really blossomed, not only as a defenseman but in his leadership position," Gwozdecky said. "I think he is going to have a terrific, terrific senior year. He's made a lot of progress over the last six months, not only individually but as the leader of this team. I feel very confident that he's going to have the kind of year he's going to be very proud of and is going to help this team be successful.
"Like most four-year players do, he's come an awful long way in his development, not only as a player but as a person. I don't think we could have a better leader on our team this season than Ryan Caldwell."
James could take exception to that statement, based solely on his scoring ability. His numbers have climbed all three years he's been at Denver, from eight goals and 27 points as a freshman, to 16 goals and 41 points as a sophomore, to 20 and 43 as a junior.
Predicting 50 points for the Los Angeles Kings draft pick might not be too much of a stretch if he can get the support he needs. Junior Kevin Ulanski has developed into a dependable scorer, but unless the Pioneers can get more help from role players, they could struggle on offense.
Gwozdecky said he hopes a number of freshmen can help up front, but it's likely James will have to be the Pioneers' driving force.
"I fully expect a guy like Connor James has developed into that type of player for us," Gwozdecky said, "and will be not only a terrific offensive player for us but a big-game player for us."
Noteworthy
Denver doesn't host Michigan Tech or St. Cloud State, and doesn't travel to Wisconsin or Minnesota-Duluth. … After starting last season 12-2-2, the Pioneers went 9-12-4 the rest of the way. … A tough early-season stretch likely will show what the Pioneers are made of. They play a series at Minnesota, a home-and-home with Colorado College, make the trip to Alaska-Anchorage and return home to host North Dakota. … Defenseman Scott Drewicki was suspended from the team for an indefinite period for undisclosed reasons, The Denver Post reported. His status will be re-evaluated in October.