All signs point to this being the year the Crimson fulfill their potential. This is a loaded team full of veterans, as evidenced by the 16 juniors and seniors that will skate for the club each week. More importantly, though, is that there isn't a glaring weakness on a team that features a whopping 12 NHL draft picks.
"This is a team," explained head coach Mark Mazzoleni, "that over the last four years that our coaching staff has been around, has gone through the gamut of experience."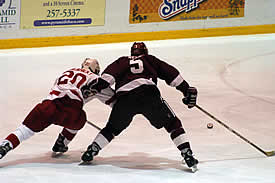 Including some heartbreaking defeats at the hands of rival Cornell. But this season looks to be a bit different.
Top to bottom, Harvard has the best crop of forwards in the ECAC, led by the explosive senior duo of preseason All-Conference selection Tim Pettit and Tyler Kolarik. Pettit tallied 17 goals and a team-high 30 assists last season, while Kolarik registered 15 goals and 28 points in 30 games.
"Judging by their numbers in the past, we're looking forward to their production this season," said Mazzoleni. "We have great balance up front. We're able to play four lines and sustain pressure. We have a good mix of size, skill and strength."
And a secret weapon that has been overshadowed until now.
"Tom Cavanagh (14-13-27) has waited in the wings behind Dominic Moore and Brett Nowak for his opportunity," said Mazzoleni, "and now he has it. If he'd been on any other team, he probably would have had that opportunity already."
Harvard led the league last year in goals per game (3.91) and power-play success (23.7 percent), while ranking second in goals allowed per game (2.29) and fourth in penalty killing (83.8 percent).
Much like up front, the Crimson are equally as gifted on defense and welcome top recruit Dylan Reese to the mix.
"We have good balance on defense and a nice mix of size and skill," said Mazzoleni. "We also feel we have the player who may be the best defenseman in college hockey in Noah Welch. He has the ability to single-handedly change a game on either end of the ice."
What may be the most intriguing part of the season, in addition to keeping an eye on the focus of the Crimson from game to game, is a potential battle brewing between the pipes, where junior Dov Grumet-Morris is the incumbent. He put up impressive numbers again last season, going 18-9-2 overall with a 2.38 GAA and .925 save percentage.
"[Sophomore] John Daigneau has an excellent change to challenge Dov for the job," said Mazzoleni of his backup, who went 4-1-0 overall with a 1.45 GAA and .943 save percentage in 2002-03.
"Every time we've thrown him in there, he's performed for us and if both are playing well over the early practices, then we'll give John a shot. We'd be a better team if we had that competition."
Now there's a scary thought for Harvard's opponents to ponder.