Entering the third season of his second stint as Lake Superior's head coach, Frank Anzalone is enthusiastic, sincere, and intense. His Lakers, picked last in both the preseason coaches and media polls, are more stable, he says, and that may lead to improvement in this season's performance.
"I think that right now for the first time we've gone through a cycle of here of no one quitting, no one leaving, no one seems to be unhappy with the level of work they're being asked to do," says Anzalone, who cleaned house quite thoroughly in his first 18 months at the helm.
"Everyone is recognizing that they have to develop that, that they are the type of recruits [who] are good players, but no one really knows that yet. That their development as people and as players is going to be the key. I think there's a really good attitude that way. And for the first time, it's almost through the whole team."
Last year, LSSU saw more losses and fewer goals than any team in the CCHA, averaging just 1.43 goals per game overall, 1.58 in league play. Ferris State easily eliminated the Lakers in the first round of the CCHA playoffs with a pair of 6-1 wins in Big Rapids.
This is not to say, however, that LSSU returns to play this season without talent, without hope.
"Our seniors, although they're not game-breaking players, they're guys who believe that what the coach is showing [them] will be important," says Anzalone. "I think that's a good thing for them to believe in.
"Attitudes are better, are more mature. I think that helps us win a few more games."
Among those senior converts are forwards Kyle Anderson and Chris Peterson, two of Lake State's top returning scorers who combined for 11 goals last season. The Lakers also add Tim Krueckl, who was Iona's second-leading scorer last season, before the program was dropped.
Defensively, the Lakers have one ace in the hole and, well, a lot of holes. Junior goaltender Matt Violin is the real deal with a .904 save percentage. Unfortunately, the netminder doesn't get much help; in spite of the respectable save percentage, Violin's goals-against average was 3.66 and he was forced to make 908 saves.
But Anzalone sees himself as someone rebuilding a once-great program — and he is — so the immediate future of Laker hockey isn't as dazzling as its distant past.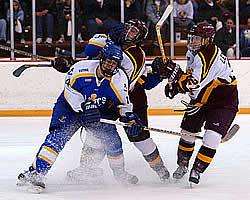 "I think the only thing I can really say right now for sure is that we're steady," says Anzalone. "I don't think that I've made any other great impact. I think I basically went in like a construction worker, and I looked at a house that was really beat up, and I went in and — I didn't want to knock the house down because that wouldn't be fair to do because it was a great house — I just had some work to do in the basement, I had to shore up some walls, and that in itself is hard.
"I think the kids have helped, the staff has helped, and I think we've done that. I think right now our house stands looking pretty good in a really high-priced neighborhood. We've just got to continue to fix it up — some more paint, change some more shutters — and if we do that, maybe we'll get the best garden award, but we're certainly not going to be the best house. That's reserved for some others.
"That's what we're trying to do. And if the kids all want to do that, I think it's possible to climb out of the hole a little bit."
The Hook
It's hard not to follow Laker hockey. Anzalone has proven himself successful with every team he's coached — including Lake Superior State — but he's also been chased out of town by everyone for whom he's worked.
He believes in Laker hockey, though. Never doubt that. He wants players with "Laker attitudes," who "want to play up in Sault Ste. Marie," who "like the small school," and who "are every bit as good as the best players on Michigan or Michigan State.
"I don't know if we're there yet, but there might be three or four guys now up in the Soo going to school who could emerge to be high B-level guys, but it's just a question of whether or not it happens, or how fast."
The Line
"I think right now our house stands pretty good in a really high-priced neighborhood."
The Sinker
While Anzalone saw success with Lake Superior State, coaching the Lakers to a national championship in 1988, there is some concern that he lives too much in the past, that he may be out of touch with how college hockey is played today.
"I think where we are now is making everyone realize what a wonderful 10-, 11-year period [that heyday] was, and how innocent, how truly innocent it was," he says.
"Whether we can get back there is a goal, but I think the goal right now is to get out of 12th place."