In 2002-03, Bob Daniels took the Ferris State Bulldogs to a place they'd only dreamed about — the top of the CCHA standings.
The first 30-win coach in FSU history, Daniels says that things have changed a bit in Big Rapids, Mich., since April.
There's been "a little bit of a raise," says Daniels, who hastens to add, "but I'm not on Easy Street."
The student section of Ewigleben Arena has already sold out. In fact, the section is being expanded, which, says Daniels, "is bad news for a lot of visitors."
"Season ticket sales are way ahead of last year," says Daniels. "We've always had a great, hardcore group of fans. What we've done is pulled in some people who were a little on the periphery. The numbers are way up."
All of this is good news for a team that two years ago finished sixth in four statistical categories in league play — goals scored, goals allowed, power play, penalty kill — but ninth where it counted, in the standings.
With this recent success, expectations for the 2003-04 season are "very high," says Daniels, and that's something about which the Bulldogs are excited. "If we didn't do well last year, the expectations wouldn't be there, so that's a welcome change for us."
In spite of the way the regular season ended, Daniels and the Bulldogs are not at all satisfied with the outcome of the 2002-03 season. Ferris State was bitterly disappointed to lose the CCHA Super Six championship game to Michigan, and FSU's showing at the NCAA West Regional, while scrappy, exposed the team's inexperience.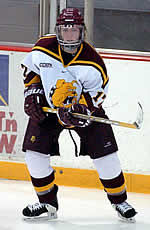 That season-ending 7-4 loss to national champion Minnesota in Ferris State's first-ever NCAA postseason tournament appearance is a motivator for this year's 17 returning Bulldogs. "Everyone really enjoyed the experience of a year ago, and I think they'd like to have that again," said Daniels. "Whether you win it all or not … you'd like to get back to big games because they're so much fun."
Before getting back to big games, however, the Bulldogs need another successful season. Given Michigan and Michigan State's decade-long dominance, Daniels is not taking a second consecutive rise to the top for granted. But given his reputation for being a mild-mannered, realistic kind of guy, when Daniels says his team is "good," you'd better believe it.
"You look at our sophomore class from a year ago, and they were dynamite," says Daniels. "I think we have the opportunity to make some noise this season and the next couple of years as well."
That class, now juniors, includes the duo of Jeff Legue and Derek Nesbitt, FSU's top two returning scorers (behind only Hobey Baker finalist Chris Kunitz). Those two finished the 2002-03 season with a combined 44 goals.
Another junior to watch is goaltender Mike Brown, who emerged last year as one of the CCHA's best with a save percentage of .925 (.927 in league play).
The Hook
There are several reasons to watch the Bulldogs. Even though they took the 2002-03 regular-season title, even though they were picked high in the polls, do you really expect them to repeat? When a program has a breakthrough year, what matters is what follows: anyone can beat the odds once.
But these 'Dogs are poised to have yet another day. Nesbitt led the nation in game-winning goals last season (nine), and the forward was on fire down the stretch, scoring the game winner in six of FSU's final 13 games.
With over 2,400 minutes logged in net, Brown quelled any doubts about his ability to backstop, and in front of him the FSU defense was superb. Led by senior Simon Mangos (+42) and junior Matt York (+39), the Bulldog blueline this season welcomes three newcomers.
The Line
"I know this, though," says Daniels. "Talent-wise, we have the ability to have a very good season." Strong words from a man not given to exaggeration.
The Sinker
Curses! Ask Guy Gadowsky and Enrico Blasi what happens the season after you're named CCHA Coach of the Year.
And how big is the loss of Kunitz? Kunitz netted 35 goals last year, one-fifth of the team's goal production. However, even without Kunitz and fellow seniors Troy Milam and Phil Lewandowski, the Bulldogs still tallied 131 goals for the season. Yowza.
But as Gadowsky knows, even if you lose only three key players — as UAF did two seasons ago — the entire chemistry of your team can change, and what once looked like gravy bears a suspicious resemblance to mire.