"We are all in a situation where we control our own fates. The answer is simple: win."
So says Walt Kyle, NMU head coach and believer in the league title. In a time when many coaches begin checking their Ratings Percentage Index (RPI) and PairWise Rankings midseason to determine whether or not they may be invited to the NCAA tournament, Kyle says that he's not a "big fan" of the RPI. "It's the chosen method, and there's only one sure way to have a good RPI, and that's to win."
The second-year head coach, former assistant coach of the New York Rangers, and former Wildcat captain and NMU alumnus, is well aware of his current job description.
"We're not in this to finish 14th in the RPI," says Kyle, whose Wildcats missed the 2002-03 NCAA tournament by inches. "That's a nice side benefit, but the reality is that it means more to me and the people in Marquette to win a CCHA Championship than for [NMU] to finish third in the CCHA and be high enough in the RPI to play in the NCAA [tournament]."
Kyle says that his return last year to coaching at the collegiate level after years in the NHL taught him some valuable lessons about how the games differ at each level. "One of the things that came to me at the end of the year is that in pro hockey, you use the regular season as a window to look at your team through, to see what adjustments you have to make personnel-wise, system-wise, role-wise, to be ready to play in the playoffs.
"College hockey is very different from that. Each season has a tremendous impact on what happens the following year."
Kyle says he was "blessed" last year when he inherited a team molded by his former coach, Rick Comley, a team that made the coaching transition after Comley — the only head coach for the first 26 years of Northern Michigan hockey — left for Michigan State.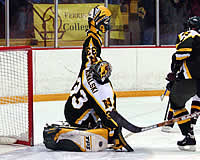 "I had a great group of seniors … seven guys who were all impact guys … and good leaders. They made sure that that team integrated with me really well. I had no problem with that at all."
More than a few of those seniors were household names: Chris Gobert, Bryce Cockburn, Mike Stutzel, Terry Harrison. In fact, those four seniors were NMU's top four scorers, accounting for over half of the team's 2002-03 goal production (52.7 percent).
Also gone are defensemen Jimmy Jackson, who recovered nicely last season after a mediocre junior year, and Juha Alen, who opted to go pro after his rookie campaign.
Returning is Craig Kowalski, the streaky goaltender who can make you oooh and aaah with his quick glove hand, or groan with his slow five-hole.
"We want to get our program to a point where we are, year in and year out, legitimate contenders for a league title and postseason national play," says Kyle. "We're not there right now. With the group of freshmen and sophomores we have I think we're close to growing into that."
The Hook
Who gives up a potentially long career as an NHL coach to return not only to college hockey, but college hockey in Michigan's unforgiving Upper Peninsula? Only someone in love with his alma mater, someone who wants to raise a family in a place he's always considered "home," someone who believes not just in the college game but in the Northern Michigan Wildcats.
"We want people at Northern who are there because Northern Michigan is where they want to be, not because Northern was their second or third choice," says Kyle. Obviously, Northern Michigan is where Kyle and his family want to be, and that's worth watching.
The Line
After losing all that firepower to graduation, those freshmen and sophomores must emerge as the new Wildcat offense. Look for sophomores Dirk Southern and Andrew Contois to combine for a potent one-two punch, in true NMU style.
The Sinker
Kyle has proven himself a capable coach at every level, and he believes in NMU hockey. But the Wildcats lost a lot in the offseason, and if Kowalski isn't consistent in net, this could be a rebuilding year for NMU.