UMass.
Year after year, the Hockey East Coaches' Preseason Poll picks one of the "usual suspects" as its favorite to win the league title. Those suspects are the same schools that year after year, with few exceptions, earn berths in the NCAA tournament and spend significant time near the top of the polls.
Boston College. Boston University. Maine. New Hampshire.
The Big Four.
Occasionally, an interloper inserts itself amidst these perennial powers, such as two years ago when Providence took top preseason billing. Even that exception, however, carried an asterisk. The Friars took that honor without a single first-place vote, a statistical oddity arising perhaps as much out of split opinions about the usual juggernauts as respect for PC's lineup.
The appearance of this caste system — The Big Four followed by everyone else — is borne out by the results. While Providence, Northeastern and Massachusetts-Lowell have all finished as high as second, the regular-season Hockey East crown has always gone to one of the powerhouses. And since the 1989-90 season, only Lowell (1993-94, 1995-96) and Providence (2000-01) have broken the stranglehold The Big Four have held on the top three spots in the standings.
All of which could be changing. There's an interloper that could turn Hockey East's Big Four into a Big Five: Massachusetts. Yes, the same program that has yet to finish with a winning record in Hockey East play and until last year had finished either in last place or next to last every year but one since joining the league in 1994. The same program that compiled a 40-134-18 Hockey East record during that same time. The same program that didn't even exist from 1979 to 1993.
Which is not to say that other schools won't make their runs at titles. They certainly will when the right combination of circumstances occur — dynamic coaches, longshot recruits paying off and key talent converging at the same time.
But the program best situated to become a new year-in and year-out power is UMass.
When asked about that potential, coach Don "Toot" Cahoon seems initially caught off guard.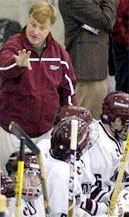 "I'm not sure if I'm prepared to answer the question," he says, before adding with a laugh, "and I'm not usually lost for words."
After the figurative gun is put to his head, however, Cahoon relents, albeit for the briefest of moments.
"When I allow myself to dream a little bit, I try to envision that," he says. "But in the end, that turns out to be a waste of energy. I'm a real day-to-day guy and try to make an effort each and every day to do something that will enhance the program and add another building block to see it become a program that's considered with the best.
"I try not to look too far ahead. There's so much competition and so many quality people that we're competing against — so many quality schools and programs that all have capabilities — it would be a misgiving on my part to go there."
While that is certainly prudent on Cahoon's part, it isn't hard to see advantages for UMass that must make even the perennial powers nervous.
To begin with, the school's wide range of academic options eliminates few potential recruits. Prior to taking the UMass job, Cahoon coached for nine years at Princeton, one of the most selective universities in the country. It wasn't enough for a potential recruit there to have a rocket of a slapshot; he had to be a proverbial "rocket scientist," too.
At a huge state school like the University of Massachusetts, however, an exceptional student can opt for the Honors program while another can still find his niche.
"That's a big advantage," Cahoon says. "It's a situation we've been involved with before at some other schools and it really plays in our favor."
Which is not to say that Cahoon wants a team loaded with stereotypical jock-cementheads who need to be babysat merely to stay academically eligible.
"I want to get a good student-athlete because it's just a lot easier to deal with a good student-athlete," he says. "I want to look at some of the guys who graduate from our program and I want to look at what they're doing [in future years] whether it be related to hockey or in the professional realm.
"So just having the opportunity to recruit good, solid student-athletes and having a place for the more average type of student who can handle a college curriculum but maybe isn't as gifted is a pure advantage because it broadens my player pool."
Cahoon's interest in academics isn't just lip service. This writer received an impressive email last year from a parent of a significant UMass freshman. In it, the parent noted that Cahoon's first topic of discussion with the family following the first semester was how their son was doing well in school, but in the opinion of the coaching staff should be doing even better. One of the last topics raised was his on-ice performance.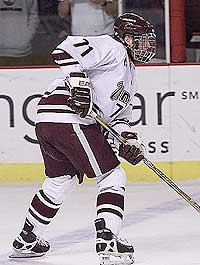 This approach ranks at the far opposite end of the spectrum from the cesspool of Basketweaving 101 courses and concern for academics only to the extent of maintaining eligibility that has infected much of collegiate football and basketball. Yet upon hearing this writer's compliment for this anti-Tarkanian attitude, Cahoon shrugs it off.
"There's a selfish reason because I think it's all interconnected," he says. "You get the kid who will challenge himself academically and has a good level of ability and if he's willing to understand what it takes to succeed in the classroom and push himself to that end, it's going to be a lot easier to get him to understand what it takes to push himself to succeed in the athletic realm.
"The absolute best players — you can use some of the best players [as examples], the Wayne Gretzkys and Mario Lemieuxs — they're intellectually willing to reach out and grow in other areas. That defines itself when they play hockey. So I try to get our guys to make that connection."
Of even greater importance than the academic flexibility, however, is the issue of tuition costs. It's here where UMass holds a major advantage over perennial powers like Boston College and Boston University, where the price tag of an education is staggering.
Considering that NCAA rules limit schools to only 18 scholarships even though a hockey team needs 25 or more athletes on its roster, every team includes players in its lineup who are at least partially paying their own way. You can't give 25 "full rides" so you either need walk-ons or, more likely, a number of players who have gotten two-for-four or three-for-four scholarships. (That is, a scholarship that covers two or three years, respectively, out of the four while the student-athlete picks up the difference.)
Not all two-for-four offers are created equal. Picking up the remaining bill at an extremely expensive private university is much more costly than at a state school, especially for an in-state student. And while some states have limited internal pools of talent to draw from — for example, until recent years Maine developed few Division I caliber players — Massachusetts has a longstanding reputation as one of the top producers of hockey talent.
So if UMass, BC and BU all offer a Bay State player a two-for-four deal, the finances point to a Minuteman jersey.
"It's a legitimate case that you can present to a family," Cahoon says. "But I think most of the time those cases are established more on the curriculum you have to offer versus the other school. So if I have a curriculum that is certainly equally as attractive or maybe in some instances is more renowned than a curriculum that another institution has, then I can say, 'And it will cost you far less. It's a no-brainer.'
"[But] if we were competing in a situation where [the other schools] had a reputation in a certain area and we were struggling to meet the same standard, then it probably becomes a moot point."
There certainly are no struggles to match competing schools in terms of an attractive campus and, more specifically, athletic facilities.
"And they've been enhanced," Cahoon says. "We had a tremendous building project completed this summer that completed the infrastructure for the hockey program.
"We are really up to speed with the best programs in the country in terms of locker room, weight room, equipment room, lounge area and video editing. It's all been redone and better than I ever could have imagined. So that's all in place.
"We've got a great institution. It's a Top 100 research institution, rated 80th in the country in research development. We have a tremendous chancellor in John Lombardi, who has run a big-time athletic program at the University of Florida, so he knows what athletics can do for a student body.
"All those components give us the opportunity to look forward and say that if we put the pieces together we could be a special entity in college hockey. But there's a lot of work to be done between now and then."
At the top of that work list is filling the Mullins Center. For all its many positives, the 8,389-seat building feels empty and almost funereal if there are only a thousand or two fans in the stands. Contrast that with the routinely packed houses echoing with noise at UNH, BU and Maine. That excitement attracts not only recruits, but also even more fans.
The program is far from the finish line in that respect, but has made important strides. Virtually every game is played in front of at least 3,000 fans and recent marquee opponents like BC and Maine have drawn crowds of 7,113 and 6,044, respectively.
"That speaks volumes about people starting to take a genuine look at what we're doing and the people in the whole Pioneer Valley starting to support us more wholeheartedly," Cahoon says. "What takes us over the top is that it's an attractive night for the students because we have a terrific student base and they're right here on campus and the Mullins Center is a great place to come down to watch a game.
"The night we had 7,100 people, they said we had better than 3,000 students. That is where we're really directing a lot of our efforts, keeping our student base high."
That captive student audience is a pivotal factor, especially compared to other programs trying to crack the top of Hockey East but with sizeable commuter populations. Students, much more so than any other group of fans, are the spark plugs in the stands generating the atmosphere that every coach looks for.
And even when the weather turns awful, as happened a week ago on the night of a marquee matchup with UNH, the students can still trudge over to the Mullins Center even while otherwise loyal fans are unwilling to hazard the drive.
"The anticipation was really high about the type of crowd we'd have against UNH," Cahoon says. "We were hoping to get another crowd in the sevens. But the weather was real bad and there was a lot of talk about how bad it would be and we ended up with [4,341]. We were a little disappointed hoping that more people would come.
"But what was really more noticeable was the noise level. The atmosphere was really different than it had been previously. It was almost more electric than the crowd we had of 7000.
"So that's a good change. People have noticed that. The players have noticed it. That bodes well for creating an atmosphere that will be more fun to play in and a better home ice advantage."
If six or seven thousand fans and a raucous atmosphere can become the norm, then the sky will become the limit for UMass.
"We're going to have to sustain it with a level of play to keep that many people coming back," Cahoon says. "Like some of the arenas out west, if we can make it such a happening in the Pioneer Valley to make UMass hockey what UMass basketball once was and could be again, it will be interesting to see if people view that arena as being too large.
"I like the idea that we have that room for expansion. Would it be easier if we had a 6,000-seat arena or a 4,500-seat arena? Sure. Then people would say the place is always banged out. But we can't change that and the idea that we can get 8,000 people in there a night is a pretty lofty goal, but it's an exciting idea."
Another challenge that works hand in hand with putting fannies in the seats is coping with a political landscape that has been scrutinizing the cost of athletics like never before. Cuts to budgets are the order of the day, not expansion.
"We think we've bottomed out in terms of what the state has done," Cahoon says. "We understand fully that there has to be more emphasis on our own funding efforts. We need private help and we need to go out and solicit that help as best we can. And from our perspective, having a great building and putting people in it is a great step towards helping ourselves."
If the program does things right, it will be in a position of political and financial strength rather than weakness.
"They see us as a potential positive in the whole athletic realm because we can be self-sufficient and, as a few other schools do, we're probably one of the programs that could probably pay the way for a few others," Cahoon says.
"We're not basketball. We're not going to generate the TV revenues that basketball could. The ticket prices are a little bit different than basketball ticket prices, but nonetheless we can pay for ourselves and a little bit more."
Now that the program has finally gotten over the hump and has garnered attention as a nationally ranked power, it should arguably be an easier downhill ride than in the early building years. Attracting recruits and fans is now a much easier sell.
"There's an awareness out there about the program that we previously struggled to get," Cahoon says. "Reality is that we still have an awful long ways to go and there's a great deal of competition. [But] we like what we have to offer and the attention that's been brought to the program. People are taking a second look, coming back and seeing what we're doing here."
Which means that there's really only one remaining obstacle.
Cahoon grins. "I have to make sure I don't mess it up too much."