One upside to having a small number of teams in the NCAA women's hockey tournament is that it adds to the importance and excitement of the regular season. This being the most competitive year to date among the top eight teams in women's college hockey — and perhaps the last year before NCAA expansion — these next two weeks could be the most dramatic conclusion to the regular season that the sport will ever see.
But don't think that the benefits of the four-team tournament outweigh the detriments. An eight-team tournament might lessen the importance of the regular season, but it's worth that cost. With only four teams, there are no automatic berths, no more than a quarter of Division I has NCAA dreams left to play for this season, and only half of those get to experience NCAA tournament hockey.
There won't be quarterfinal games bringing the tournament to four campus sites, allowing the game to get the kind of local exposure reserved so far to Frozen Four participants that just happened to be hosting.
The small tournament's worst consequence is the risk that what happens on the ice in the regular season and conference tournaments will not clearly and fairly decide the nation's top four teams. With so few games between conferences and so many competitive teams, the danger is that a team's season will be decided more by a committee crunching numbers than bodies crunching on the ice.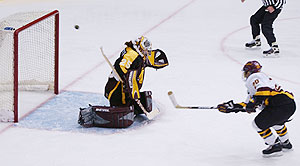 Some of that risk exists in the eight-team tournament too, no doubt, but the chances of a selection committee neglecting a team that could have won the whole enchilada is too great in the sport's current competitive structure.
Since women's hockey will have to live with this four-team tournament for at least this season, the best solution for now is to appreciate the excitement of this gut-wrenchingly important regular season while it lasts — then hope for a fair selection decision that everyone can live with come tournament time. Just be glad the season isn't ending today. No. 3 Dartmouth, No. 4 St. Lawrence and No. 5 Wisconsin are as close as any three teams could be in the USCHO.com poll, and the USCHO.com PairWise Rankings tell a similar story.
The growth in the sport's high-end competitiveness is visible in this calendar year alone. When Minnesota vs. UMD and Harvard vs. Dartmouth were scheduled for early January, the four teams held the top four spots, as they had for most of the past year and a half. Harvard, Dartmouth and Minnesota had combined for just one loss.
Now that the rematches are upcoming six weeks later, the same three teams have 10 losses, total. Teams like No. 4 St. Lawrence, No. 5 Wisconsin, No. 6 UMD, No. 7 Mercyhurst and No. 8 Princeton, each which feature large freshmen classes, are all set to finish strong this season and challenge the top three spots down the stretch.
"I think this is probably the first year where eight teams truly would have been a great thing," said Harvard coach Katey Stone after beating Brown two weeks ago. At the time, it looked as if Brown could make an NCAA run too. "Last year everybody wants it, but this year, truly you could get it."
With the field of legitimate Frozen Four contenders larger than ever, the series of No. 2 Minnesota vs. UMD and the single game of No. 1 Harvard vs. No. 3 Dartmouth stand to be as important as ever. It could be a historic weekend in Minneapolis because the three-time defending NCAA champs from Duluth stand on the brink of effective Frozen Four elimination. Minnesota, especially now that it has U.S. Olympian Natalie Darwitz back, is in the best position ever to deal the deathblow to its top rival.
Back in New England, Harvard is rising fast as the nation's No. 1 team for the first time season. Dartmouth, once No. 1, has suddenly dropped four of five games, and life isn't getting any easier for the Big Green with the ECAC's toughest traveling pair of Harvard and Brown on the horizon.
Withering Green
This past week, several Dartmouth players have spent more time applying ice than playing on it. As many as seven players missed practice earlier this week, leaving the team with barely enough skaters to field both sides in a scrimmage.
Foremost among the wounded are Canadian national team members Gillian Apps and Cherie Piper. Apps is still suffering from a shoulder injury suffered against St. Lawrence, and she has been questionable for the past two weekends. The chances of Piper playing are even less certain. According to an initial diagnosis, she suffered her second concussion of the season and her third of her college career in the second period of Sunday's 5-2 to loss Princeton. Piper was still missing games four weeks after her concussion in December, so it's probable she will be unavailable for this weekend. Caroline Ethier, a third-line Dartmouth freshman who was taken to the hospital during Sunday's game, is also questionable for the weekend.
The timing of the injuries is disappointing because Friday night's game stands to be the biggest Big Green home game of the season. Harvard is typically Dartmouth's biggest draw and vice versa, and January's matchup drew a Bright Hockey Center women's record of 1,921. With Dartmouth drawing record crowd numbers this season and the athletic department celebrating National Girls and Women in Sports Day this weekend, the hope is the fan support will be as strong as ever.
The home crowd can take faith in that Dartmouth has more experience playing shorthanded than anyone else in the nation, but playing with different lines every week hasn't gotten any easier. Since Piper's first concussion on Dec. 12, the Big Green has played just two games with its top two lines intact for 60 minutes, due to injuries and national team departures. The roster shuffling has stuck first-year head coach Mark Hudak on the downswing of what has been a roller-coaster first season.
Hudak expected the beginning of the year would be tougher than it was, as Dartmouth jumped off to a 17-1-2 start. Now injuries have started to accumulate at just the wrong time with the Big Green in the midst of its toughest ECAC games. Normally the Big Green would fully welcome the chance to play Harvard and Brown to get back on track after dropping four of five, but this Dartmouth team has never been so battered and bruised.
"The timing of the games would be great if everyone was healthy, but everyone's not healthy, and it just poses more of a challenge," Hudak said.
The line shuffling has most adversely affected the defensive end, where Dartmouth has given up three goals or more in all four of its defeats. Against Minnesota and Princeton, the Big Green dug itself a three-goal hole after just one period. During the 17-1-2 start, Dartmouth gave up three goals or more in just three games.
"That seems to be the story for us right now, that every time we make a mistake, the other team is able to capitalize on it," Hudak said. "There are certain times of the game where we play well and have great opportunities, but we're just struggling finishing right now. A lot of that has to do with confidence, and I think the confidence is just not quite there right now."
While Hudak attributed some of the defensive struggles to the constant line-juggling, he also agreed that the goaltending has been inconsistent. Freshman Christine Capuano started her career strong with victories over UMD, No. 9 UNH, and Harvard and allowed fewer than three goals in each game. Since then she was in net for both games in which Dartmouth trailed 3-0 after a period. In Sunday's loss to Princeton, she was pulled in the second period. Sophomore Stephanie Cochran has been hot and cold as well. Kate Lane, who is 4-0-1 and has a shutout of Mercyhurst to her credit, just might be the hot hand right now.
"We weren't really sure what we were going to get out of goalies this year," Hudak said. "All three were young and essentially untested, and I think some of it's coming through right now. We keep working on seeing who we're going to get the most consistent game out of."
The Dartmouth goaltenders, being so young, have taken longer to recover from bad starts. Not making the process any easier is that the Big Green's competition has gotten tougher each week and teams' offenses are getting more in sync as the season moves along.
Dartmouth did show signs of life against Yale on Saturday. Lane stopped 17 of 18 shots in net. The second line of Sarah Clark, Katie Weatherston and Meagan Walton was lit up for three even-strength goals. That line was the key to Dartmouth's 2-1 victory over Harvard in January, so it is a good sign for the Big Green to have those three going strong again.
Regardless of who is available or not for Dartmouth, Harvard is not about to take anyone lightly. This is the same Dartmouth program that beat Harvard 7-2 in last year's ECAC tournament for the fourth straight season despite losing its starting goaltender to illness the morning of the competition. More recently, Harvard suffered the disappointment of losing to Dartmouth in front of its largest home crowd ever. The fact that Harvard swept St. Lawrence, a team that swept Dartmouth the week before, won't matter on Friday.
"It's a nice confidence boost for us but we know it doesn't mean anything against Dartmouth, and we have some revenge to get from the last time we played them," said Harvard junior Nicole Corriero, the nation's top goal scorer after last weekend's Crimson sweep.
Getting into Game Shape
The good news for women's hockey on the medical front this past week was Minnesota forward Natalie Darwitz's return from the elbow injury that caused her to miss 10 games. Darwitz, the nation's top scorer before the injury, was held scoreless during a 1-1 tie with No. 10 Ohio State, but she exploded for a hat trick in a 6-0 win the next day.
"For Natalie to get a hat trick in her second day back, I thought that was amazing and a testament to her competitive and toughness," said Minnesota coach Laura Halldorson. "She'll only get more comfortable as time goes on."
Halldorson compared the timing of this Darwitz comeback favorably to Krissy Wendell's return from a collarbone injury right before last year's Frozen Four. In that scenario, Wendell had no adjustment period to get her legs and hands back, and Minnesota fell to Harvard by a 6-1 margin in the NCAA semifinals. This past weekend Darwitz required a one-day adjustment period to get back in sync, but at least Minnesota could afford not to win that game without elimination. Now Darwitz has two more regular season series to get into game shape prior to the postseason.
In the January game against UMD in which Darwitz sustained the injury, Halldorson switched from the season norm on even strength in playing Darwitz on a top line with fellow U.S. national teamers Wendell and Kelly Stephens. The line produced offense as advertised in leading Minnesota back from a 3-1 deficit to a 4-3 overtime victory. Halldorson again kept Darwitz with Wendell and Stephens in last weekend's games, and she said she would stick with that combination as long as Minnesota gets good production from different sources and plays well defensively.
Knowing full well Darwitz's competitiveness and toughness, UMD coach Shannon Miller never believed for an instant the initial report that suggested her injury was season-ending.
"As soon as I saw that [injury report], I told my team, there's no way that Natalie Darwitz is going to be out for the rest of the season — she'll be back by the next time we play Minnesota," Miller said.
Respectful of Darwitz's role in January's come-from-behind Gopher victory, Miller looks forward to the challenge of facing her again this weekend.
"I want Natalie Darwitz to be on the ice every time we play Minnesota," she said.
Backs Against the Wall
Since falling to 12-9-2 for the season with a loss to Ohio State on Feb. 6, UMD has known that its margin for error for Frozen Four selection has all but disappeared. Since then the Bulldogs have outscored opponents by a 32-6 margin through five straight victories, and Miller feels her young team is peaking at just the right time, as it did in the three previous years. Since women's hockey became an NCAA sport, UMD has won every must-win it needed to claim every NCAA championship, but the difference now is that the must-wins have come this early in the regular season.
"We know they're coming in very determined," Halldorson said. "We know this is a big weekend for their postseason. We always have pretty intense games against the Bulldogs, and this just adds to that. The situation gives the series more meaning."
UMD has faced growing pains at times with 10 freshmen on the roster and two freshmen goaltenders. Miller said she expected inconsistency early in the season and knew she would have to be patient with her players. Now, she says she's seen steady growth and a team that's peaking. Goaltenders Riita Schaublin and Anna-Kaisa Piiroinen, who Miller feels struggled throughout the first half of the season, have now come around, as have the players in front of them.
"I think the team feels better about what's behind them in net, and of course we're better defensively," Miller said. "When you've got 10 new people on the ice, it takes a long time to teach that part of the game, and we've had some pretty blatant defensive errors. We're a lot tighter back there now."
While no one would dispute UMD has improved, the question remains whether UMD has improved enough to sweep a team of Minnesota's caliber. The Bulldogs played five series in a row from December to January against top five teams and lost the second game of all five series. They were unbeaten in the first games, however, going 3-0-2. For the season, UMD is 9-3-2 on the first day and 8-6-0 for the second day. Miller has always attributed the team's second day struggles to lack of focus due to youth and a lack of depth due to injuries. If that holds true, both problems should be cleared up now, especially since UMD forward Larissa Luther is expected to return from a wrist injury.
Minnesota, meanwhile, has the opposite problem. The Gophers are 9-3-2 on the first day and a near-perfect 13-1-0 on the second day. That trend first started when Minnesota fell to UMD by a 4-1 margin and followed up with the overtime win. Miller's interpretation of the result is that Minnesota tends to underestimate its opposition. Halldorson believes it is more a result of the team responding to adversity than lacking preparation.
"As the season goes on and the games become more meaningful, we want to make sure we're doing everything within our control to be ready to go and play with the same intensity on day one as we do on day two," Halldorson said.
This series has a different wrinkle between the two games in that only the second will be played at Ridder Arena due to conflicts with the state high school hockey tournament. The first game will be played on the Olympic ice of Mariucci Arena, meaning that both teams will have more room to wheel and the goaltenders and defensemen will have to adjust to entirely different angles. To adjust to Mariucci, Minnesota has been practicing there for the past week. Not to be outdone, UMD spent the past two weeks practicing on Olympic ice on campus and played its most recent two games on Olympic ice at St. Cloud St. Miller thinks that experience will give her team an advantage.
"People who only watch the game might think that you can adjust to the big ice surface quickly, but you really can't adjust quickly," Miller said.
All things considered, Halldorson expects the Bulldogs to be ready to go physically and mentally when they come to town on Saturday. Miller in assessing her opponent questioned whether the Gophers would enter this game feeling too comfortable, though she did acknowledge the possibility that the Gophers could rise to the occasion given the opportunity to eliminate the Bulldogs from NCAA contention.
Back On Top
Miller was clear on who she thinks the No. 1 team in the country is right now.
"Harvard has the consistency," she said. "They have a very confident coaching staff, and traditionally, they play well as a team." Miller further noted that Harvard stands in contrast to other programs, without mentioning names, that are often loaded with talent but fail to come together.
St. Lawrence coach Paul Flanagan, whose team was swept at the Bright Hockey Center last week, agreed that Harvard was the best team the Saints had faced this season. He feels Harvard's edge this weekend came from more than just U.S. Olympians Angela Ruggiero and Julie Chu. This is a contrast from Brown coach Digit Murphy, who said after losing in overtime to Harvard that Ruggiero and Chu were the only difference between her team and theirs.
"They have the big stars, but they also have a lot of depth, and they do such a good job with the basics," Flanagan said. "Their D go a great job of staying up. They're fundamentally sound so you know they're well coached. I'm very impressed."
Harvard coach Katey Stone has now led four different teams that have earned the No. 1 ranking at some point, and she said that the common thread among them has been their work ethic. Each team also has its own idiosyncrasies as well.
"We're really hard working, we're balanced, we've got good goaltending, and we shut people down defensively," Stone said. "All the special teams are good. We're finding a way to get it done. Our other teams have done the same thing, but it's a good mentality in there. It's not just one person, it's everybody pulling the wagon."
The combination of Harvard's depth, its consistent defense, and its balance have set it apart from the rest so far this season. The balance is evident in the top lines, where Harvard needed some time to find the right line combinations and stability has since been reached. The Crimson switched up wingers in early February, pairing Jennifer Raimondi with classmate Chu, and Corriero with co-captain Lauren McAuliffe, and both lines have taken off since then. In Friday night's win over St. Lawrence it was the Chu-Raimondi-Katie Johnston line carrying the load. The next day, it was the Corriero-McAuliffe-Jennifer Sifers line that caught fire. It's a far cry from the 1999 championship team where four Olympians accounted for two-thirds of the team's scoring.
"On those top two lines we have six competitors who want to have the game of their lives every game, and that's awesome," Corriero said. "If it's not working as well, it's not going in for one line, it's nice to have another line who can fire on all cylinders. It's nice to have that one-two punch. Hopefully we can get both lines going and really have some really awesome offense coming into the next stretch."
And then there's the third line of freshman Liza Solley, sophomore Carrie Schroyer and junior Kat Sweet. Harvard's third lines typically have to earn their playing time, so the amount of playing time this third line has received already speaks for its success.
"Our third group, I mean they're working hard," Stone said. "They're earning every single second that they're out there. For us to be able to have the opportunity to put three lines out there on a regular basis is huge for us. There's great competition among our lines and we've got scoring threats all over the place, which is awesome."
Not only does the team have great scoring threats, it has also done a superb job of containing the opposition. The Crimson has allowed three goals just four times this season and more than three goals just once in compiling the best scoring defense in the nation. Harvard has been doing a lot of the little things right all over the ice that are easier said than done.
And in the clutch Harvard has typically come through. The Crimson has played six games this year that have been tied late into the third period. Harvard has won of five them.
"Sometimes when you beat teams too easily you start to get a little too confident, and when you're in the tight games it feels kind of unfamiliar, and you're not quite as used to the situation, but being able to pull out a couple of overtime wins and a couple very dramatic one-goal wins, I think goes a long way and really gives a lot of confidence coming into the next stretch," Corriero said.
That one loss in a game tied in the third period was against Dartmouth, Friday's opponent. As well as the season has gone for Harvard so far, there's still no room for complacency.