It took Adam Berkhoel himself to come up with the best description of his own game — "Hollywood saves."
Actually, he said Hollywood save, but the Denver Pioneers senior goaltender has made so many highlight-reel stops that his head coach stopped being amazed long ago.
"Some people will say some of his saves are unbelievable," Denver coach George Gwozdecky said. "I say, that's Adam Berkhoel."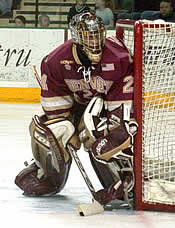 In his final collegiate season, Berkhoel shut out North Dakota and two — two — offensive-minded Hobey Baker finalists in Zach Parise and Brandon Bochenski.
That came after Berkhoel stopped 31 shots against Miami in the semifinals of the West Regional Friday.
Berkhoel's style in the net is the kind that gives coaches heart attacks and longer contracts and puts fans on their feet. His best save against Miami came while sitting on the ice, legs spread wide and his glove outstretched just far enough.
His second-best that night was made with the back of his leg.
"I'll probably get in trouble for that one," Berkhoel said later.
Against North Dakota, the No. 1 overall seed going into the 2004 NCAA tournament, Berkhoel shifted between flawless technical saves and wild, stick-swinging near-misses.
At one point, Berkhoel dove for a loose puck behind the net and found himself being dragged toward the boards. His defensemen cleared the zone.
No matter how it happened, he led Denver to its first Frozen Four appearance since 1986.
"I know we've got the best goaltender in the nation," Gwozdecky said.
In four seasons with Denver, Berkhoel climbed the Denver charts and now stands second all-time in shutouts (11, including six so far this season) and save percentage (.910), and fourth in goals against average (2.53). He set a career-best with 43 saves in a regular-season game against Minnesota State this year.
Before joining the Pioneers, Berkhoel spent a year with the USHL's Twin Cities Vulcans in his home state of Minnesota, where he was named to the 2000 USHL All-Star game and the all-rookie team. He was the Chicago Blackhawks' 12th pick that year.
It was after the win against Miami that Berkhoel made the "Hollywood save" remark, and it was fitting. His play had been described as "Dominik Hasek-esque," "classic butterfly" and "unbelievable."
It probably falls somewhere in between them all.