This is the time of year when you get accustomed to coaches talking about seniors stepping up to make a big play — setting up a teammate with a great pass or coming up with a big goal.
That said, few were expecting that to be the case in for Michigan in tonight's Northeast Regional Final. After all, the team only had one senior in their lineup: Wolverine captain Andy Burnes. Making it even more improbable, Burnes has been the quintessential defensive defenseman during his four-year stint at Ann Arbor. Coming into today's game, Burnes had no goals and two assists in 38 games total. His last goal came in January 2003, and he hadn't had an assist in about six weeks.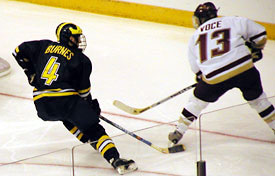 Not withstanding his previous history, Burnes almost came off as the offensive star of the night until Boston College tied this thriller in the game's waning minutes. Looking more like a Ryan Whitney or Prestin Ryan, Burnes connected with freshman Mike Brown on a lengthy touchdown pass off the side boards, leading to an opening goal. Then, trailing the play when Eagle goalie Matti Kaltiainen was stricken with wanderlust in the second period, Burnes put one by J.D. Forrest, who was tending the vacated net.
It was only the fourth multi-point game of a 158-game collegiate career for the Battle Creek, Michigan native. If the offense was a relative novelty, though, Burnes has made his mark by winning the Vic Heyliger Trophy during his sophomore and junior years, awarded to the outstanding Wolverine defensemen each season.
Most importantly, though, he has been the captain of a team that features five freshmen in prominent roles.
"It was an easy choice," Michigan Coach Red Berenson. "We chose our captain as coaches, and Andy Burnes has been a tremendous captain. He hasn't had the support from his class, so we have two junior [assistant] captains, [Eric] Nystrom and [Brandon] Rogers, and I think that this has been a difficult team to lead because we have a lot of juniors who should know their way around, and then we have a lot of freshmen as well who need a lot of leadership. I think they've done a good job, and our team really came together down the stretch run. That's really when your leaders shine."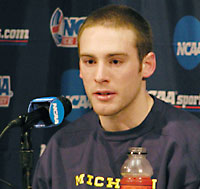 Burnes was a rock on a lonely senior island, left there when Mike Komisarek left early for the NHL spotlight. Two other seniors on the team are walk-ons and were not in the lineup Sunday.
"From day one that I stepped into the locker room, he's someone that I looked up to, that was a role model to me," Michigan goalie Al Montoya said. "I saw the way he played on the ice and how he took care of himself off the ice, and that's how I wanted to be. What a Michigan hockey player is, is what Andy Burnes is. It's just sad that it's four years up, but he was a great leader and guys fed off of him every night–as a leader that's what you're supposed to do."
With Burnes leading the way for this young team, the Wolverines had their inconsistent moments but ultimately produced another trip to the national tournament.
"At the beginning of the season, I thought that we had the makings of a team that would have a chance in the playoffs," Berenson said. "You never really know how good your team is until you get into the playoffs –particularly into the tournament. A lot of people counted us out when they sent us out here. This has been a great Regional: We had to come up and compete and find a way to get to Boston, and it just didn't happen.
"But I think that this team was as good as I could have expected them to be. With this team, you've got a great goalie, he gave us a chance every night. Our three freshmen defensemen came a long way this year, and when your team is led in scoring by a freshman, T.J. Hensick. … We had a lot of guys step up who maybe hadn't had great seasons but who were playing well in the stretch."
They certainly made admirers of tonight's victors.
"For so many years, they've always had outstanding teams, and Red just seems to keep bringing teams back to the NCAAs," Boston College Coach Jerry York said. "He's had terrific hockey teams, and he certainly had another one tonight. With one senior playing, the future looks bright. Maybe one slight difference in the game might have been that we had six seniors that all played and won the national title as freshmen; that leadership helped us a lot."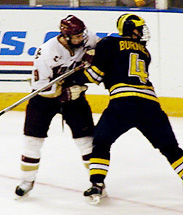 "We've got a young team," agreed Berenson. "We've got six freshmen playing and one senior, and Boston College had the experience with seven seniors and one freshman. Whether that was the difference remains to be seen, but I'm proud of our team. They showed up and made a statement last night, and they almost did again tonight."
Unfortunately for Burnes, though, the thrill-packed overtime resulted in a senior moment that will linger unpleasantly for a long time. He was on the ice when Ben Eaves knocked home the game winner.
"It was a back-and-forth game, hard-fought by both sides," said Burnes, clearly anguished by the loss. "When the puck went in, obviously it's the last thing you're hoping for. You're playing as hard as you can, and as a senior, it's tough. It's tough: That's about all I can say."
The loss deprived Burnes of a most unusual celebrity status at the Frozen Four: He would have been the only senior on any team playing in the Frozen Four every year of his career.
"We could see the puck going in the open net, and the goalie came up and made the save," Berenson said, describing one action-packed sequence in the overtime. "It just hit the top of his shoulder; it was an inch away from going in. So Andy Burnes was an inch away from going to his fourth Final Four."
That's a remarkable achievement for a guy who obviously has embodied the incredibly consistent success of the Michigan Wolverines but who generally has gone under the radar in the media, before today.