He likes to be known simply as a "steady, accountable" defenseman, in his own words. But Boston College sophomore Peter Harrold's game has begun to morph.
Despite the fact that Harrold thinks that simply being in the right position is all he needs to worry about, his head coach Jerry York understands that right now he has a young man on his hands whose talent won't allow him to be only a defensive defenseman.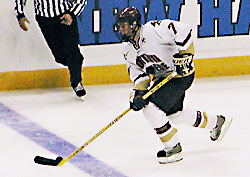 "He's always been a good stay-at-home player who can make that pass from his own zone," said York. "But he's creating a whole new dimension to his game where can be an offensive threat and be a power play guy."
No more was that more apparent than the Northeast Regional that saw BC beat Niagara and Michigan to set up a date with Maine in this Thursday's second semifinal at the Frozen Four, being played just minutes from the Boston College campus at the FleetCenter.
In the two-game regional, Harrold scored the game-winning goal against Niagara, making a nifty toe-drag move around two defenders before stuffing the puck in the net as he fell to the ice, and then set up the third-period game-tying goal and the overtime game-winner against Michigan the next day.
Still, despite the recent offensive prowess, Harrold, who has scored two goals and 14 points on the season, starts with the defensive side.
"[Positioning] is extremely important," said Harrold, who credits BC assistant Ron Rolston with improving every aspect of his game. "If you're not in the right position, you can't make the right plays. I look at players like Brian Leetch and his whole game is based on positioning."
Still, as Harrold emphasizes the defensive side of the puck, he admits offensive play is just as critical to the Eagles' success.
"[The coaching staff] tries to tell us to be a threat [offensively] and always get the puck down to the net," said Harrold of his two assists against Michigan, both coming on rebounds of his shots. "The last two times [in the regional] guys kind of went down in front of me and I was just patient so I could kind of slip by them.
"In that respect maybe I was lucky [that we scored]. Our object is to just get the puck down to the net."
Modesty will get Harrold nowhere, but the ability to play within York's system could propel Harrold to an NCAA championship or, maybe too, an NHL contract.
The BC system for years has been based on transition. The ability for defensemen not just to handle the puck, but feed the forwards through a well-honed passing game has created an offense that ranks seventh in the country and falls behind only Minnesota-Duluth among the remaining four teams.
"You have to make tape-to-tape passes," said Harrold. "That first pass coming out of the zone is the most important thing for defensemen. If you can't get out of your zone you're going to be stuck in there. It's either making solid tape-to-tape passes or just flipping it out when you have to.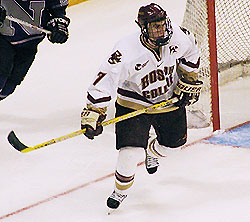 "Our transition [game] is huge because of the skills of our forwards. Our forwards are fast and they're extremely talented. If we can get that puck and get it out of our zone, it's going to cause a lot of problems for the other teams. It definitely makes us work less in our zone."
Another key to Harrold's game is consistency — particularly that which accompanies his linemate John Adams. The junior Adams has been paired with Harrold for a season and a half, and the two are comfortable with one another, limiting chances for the opposition to a minimum.
"I think it's trust," said Harrold about his on-ice relationship with Adams. "Knowing where your [defensive] partner is and what his tendencies are is important."
Adams is just one player whose experience players like Harrold can rely upon heading into the most important hockey weekend of their lives. The senior class, too, is a good crutch, particularly in sharing their experiences from their freshman year — 2001 — when they captured the national championship.
"It started before the [regional final] with the seniors telling us about the Frozen Four and how much fun it is," said Harrold. "They told us about what the banquet is like and stuff like that just gave us an incentive.
"Now that we're here we're just focused on winning the first game against Maine then winning the whole thing. They've told us to expect some tight games, and to be accountable."
Accountable — there's that word again. It's an expression that Harrold likes. It's the center of his game. It's the crux of what makes him a good player.
Now his accountability lies in playing the best hockey that he and his team can for two games. And if BC lives up to its ability and brings its top game, the Eagles may celebrate the school's third national title, this time in front of their home fans.
That is incentive enough to be accountable.