Boston College vs. Maine
Thursday, 6 p.m. ET, FleetCenter, Boston
Boston College Eagles
Final USCHO.com ranking: No. 4
Record: 29-8-4
NCAA seed: Northeast No. 1
How they got here: beat Niagara 5-2, beat Michigan 3-2
Entering the NCAA tournament, Boston College had its share of doubters. The Eagles had virtually gone wire-to-wire as the number one or two team in the country, holding a 26-3-4 record on Feb. 28 after having clinched the Hockey East regular season title with three games remaining.
Then the roof caved in. Iron man goaltender Matti Kaltiainen injured a groin, missed the last two games before the playoffs and then looked like he had a few layers of rust as the Eagles fell to archrival, but also bottom-seeded, Boston University in the league quarterfinals.
That amounted to a 1-5-0 finish and inspired the doubts. After having swaggered through almost the entire season, the Eagles were limping into the NCAAs.
Not that the loss to BU had been all Kaltiainen's fault.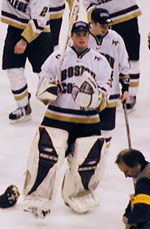 "I don't think we were playing our best hockey at that time either," BC coach Jerry York says. "When [Matti] went down with a groin injury, that compounded it but it wasn't just something that was that one injury.
"We were really on cruise control, playing so very well for December, January, February and into March. But then we just kind of took some things for granted. We started to lose some puck battles and we weren't as sharp as we should be.
"We finished at New Hampshire, at Maine, at Maine and a quarterfinal series with our archrival so we were playing some very, very good teams and we were not at the top of our game."
For all intents and purposes, however, that is now ancient history. In the Northeast Regional, BC put away Niagara with a strong third period, 5-2, in the opener. Then the Eagles toppled a tenacious Michigan squad, needing overtime to do it, but also displaying a territorial domination that befitted their 37-12 shot advantage after regulation.
Good riddance to the 1-5-0 Eagles and don't let the door hit you too hard on the butt on the way out. Welcome back to the 26-3-4 version.
Kaltiainen (1.76 GAA, .908 Sv%), he of the bulls-eye whenever BC loses, was heroic in the Michigan game after surrendering a big goal when he got caught too far out of the crease. His saves to keep BC close after that blunder and then five more in overtime were the difference between advancing and wondering what might have been.
"He feels pretty good about himself," York says. "He made some saves in OT against Michigan that were just incredible saves. He's one of the key reasons we're still alive in this thing."
Another key reason is the dominating line of Ben Eaves, Patrick Eaves and Tony Voce. The unit, which has played together for only 14 games because of injuries to the Eaves brothers, scored all three goals against Michigan and had another two in the win over Niagara. There probably isn't a more talented trio in the country. Voce (29-18–47) led the Eagles in scoring, but if the Eaves brothers' totals were extrapolated to playing a full 41 games, Patrick would have totaled 51 points and Ben 56.
"Our top line has very good balance and puck movement," York says. "All three are very dangerous players. But I still think we're going to need scoring from other people on our team if we're going to advance."
Those "other people" include First Team All-Hockey East selection Ryan Shannon (14-27–41), a not-too-shabby leader of a second line with Chris Collins and David Spina. Which leaves 24-point producer Stephen Gionta on the third line, a measure of BC's offensive depth. Not to mention defensemen J.D. Forrest, Andrew Alberts, Peter Harrold, John Adams and Greg Lauze, who all finished with double-digit points themselves.
"That's really what we've tried to stress with our team," York says. "We need to have more scoring chances come from our four lines and from our defensemen. The way hockey is played now, you really have to distribute that among your team. Shannie's line is certainly capable of creating a lot more scoring chances than they have recently.
"We're going to have to depend on other players to step up. At this stage of the season, it's difficult to score goals five-on-five. Teams that can do that generally can advance in this tournament."
As for special teams, BC was only a so-so 18.5 percent on the power play, but most of that was due to early-season struggles. In the last 15 games, it has scored 16 goals and also benefits from the presence of Ben Eaves, one of the best playmakers in the game, who is now all the way back from a fractured kneecap suffered in early January.
And on the penalty kill the Eagles have allowed only nine more goals than they have scored while down a man, a stunning statistic. They have killed off 89.4 percent of all infractions, a mark that is tops in the country, supplemented by 12 shorthanded goals, which ties Maine for nation's top figure.
Ah, yes, the Black Bears. There won't be any surprises between these two teams. BC dominated an early season game, 4-1, but Maine got its revenge back at home in the final two games of the regular season, 3-0 and 4-3 (OT), albeit with Kaltiainen out of the lineup.
The matchup pits BC's stronger offense (3.46 goals per game, tops in Hockey East, to 3.31, third in the league) against Maine's exceptional defense (1.60 goals against per game, tops in the country, to BC's second-best 1.93). Oh yes, there's also that Jimmy Howard fellow in the Black Bear crease, the same guy who could break the NCAA record for a season's save percentage and goals against average with .954 and 1.20 marks, respectively.
Based on the three head-to-head contests, study of other game tape, and a first-hand view of the Maine-Massachusetts Hockey East championship clash, York sees anything but just the one man to beat.
"You really appreciate how hard Maine plays and how strong they are in all three zones," he says. "Granted, Jimmy Howard is having a spectacular year, but they also play very well in front of him. We're going to have to win a lot of battles before we get to Jimmy Howard in the net.
"So the [key to] goalscoring may come with a good breakout or read in the neutral zone because there are a lot of obstacles to get through before we get scoring chances."
If BC can get past Maine, then it will have an experience advantage over either Denver or Minnesota-Duluth, which total only a single NCAA tournament game between the two senior classes (a Denver loss to Michigan in 2001-02). By contrast, almost every BC contributor was part of last year's squad that came within an overtime goal against Cornell of reaching the Frozen Four and six Eagles were part of the national championship team three years ago.
"It really helps our younger players because they can share some thoughts and talk about what it's going to be like playing for a national championship," York says. "Three in particular — Tony Voce, Ben Eaves and J.D. Forrest — were key factors in that game. Our other [seniors] Justin Dziama, Ty Hennes and Brett Peterson were kind of role players at that time. This time, they're much more involved in our team.
"I think it helps and I'm glad that they have an opportunity to go after a second one."
That experience advantage, however, disappears against Maine since ten current Black Bears were part of the team that came within 53 seconds and an extra-attacker goal of a national title two years ago.
Maine Black Bears
Final USCHO.com ranking: No. 1
Record: 32-7-3
NCAA seed: East No. 1
How they got here: beat Harvard 5-4, beat Wisconsin 3-2
Speaking of which, how about them Maine Black Bears?
They've now won nine straight games, including the Hockey East championship. In the process, however, they might have aged their fans a few years considering that the last seven have all been one-goal games, including the triple-overtime win over Massachusetts in the league title contest not to mention the even more hair-raising comeback win over Harvard, 5-4, in the East Regional opener.
Considering that Boston College and Denver seem to have profited from an early exit in their league playoffs, getting an energy boost from the enforced inactivity, that begs the question as to whether Maine's playoff success and, in particular, its no-margin-for-error wins could be a double-edged sword.
"Certainly you gain confidence and strength from each conquest, so to speak, but you also have to deal with the reality of running on fumes," Maine coach Tim Whitehead says. "We've got a little bit of both.
"The little bit of extra time here before the [semifinals] helps us, just like it does the other teams, for that exact reason. That will give us a chance to recover a little bit mentally and physically from some pretty draining games. Even the first round in our league [playoffs], both of those were one-goal games. It's been exciting for our players and, I think, a confidence builder, but at the same time we do need to recharge our batteries here."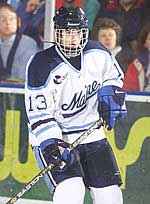 The one specific aspect to Maine's play of late that could use an energy boost is the offense. Of the last six games, only the comeback over Harvard included more than three goals. When your scores are 2-1, 3-2, 1-0, 2-1 (3 OT), 5-4, 2-1 (OT), the team defense is to be applauded and with a standing ovation to boot, but the offense's limited output is flirting with danger.
Things won't get any easier against BC, second only to the Black Bears nationally in team defense. And considering Maine's struggles on the power play (16.5 percent, seventh in Hockey East) and BC's tops-in-the-country penalty kill, there will be a premium on capitalizing on scoring chances.
"It's obviously going to be very challenging for us," Whitehead says. "We're not a team where goals come easy for us, but that's fine. Certainly as far as the power play, that will be very challenging because BC does a tremendous job on their penalty kill.
"So goals are going to be very tough to come by. I guess the only good news is that we're comfortable in those type of games. And I'm sure BC is, too. But we've been in a lot of those low-scoring one-goal games, so I guess the only consolation is that that's the type of game we expect again if we can play good team defense as we've been doing.
"I really do think that that's the type of game we'll see. We're preparing for a very tight-checking game."
The top checker for Maine will be defenseman Prestin Ryan, a Second Team All-Hockey East selection who was also runner-up to BC's Andrew Alberts as the league's top defensive defenseman. Infamous with some opposing fans for his physical play — he has obliterated team penalty minute records for one season (144, this year) and a career (355) — Ryan has been remarkably well-restrained in the postseason, being whistled for only eight minors in six games. Which bodes well for the inevitably tight games at this point in the season.
As does the recent goalscoring by freshman Mike Hamilton. For most of the year, Colin Shields (18-26–44), Michel Léveillé (6-34–40), Todd Jackson (21-12–33) and Derek Damon (13-18–31) led the offense. Shields and Jackson earned Second Team All-Hockey East berths while Léveillé was the league's Rookie of the Year. Hamilton, by contrast, has only seven goals and five assists in 27 games.
Three of those goals, however, have come in the last four games and all three have been huge. He scored the third-period goal to give Maine a 1-0 win over Boston University in the Hockey East semifinal. In the NCAA opening round against Harvard, his snapshot from the slot early in the third period sparked a rally from a 4-1 deficit. And his overtime game-winner against Wisconsin one day later put Maine into the Frozen Four.
"[He's] a freshman and a lot of times it takes a freshman a little bit longer to establish himself and emerge as a top player," Whitehead says. "Mike has certainly done that down the stretch. He skates well, he's a big kid that is very strong and he has a great release on his shot and he's playing very hard right now.
"Mike has elevated his game as a freshman and is playing with a lot of confidence. He's given us a big boost."
As has goaltender Jimmy Howard. The First-Team All-Hockey East selection didn't factor into Hobey Baker Award voting and will probably not even earn All-America honors because his partner in the Black Bear nets, Frank Doyle, has played more games than Howard (due to injury) and done extremely well himself. None of which diminishes the fact that Howard is almost certainly the top netminder in the Frozen Four.
He entered the NCAA tournament having allowed more than two goals in a game only once and that lone exception came back in early November. He had allowed a grand total of two goals in his last five games. Then came Harvard and four goals allowed after two periods before getting the hook.
That aberration was short-lived, however, as Howard again got the nod against Wisconsin. He delivered, stopping 36-of-37 shots.
"Any time you have an elite goalie, it's pretty easy to go back to him and give him another opportunity," Whitehead says. "From our standpoint, the difficult part was picking which goalie because we feel that we have two elite guys in Frank Doyle and Jimmy Howard. We're obviously pretty fortunate that way. It was a tough call. We could have gone with either guy.
"It was just our gut feeling that Jimmy was playing at his very best. He had a bit of a tough night the night before, but he's such a fierce competitor, we figured that he would bounce back in fine fashion. We're pleased and proud that he was able to put in such a strong game against Wisconsin and really help win the game."
No doubt, Howard will once again be called upon to commit highway robbery and it'll be a surprise if he doesn't deliver.
Other than the Howard vs. Kaltiainen matchup and the overall number one defense vs. number two, the one other major factor which bears watching is how Maine attempts to contain BC's top line of Ben Eaves, Patrick Eaves and Tony Voce.
When asked how to hold them down, Whitehead quips, "With your hands and your sticks. Grabbing. Clutching." Turning serious, he says, "That's a line that all teams, including ourselves this year, have had a lot of trouble shutting down.
"That's just a tremendous group of athletes there. We have a lot of respect for them. I don't think there is a solution there, to be honest. It will be very challenging for us, but they have a lot of other weapons, too.
"One thing you have to be careful of with Boston College is if you focus too much on their top unit, then somebody like Shannon, Gionta, Spina or, who knows, a defenseman [like] Alberts or somebody will end up scoring some key goals against you. We have a lot of things we have to be concerned with in BC, including the top line."
Just as BC has a lot of things to be concerned with in Maine.