[nl]Minnesota-Duluth forward Junior Lessard, [nl]Michigan forward T.J. Hensick and [nl]Wisconsin coach Mike Eaves top the list of USCHO.com's 2003-04 Year-End Honors recipients.
Lessard, the nation's leading scorer with 61 points and a finalist for the Hobey Baker Memorial Award, was named the USCHO.com Player of the Year. A native of St. Joseph deBeauce, Que., Lessard is set to play in the Frozen Four this week in Boston. Lessard was also a unanimous selection on the All-USCHO First Team.
Hensick, the national co-leader in freshman scoring this season with 46 points, was named the USCHO.com Rookie of the Year. A native of Howell, Mich., Hensick led the Wolverines in scoring and was also a unanimous pick to the All-USCHO Rookie Team.

Eaves, the USCHO.com Coach of the Year, in his second year at [nl]Wisconsin, took the Badgers back to the NCAAs, where they won a first-round game before losing to [nl]Maine in overtime. [nl]Wisconsin improved to 22-13-8 this season, after going 13-23-4 last year. Eaves also led Team USA to its first-ever gold medal at the 2004 World Junior Championships.
Other awards are as follows:
Lessard's teammate and linemate, Evan Schwabe, is the co-winner of the Most Improved Player Award, along with [nl]Colgate forward Jon Smyth. Schwabe, a 5-foot-9 native of Moose Jaw, Sask., upped his point total this season from 10 to 55, including 19 goals. Smyth, from Markham, Ont., went from one goal and three points last season, to 21 goals and 42 points this year for the first-place Raiders, and was also named ECAC Defensive Forward of the Year.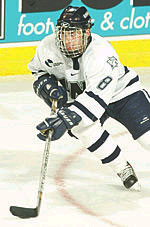 The Sportsmanship Award went to [nl]New Hampshire's Steve Saviano. Despite being a main target of opponents this season for his scoring abilities, Saviano, from Reading, Mass., had just one penalty for two minutes. He was also a Hobey Baker finalist and Second Team All-USCHO pick for his 27 goals and 49 points, and co-winner of the Hockey East Player of the Year Award.
The USCHO.com Unsung Hero Award goes to [nl]Wisconsin defenseman Dan Boeser. A Savage, Minn., native, Boeser overcame non-Hodgkins lymphoma to play for the Badgers last season, but neither his skills nor stamina had fully returned. He also struggled to adjust to new coach Eaves. After a meeting of the minds, Boeser, the team's captain, turned in a superlative season, including the overtime game winner in Wisconsin's NCAA tournament victory over [nl]Ohio State.
The Defensive Player of the Year is no surprise, going to [nl]Brown goaltender Yann Danis, who is also a Hobey Baker finalist. Danis turned in a 1.81 goals against average this season. He added five shutouts, and his .942 save percentage is tops among players with over 50 percent of their teams' minutes. Danis appeared in all but one game for the Bears this year.
The Defensive Forward of the Year is [nl]Maine's Todd Jackson. The Black Bears captain, from [nl]Cortland, N.Y., was part of one of the nation's stingiest defenses, and anchored the shorthanded unit. His five shorthanded goals tied for second in the nation.
A complete list of Award Winners as well as the All-USCHO First and Second Team, and the All-USCHO Rookie Team, can be found here.