Maine Coach Tim Whitehead began this season with plenty of questions about his Black Bears. In addition to losing his four top-scoring forwards, he had to say goodbye to his three best defensemen.
Fortunately for Whitehead, senior defenseman and Saskatchewan native Prestin Ryan viewed this problem as an opportunity in disguise.
"I think one of the reasons our team has been so consistent this year is because we've had our seniors elevate their game," Whitehead said. "Prestin had only been a very good player for us; he's now an elite player. What he's done is he's taken charge.
"We lost our top three defensemen from last year: [Cliff] Loya who was the Defensive Defenseman of the league; [Francis] Nault who was the first-team power-play guy, and Tommy Reimann, who was a great power-play defenseman–he's actually made the East Coast League All-Star Team in his first year as a pro. So we lost three legitimate impact defensemen, and what Prestin has done is he's seized this opportunity."
Ryan certainly had tough acts to follow. Loya had a remarkable +23 rating last season, by far the best in the team. Nault notched ten goals and 26 assists for 36 points in 39 games, and Reimann chipped in 18 points of his own. Yet Ryan has responded with some astonishing numbers of his own — most notably a stratospheric +35 rating to go along with a career high of 21 points.
However, Ryan also has eye-popping numbers in a more dubious category — penalty minutes. After amassing a whopping 144 minutes in 41 games, Ryan is now the Black Bear career leader in PIM. Tonight's game was no exception: With the Black Bears already down a man after a horrendous tripping call on Troy Barnes after he delivered a classic hip check, Ryan foolishly cross-checked Ben Eaves on the head, giving Boston College a harrowing five-on-three for over a minute.
"I was just trying to move, and I just got my stick up too high — hit him in the neck," Ryan said, shrugging it off. "That happens. So I've just got to make sure to try and control his hips next time instead of trying to push his shoulders."
Ryan tried to explain the method to his madness when it comes to physical play. The challenge is to find the perfect balance of playing hard enough to make forwards wary in the attacking end while trying to also avoid hurting the team with constant penalty-kill situations.
"I definitely get a lot of penalties," Ryan said. "It's not that I think I don't deserve them — a lot of them I do deserve. It's just that college hockey is such a different game from regular hockey. It's hard to find that line. Say their top line tonight — you don't want to just be soft on them in the corner because then they're going to walk all over you. So you've got to be tough on them and make them not want to come in the corners, and sometimes you've got to take a penalty to do that."
Whitehead has been heartened by the soulful emergence of his assistant captain.
"I've been just very proud of Prestin, how he's persevered through some very difficult challenges," Whitehead said. "He wears his heart on his sleeve; he reminds me a bit of Patrick Eaves sometimes: He plays with so much heart and soul that he'll take a penalty that he wishes he didn't take, but then he'll come back and make a great play, just like Patrick Eaves, and you'll sit there and go 'Wow.'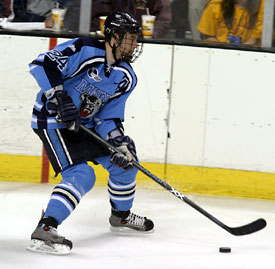 "I'm excited for Prestin: He's a great kid. Off the ice, you'd never recognize him based on what you see out there. He's a great guy, and I'll tell you, he's a fierce competitor. Todd Jackson has been a leader up front, and Prestin has been our leader on defense, and I'm real proud of both of those guys."
"Prestin Ryan, he's been a leader all year," goaltender Jimmy Howard said, expressing his appreciation for a defensive corps that greatly limited the quality of the 41 shots he faced tonight. "He's so composed, and he plays with so much heart. It was just excellent to see him execute the way he did tonight; he was really on top of his game…He's a man among boys out there."
When the Eagles threatened with a power play in the last six minutes, it was Ryan who stepped up to clear the puck three times. By then his ill-advised second-period penalty was long forgotten.
Whitehead raved about his two-way play this season and blue-line leadership.
"He's become a leader both in a competitive way — I mean that kid wins loose pucks; it's unbelievable how strong he is on the puck — and offensively he's emerged for us," Whitehead said. "He makes great plays for us offensively; he's an automatic breakout. The puck's thrown in, he's coming out with it no matter what: He has to shrug off five guys? He's coming out."
He'll be coming out for one last night as a Black Bear on Saturday night, looking to ambush some Pioneers. He's a pivotal player to watch in the championship game: Stay tuned to see if he can think outside of the box.