As statistics have been improved by technology, there's no doubt that more emphasis has been placed on the numbers other than the final score. Right now, for Boston College head coach Jerry York and his players, though, the only numbers that matter are two and one.
The Eagles, despite the fact that they outshot Maine, 41-18, in the semifinals of Thursday's Frozen Four, fell 2-1 ending the BC season and hopes to win a national championship in front of their home fans at Boston's FleetCenter.
The fact that BC held such a lopsided advantage in shots actually doesn't come as a surprise. The Eagles have outshot most of their opponents on the season. Including Thursday's game the Eagles held a composite shot advantage of 1,491-834, or a 657 shot advantage over opponents.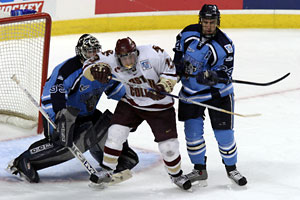 But in the end, the one number where BC needed an advantage on Thursday, was missing.
"It's our goal of every game — to get a lot of pucks on goal," said captain Ben Eaves. "[Tonight, Maine] did a good job of eliminating second chances.
"We kept figuring that if you keep throwing [pucks] at [the net], something's going to bounce in."
That fortune, though, fell short almost solely because of an armed-robbery performance by Maine goaltender Jimmy Howard, and with it was a robbery of what many hoped would be BC's destiny to win a national title in Boston.
Along with the ending of the title bid, of course, goes the completion of six storied BC hockey careers. The six BC seniors made up the only links to Boston College's last national championship which came three years ago over North Dakota. It also comprised a potpourri of player personalities from All-Americans to all heart.
"Our three top-level players in the class — Ben [Eaves], J.D. [Forrest] and Tony Voce — have been instrumental in the success that we've had during their stay," said York. "But I think also that Brett Peterson, Justin Dziama, and Ty Hennes had big roles on our team. They were just good worker bees.
"When you come down to it, the six combined very, very well."
As the seconds counted down on Thursday's loss, it was clear to Eaves that this was the end of a great chapter in his and these five player's lives. That made leaving the ice all the more difficult and the six actually grouped together after the loss on the FleetCenter ice to share one final lasting moment.
"The five guys are my best friends on the team," said Eaves of his fellow classmates. "We came in together. We have a special bond. We lived and died with the team together for the last four years and we felt like we were the heart and soul."
For Eaves, a two-year captain for the Eagles, the seniors aren't the only people this all-star caliber player will miss. As much as players are known to have a strong bond after their four years, Eaves felt this team was even more tight.
"It's really tough right now," said Eaves. "It's going to be tough to leave 25 brothers and one real brother behind. We had a great run, we did some real good things, and I'm really proud of this team."
Understanding the accomplishments for this class probably is difficult immediately after such a loss. Besides the national title as freshmen, the BC seniors won or shared three Hockey East regular season titles, a Hockey East tournament title, two Beanpot championships (the first class that can lay claim to that in 37 years), and advanced to three NCAA tournaments. It's nearly impossible to find another BC class with that resume.
Still, at this point, that's difficult to understand, and the sting of Howard's 40 saves is still very fresh. Eventually, though, this class' impact on Boston College hockey will sink in for this group of six.
"We put forward a great effort tonight, but I'm going to miss those guys. That's what it comes down to."