Three of this year's participants in the Frozen Four have more than just excellence in common. Boston College, Denver, and Minnesota-Duluth also share similar color schemes, each sporting gold, two with maroon, one with crimson.
Lots of gold. No maize. No maize and blue.
This is the first Frozen Four since 1999-2000 in which the Michigan Wolverines have not participated, and only the fourth time in the past 13 years that Michigan has missed this big dance.
"And we're sad," said Maggie Morehouse.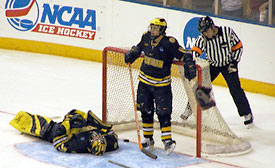 Maggie and her family — husband Jon and four-year-old Jonathan — are longtime Michigan fans from Ann Arbor, season ticketholders who are also among the Frozen Four faithful, those who make the trip to the tournament every year regardless of who's playing.
"Cincinnati was our first," said Maggie. "U of M won, and we were hooked."
"We bring a bunch of people every year," said Jon. "This time, we're 26 short. That's the real difference."
Fourteen-year-old Ron Unkel, sporting a team-autographed maize jersey during Thursday's semifinal contests, said that it's "weird" not to see Michigan in the Frozen Four, and for him it is; he's been coming since he was seven, and the Wolverines have been a staple at every Frozen Four he's seen but two.
"It's a long 12-hour drive not to see Michigan," said the Sterling Heights, Mich., native.
While the Wolverine faithful are naturally sad that their team isn't here in Boston, some fans see the situation's silver lining.
"It's actually more fun," said John Edwards, Michigan season ticketholder from Grand Rapids, Mich. "You're not emotionally attached so you can just enjoy the games."
Edwards' friend and travel partner, Tim Yonkovit, said, "It's actually nice. If you get beat, it's like, 'Oh my God!'"
"It's less stressful," said Ron Unkel, Sr. "We enjoy ourselves no matter what."
Even Jon Morehouse said that the absence of the Wolverines presents certain advantages. "I didn't have to pack my home and away jerseys, and didn't have to pack different pairs of shoes."
So, without Michigan present, who are the Wolverine fans rooting for?
"Team, conference, color," said Jon and Maggie, in unison. Must be Maine, then.
"We like the Red Wings. We like Michigan," said Jonathan — wearing a miniature replica No. 9 Morrison jersey — with a little prompting.
"I like the Black Bears." This unprompted response raised a few eyebrows. Once started, Jonathan continued. "I like the Sharks. I like the RedHawks."
Team, conference, color.
Fans of other CCHA teams — those whose teams have not been to the Frozen Four nine of the past 12 seasons, that is — had mixed feelings about the Michigan-less tournament.
"I would have liked to see any team from the CCHA," said David, who was proudly wearing a game-worn Alaska-Fairbanks sweater, but who would not give his last name.
David's friend — who would not give his name at all for fear of being "singled out" at games, he said — was a little more frank about his feelings.
"At least we don't have to hear that [expletive] fight song 50 [expletive] times an hour."
He was wearing the green and white of Michigan State.