Chris Bourque got plenty out of his famous, NHL Hall of Fame father, Ray. He got his character, he got his ethic of hard work, he got many of his skills, and he got to be a rink rat at Boston Garden.
What Chris Bourque didn't get was his size. As a result, the 5-foot-7 younger Bourque looks "up" to someone other than his father when it comes to hockey role models.
"Marty St. Louis is my idol," said Bourque of the 5-foot-8 Vermont graduate and recently-named Hart Trophy winner as NHL most valuable player. "I try to play just like him. I see a little bit of myself in him. He's an unbelievable player and he's my hero."
Bourque has more reasons to idolize St. Louis now.
As Bourque sat at the NHL Draft here Saturday, he got a surprise phone call. It was St. Louis, wishing him luck.
"[St. Louis] came to Boston this year, I talked to him and told him that he was Chris' favorite player," said Ray Bourque. "I asked for a stick and if he could sign one for Chris. And I know [Tampa Bay players] Dave Andreychuk and Tim Taylor and I told them also how Chris looks up to Marty St. Louis. I don't know how he got Chris' number today, but — they thought I gave it to him, but it didn't come from me. It was really a nice classy move on his part.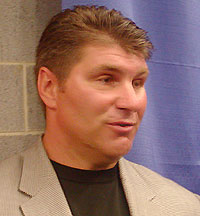 "Chris looks at Marty St. Louis as a guy who set the table for a lot of little guys. He thanked him today, and thanks him [greatly] for being the player that he is, and having the perseverence he has to get where he's gotten. And I'm sure he's been shot down, looked at in a certain way for a lot of years, but he's one kid that wasn't going to be denied. And when you see a guy like that who wins the MVP and wins the Stanley Cup and had the season that he did, I love that kid. I'd love to play with a guy like that. Knowing that my kid is not large in stature, I love him even more for setting the table for a lot of these guys that sometimes aren't looked at."
St. Louis' good luck message must have rubbed off. Bourque was taken higher in the draft than was expected, going early in the second round to Washington.
"I knew that I was better than most of those kids up there," said Chris Bourque. "The only thing that was holding me back was my size. I had a few interviews and I told them that my size doesn't affect how I play. If you watch me you'll see that my size isn't a factor. I play with a lot of heart and a lot of passion."
The draft day proceedings are a far cry from when the elder Bourque was selected.
"I was teaching hockey school in Verdun, and I got called off the ice to hear that I was going to Boston," said Ray Bourque. "It was a great day."
Before Washington, however, Chris Bourque will be headed to Boston University, a place he verbally committed to as soon as practically possible. He likely would've verbally committed while he was in diapers if only he could talk then.
"It was a no brainer [to go to BU]. It was my first and last choice," said Chris. "They offered me a pretty good deal and I couldn't say no. It's been my dream since I was little. They have a great freshman class coming in and have good players in the program. Hopefully next year we'll have a pretty good year."
His dad tried to get him to at least explore other options, but Chris wouldn't hear of it.
"I said, 'Let's go see other places,' he said, 'I don't want to see any other place,'" Ray said. "I said let's wait a couple days, he kept saying the same thing for 48 hours. And I said, 'If that's where you want to go, that's where you're going.'"
It's a lot different than when Ray Bourque was a kid growing up in Quebec. The thought of playing in college was not realistic and he played in the Quebec Major Junior League.
"It's two great options. These kids want to be hockey players, and there's not one route that I would say is better than the other," Ray Bourque said. "That's a personal decision. And if you're a Canadian-born player, probably your chances are you're going to play major junior. If you're born in the U.S. and you're exposed to that whole scene, and grew up that way, you're going to play college more than likely.
"The college route for me, as far as putting both things together, you can't go wrong. I've seen a lot of great players who came out with a degree. If you can have that in your hand when you go to play hockey — you know, hockey doesn't last forever.
Despite Chris' admiration for Martin St. Louis, his father gets plenty of his praise as well. Ray Bourque, in fact, coached Chris at Cushing Academy, and, of course, in a sense, has been coaching him his all life.
"I was really lucky to be who I am and to be around the rinks all day long, to meet all these superstars that I have," said Chris Bourque. "I think that's helped me a lot. Watching them, you're going to get good.
"I remember skating at the [Boston] Garden. That was an awesome place. We used to go on before [the Bruins] came out and I would jump back on after they finished practice, so I was on the ice all the time. Those were fun memories.
"It's kind of awesome [to be Ray Bourque's son]. I've been around the rinks all my life. I've seen NHL players skate and watched their games. I've seen how they get ready and play the game. It showed me what it takes to become an NHL player and I think I've learned a lot from that."