Wayne Gretzky, in town as managing partner of the Phoenix Coyotes, held court with the media on Saturday, and among the things he spoke about were the state of the on-ice game itself — particularly, the dearth of scoring.
But the NHL's all-time leading goal scorer didn't seem to as alarmed by the situation as you may think.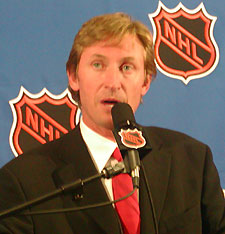 "If you watched the Stanley Cup finals, I don't think that anyone would disagree that it was two teams playing as hard as you can play, and were not really playing the trap," Gretzky said. "They were playing aggressive, go-get-em hockey. But the penalty killing now, and the defensive coverage, is so much better. And it goes back to the goaltenders. The goaltenders are tough. … It's just that much harder to score now, and we have to change our mindset that just because the score is not 5-4, it doesn't mean it's not exciting hockey."
And just as the press conference ended, Gretzky's final words were, "I don't know if you'll ever see a 50-goal scorer again," words that hung in the air like a lead weight until he was surrounded by reporters away from the podium to clarify.
"There's so many good players and it's so hard to score now, and everyone wants to see goals," Gretzky said. "You can't play better hockey than that [in the Cup finals]. Nobody sat back, everyone was aggressive, but there were still no 6-5 games.
"I don't have the answers right now. … Maybe if you get a two-minute penalty you don't come out after a goal. I don't know. … But then does that make the game a little chippier because no one wants to call that second penalty on a power play."
The lack of space is a one of the biggest problems, as players have little room to be creative — a situation also beginning to affect college hockey. The NHL has often tried to crack down on obstruction, a process that always ultimately ends fruitless.
"Hooking and holding was always part of the game," Gretzky said. "It's been in our game since the '30s, you've got to fight through it. But players are so strong now, it's hard, it's hard. I don't have the answers for you. I would love to figure out a way to open it up. But the history of our game is so important, making the net bigger doesn't make sense. I don't know."
Sheehy: Harvard Needs Alumnus
Neil Sheehy, like most other prominent agents, is a familiar figure at the NHL Draft. The Harvard graduate and long-time NHL defenseman normally acts as adviser to many top college players. This year, his biggest name was North Dakota's Drew Stafford, who went in the first round Saturday.
Meanwhile, Sheehy is keeping an eye on the Harvard coaching situation. In his opinion, it's imperative for Harvard to hire a graduate, and knows who he wants it to be.
"I want someone like Ted Drury or Ted Donato to get that job," Sheehy said. Donato, who is still technically an NHL player, has already interviewed and is considered a leading candidate, along with Boston College assistant Ron Rolston, who is not a Harvard alum but spent three years there as an assistant coach.
Sheehy agreed that there would be a learning curve for Donato on the coaching end of things, but that is countered by his familiarity with Harvard.
"It's true there will be a learning curve, but there's also a learning curve for someone outside of Harvard to figure out what Harvard is all about," Sheehy said. "A coach needs to understand what the players have to deal with. When a kid has a paper due, if he comes up to him and says, 'Coach, I need a break,' the coach can say, 'Fine, just come back tomorrow and work harder to make up for it.'
"Teddy [Donato] is a great guy, a smart guy, and Harvard needs someone like him."
Cloudy Future
The NHL labor situation seems to have thrown the future of some current college players into a little bit of limbo. The trouble navigating the labor landscape has delayed decisions on some key players by the NHL teams that own their rights — Minnesota's Thomas Vanek (Buffalo), Dartmouth's Hugh Jessiman (New York Rangers) and Wisconsin's Ryan Suter (Nashville).
Vanek's agent family adviser, Steve Bartlett, hasn't seen much movement from Buffalo lately.
"They're doing much like what Nashville is going through with Suter — weighing the positives of bringing a kid out and getting development time, vs. are we going to see a system that caps them [monetarily] in a different way and we don't have to pay as much a year down the road," said Bartlett.
"I think they're still debating it. … I talked to them briefly, they mentioned to me what Thomas was thinking. I can't solicit an offer, I can't negotiate. They just asked what's Thomas' mindset, and I said he was open to listen to anything, so you guys decide whether you want to make an offer. Under NCAA rules he can consider it.
"The threat of a lockout changes the dynamics of a decision. Because in your mind, if you're leaving Minnesota to play in the NHL, that's a different decision than leaving Minnesota to play in Rochester. Even though most guys, realistically, need development time in the minors, that carrot is that possibility. And Thomas doesn't lack for confidence, especially playing in the World Championship as well as he did against other NHLers, in his mind he probably thinks by January I could be in the NHL. But if that's gone, it's like, I guess there's not that urgency, I'll wait."
Bartlett said Vanek loves Minnesota and would have no problem returning next season.
College Hockey South
Adam Berkhoel, the outgoing Denver senior who was the 2004 NCAA tournament Most Outstanding Player, got his name into the draft festivities. The Atlanta Thrashers traded the Chicago Blackhawks a conditional 2005 draft pick for the rights to Berkhoel.
"He's a player we like who can turn pro immediately," said Atlanta general manager Don Waddell. "He was the MVP in the playoffs and carried that team. We feel good about that."
Another of Waddell's selections has connections to his alma mater, Northern Michigan. Matthew Siddall, a 6-foot-1, 205-pound tough player from British Columbia, will be coming to Marquette this fall. He was hit with injuries last year, but scored 61 points in 45 games and had 216 penalty minutes.
"He's going to be a project, but has some pretty raw skills," Waddell said. "But he's going to a pretty good program that I'm pretty familiar with, with a pretty good coach that develops players, and if you put him in there, you have four years before we have to make a decision on him."
Among Atlanta's other selections were Grant Lewis (Dartmouth) and Mitch Carefoot (Cornell).
Slip of the Lip
NHL commissioner Gary Bettman generally is on the stage to announce first-round picks, then hands things off to his No. 2 Colin Campbell for the second round. The rest of the way, in steps NHL vice president Jim Gregory, who is a great guy but tends not to be as … eloquent … as the other two — something that's becoming harder to do given the influx of Europeans into the draft.
So imagine Gregory's horror when the Los Angeles Kings selected Yutaka Fukufuji, from the Japanese national team, with the 228th overall pick. Use your imagination to figure out how that came out of Gregory's mouth and over the RBC Center loudspeakers. Things got a lot easier, however, when Colorado followed up by taking Brandon Yip.
Misc.
Carolina Hurricanes owner Peter Karmanos was unable to be in attendance at the draft because of the death of his mother. He flew back to Detroit on Thursday. His assistant general manager is his son, Jason, who left after the first day of the draft. There's a well-known college hockey connection with the Hurricanes because of Peter and Jason, who played at Harvard in the mid-'90s. Former Harvard goaltender Tripp Tracy is a color announcer for the team.
The cloud hanging over the draft proceedings, of course, was the NHL labor situation. A labor lockout is planned for Sept. 15, when the current Collective Bargaining Agreement expires, and most people are hunkering down for a long, bloody feud. No one seemed to have any answers, but perhaps all you really need to know about the situation can be explained rather easily — NHL commissioner Gary Bettman is a Cornell graduate, NHL Players Association Executive Director Bob Goodenow is a Harvard graduate.
When New Jersey general manager Lou Lamoriello makes a move, people take notice. That's because of the Devils' propensity for finding jewels despite consistently picking low in the draft. For the second straight year, Lamoriello moved up while the first round was under way to snag a college player. Last year, as Zach Parise's stock inexplicably was dropping, Lamoriello moved up and grabbed him. This year, he gave up a third rounder just to move up two slots to snare incoming North Dakota freshman Travis Zajac.
Michigan's Mike Brown was selected by Vancouver with the 159th pick, late in the fifth round. The Director of Player Personnel for Vancouver is Steve Tambellini, the father of Brown's Michigan teammate Jeff Tambellini. Brown said he's looking forward to improving his offensive game at Michigan next season. "I'm trying to get better to put more goals in the net. I'm striving for 15-20 goals next year. I think I played my style game [last year], a tough physical game and was worried more about defense and the offense will come. I think that worked out pretty good."