There's a good chance that when the New York Rangers selected Michigan goaltender Al Montoya with the sixth pick in Saturday's NHL Entry Draft, they realized that they got more than simply a hockey player.
Sure he's a solid goaltender whose numbers have gotten better in his two seasons at Michigan. And his performance in last year's World Junior Championship, where he led his U.S. team to gold, speaks volumes for the player that he is.
But the thing that defines Montoya more than anything else might be his genes.
Montoya is the son of Cuban immigrants. His mother, Dr. Irene Silva, came to the United States when she was nine at the time of the Bay of Pigs invasion. Her uncle, a successful man in Cuba himself, used to fish with Ernest Hemingway.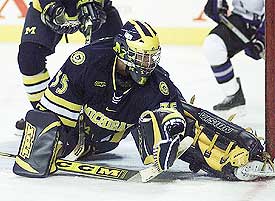 So the thought of bringing this charming Cuban-American to the city of New York — he'd be the first-ever Hispanic to play for the Rangers — has to have some upside to both Montoya and the Rangers organization.
"I see myself as a role model," said Montoya. "I want to show that if you have a different background and different culture, it doesn't mean you can't play different sports. I'd just like to open [hockey] up to the Hispanic population and all minorities."
His mother agrees.
"Al is a very caring and loving kid," said Silva. "When he teaches the younger kids, he has so much fun because he has two younger twin brothers.
"He's got a big heart and he's a good leader. He's always been a leader. In terms of Hispanics, he would love to see more Hispanics make it onto national teams."
Setting an example is something that Montoya likely will have no problem doing. He's always excelled both on and off the ice. He was a two-sport varsity athlete in high school and "fast-tracked," as his mother put it, to graduate high school in three years and land at Michigan a year early to fill a goaltending hole.
"I couldn't tell him he couldn't graduate in three years [from high school] because I'd done it, so the argument would've been dead," said Silva, who didn't see any need to rush Montoya's hockey career. "But the decision to go to Michigan was a good one. Michigan is a great school."
Now, Montoya is faced with an even tougher decision: whether to return for his junior and senior years. The thought of him not doing so almost wouldn't be entertained by his mother.
"You don't think he's going back?" said Silva, almost shocked to be asked the question. "I know his coach is expecting him back. I think education is number one and it's really important to finish school. But this is above and beyond me. It might be out of my hands."
Silva, who in the past has been able to sway Montoya's decisions, particularly when it came to choosing college over the major junior route when he was 16, hopes that her influence will again pay off.
"That's when I said he was still listening to his mother," Silva said with a laugh about her influence on her son. "People told him the way to go was the OHL. I said, 'No, you've got to get an education. Hockey is a sport, after all.'
"It worked at 16. Maybe it will work again."
Regardless of the decision, this prospect is about to be thrust into the role of a celebrity. Actually, after nearly three hours of interviews and photo sessions after being picked on Saturday — by far the most of any prospect — maybe he's already there. The one thing that we know is that he's happy to be handling it on behalf of a city in which he's always wanted to play.
"I always loved watching Mike Richter play," explained Montoya of his passion for playing in New York. "It's always been a great city. It has great fans and I've always dreamed to play in Madison Square Garden some day."
Asked if he was disappointed that he didn't go higher in the draft (some had Montoya as high as third overall), his answer was clear.
"It doesn't matter where [in the order] you get drafted," said Montoya. "It's the team and the organization that count. For me, this is a dream come true."
Oh, and as far as what kind of influence his mother might have on Montoya's education, maybe it's already beginning to show a little.
"I feel like in a year or two, I'll be ready to play in the NHL," said Montoya, though it's obvious his mind is not made up. "Right now I'm just enjoying this, soaking it in. I'll talk to the organization, see what's best for me and go from there."