The United States is in an unfamiliar position entering this week's annual Under-22 series with Canada-defending champion and favorite.
As usual, the three-game series offers glimpses of top U.S. college players from both countries, but what's been different recently is that the glimpses are of younger Canadians. The average age of this year's Canadian roster is just over 19, more than eight months younger than the average American player.

To achieve its U-22 program's ultimate goal of nurturing younger players for national team service, Canada made a philosophical change last season in selecting a younger team, which expectedly led to lower competitive success against the U.S. U-22 team. The Canadian U-22's had won every series against the Americans prior to last year's, which the U.S. won by a convincing 2-0-1 margin with an 87-36 total shot advantage. This year's Canadian U-22 team could also suffer relative to past seasons because it was not picked until last Sunday.
Regardless of the competitive balance between the teams, this week's U-22 games (Wednesday and Thursday nights at Lake Placid and Saturday afternoon at Vermont) will maintain their status as the first high-level women's hockey played since April, making this an eagerly awaited series for fans, players and coaches. And as usual, the games will offer plenty of college teammate vs. college teammate storylines-Dartmouth and Minnesota-Duluth each have two or more players on each side.
"I'm just really looking forward to going up and watching some good hockey," said Dartmouth coach Mark Hudak. "The whole summer and spring has been spent recruiting and watching a lot of young kids play hockey. For me, just going up to Lake Placid, which is where I'm from, and being able to sit up in the stands and watch, especially given that we've got five kids in it, it's just going to be fun."
Despite having a far younger team than the U.S. last year, Canada only returns one more player than the U.S. from last year's rosters (12 vs. 11). Whether younger means better might depend on the position.
Goaltending Breakdown
The U.S. has an obvious age advantage in net with two battle-tested college goaltenders on its side, but Canada's goaltenders can't be underestimated simply because they're both 18 years old.
The U.S. side features Wisconsin junior Meghan Horras, the 2003-04 national leader in goals against average, and Colgate senior Rebecca Lahar, perhaps best known for her 50-save shutout of St. Lawrence in last season's ECAC quarterfinals. The two gave up 10 goals in four games against tough competition at the U.S. National Festival. Both goalies should see time, unlike last year when the more experienced Jody Horak started every game.

Although the U.S. is older in net, only Canada's goaltender of the future Brittony Chartier has previous U-22 experience against the U.S. Chartier is the only goaltender in the series not playing for a U.S. college next year, but she has experience stopping some of the world's best players from the NWHL. She's been the starter for the Calgary Oval X-treme's back-to-back NWHL championship wins, including a 31-save shutout of Toronto in 2003 and a 6-5 shootout victory over Brampton in the 2004 final. In U-22 play last season, Chartier suffered in 2-0 defeat in which the U.S. outshot Canada 24-8.
The most intriguing goaltender to watch for Canada from the U.S. college perspective is incoming Minnesota State freshman Brit Kehler. The Mavericks graduated Second Team All-American Shari Vogt last year, and they might not miss a beat with Kehler. In making the Under-22 team, she beat out Yale junior Sarah Love-a Second Team All-ECAC goalie. Whether that selection is based more on current ability versus potential remains to be seen.
Defensemen
The greatest advantage for the U.S. should be at the blue line. Six of the seven defensemen have previous U-22 experience, and five return from last year's team that helped limit Canada to 12 shot per game. Four of the U.S. defensemen were born in 1983, and three have U.S. national team experience. Canada returns four defensemen from last year's team, but all except UMD's Krista McArthur were born after 1983, and none have national team experience.
Players to watch include Minnesota sophomore and Olympian Lyndsay Wall, who missed most of the Gophers' national title run for academic reasons; Kerri Wallace, who at age 20 will have played on two Canadian U-22 teams by the team she enters Minnesota State; and Brown senior Amy McLaughlin, an ECAC First Team defenseman making her third appearance at this level.
Forwards
Both teams have star-studded casts at forward. Canada features a whole line's worth of Dartmouth players in Katie Weatherston, Meagan Walton and World gold medalist Gillian Apps. The U.S. has the high-scoring U.S. national duo of Kelly Stephens and Natalie Darwitz. And that's only the beginning.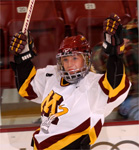 The high schoolers on each side, Sarah Parsons of the U.S. and Meghan Agosta of Canada, could have a significant impact on the scoring. Parsons already has a goal and an assist in U-22 play to her credit from a year ago, and she matched Darwitz for the U.S. U-22 team lead in scoring at the U.S. national festival last week. Agosta has no U-22 experience, but she's already proven herself to be a hockey natural. Agosta was the top goal-scorer on the Canadian team that won gold in the international inline hockey championship, despite having minimal prior experience with the sport.
Two other long-awaited players to watch on the Canadian side are Ashley Riggs and Sarah Vaillancourt, incoming freshmen at Niagara and Harvard, respectively. Each is playing in their second Under-22 series against the U.S.
While there is plenty of strong young talent at forward, Apps and Darwitz should remain the biggest difference makers. Apps already has four goals and an assist total for two series of U-22 play against the U.S., and Darwitz figured in as many goals (four) as Canada scored total in all of last year's series. Apps took her speed and strength to another level after playing in the World Championships last year, but don't ever count out Darwitz, who has always been playing at another level.