The Week Past
As promised, last weekend saw some intense league action as teams jockeyed for the early lead in the standings. Manhattanville and RIT were the big winners, each sweeping their weekend games to vault to the top.
Manhattanville squeaked by a pesky Neumann squad, 2-1, despite a very good Knights goaltending performance. Freshman Mike Collichio stopped 50 of the 52 shots that he faced to keep the contest close right to the end, and earned him this week's USCHO.com Men's Division III Defensive Player of the Week honors.
"Boy, the Neumann freshman goalie is unbelievable," said Manhattanville coach Keith Levinthal. "We had almost forty shots through two periods, and he made a lot of unbelievable saves. It was one of those games where we could have easily been up six or seven going into the third period, but he did a good job. We were short handed the whole third period, and maybe we were a little tight."
The Valiants then had a quick turnaround, playing at Lebanon Valley at 1:00 pm the next afternoon. Fortunately, Manhattanville got off to a quick start in the game, outshooting the Flying Dutchmen 12-0 in the first period.
"We played a real physical game," said Levinthal. "With how the schedule worked out, we were forced to play Lebanon Valley at 1pm, after playing at Neumann the night before, and Harrisburg isn't right around the corner from Neumann. To come out in the first period and play the way we did, I was pretty happy. We had no idea what to expect from Lebanon Valley."
RIT also swept its weekend games against defending champ Hobart 6-1 and Utica 2-1. The Tigers used a five-goal explosion in the second period to take control of the game against Hobart. Three of those goals were scored within a 2:16 span late in the period, and RIT was able to coast from there.
While the Statesmen have exorcised many of their demons over the last couple of years, one they haven't been able to shake yet is getting a win at RIT's Ritter Arena. Hobart hasn't won there since Nov. 11, 1992 when it defeated the Tigers 5-4.
But, even with the early season setback, perhaps all is not lost for the Statesmen.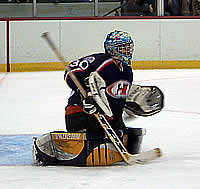 "[RIT] slapped us around pretty good up there last year, and it turned out all right in the end," said Hobart coach Mark Taylor. "We just need to keep working hard and stick to our game plan."
The other surprising game of the weekend was Utica beating Elmira 9-8 in the Aud. These teams are obviously evenly matched, so the result wasn't necessarily surprising, but the magnitude of the scoring onslaught was.
Utica had built a 5-1 lead early in the second period, and appeared to be in control of the game, when the fireworks really started.
"We were in total control and then a power play got them back into it," said Utica coach Gary Heenan. "Despite the final score, the goalies weren't terrible. There was just a lot of offense going on."
Elmira rattled off two quick goals in less than a minute and it was off to the races.
"We got off to a good start by scoring the first goal, then we fell asleep for the better part of seventeen minutes," Elmira coach Tim Ceglarski told the Elmira Star-Gazette. "It cost us five goals."
Despite Heenan's comment about the play between the pipes, this game was definitely not a goaltenders' duel. Elmira eventually knotted the game 7-7, before Utica rattled off two power-play goals 17 seconds apart to retake the lead for good.
The Utica team is really starting to make the "Aud" a home rink, and a tough place for other teams to come to play.
"There is an attitude from our team when we play at home," said Heenan. "We are building a fan base, and the players respond to that. They just don't want to let any other team come into the Aud and beat them."
First, Second, and Third
The season is still very early, but there are some odd statistics starting to take shape all ready. For instance, take the scoring by period stat.
Elmira has tallied 18 total goals. Of those, eleven have been potted in the second period, and only one in the first stanza.
Likewise, RIT has scored thirteen times, with ten in the second period and a single goal in the first.
Talk about slow-starting teams. But on the flip side, RIT has only allowed a single goal during the first periods of its four games.
Elmira, on the other hand, has dug the hole a little deeper, allowing five goals in the first periods.
Perhaps that is one reason why RIT is enjoying a 3-1 record, while Elmira is still winless at 0-2-2.
Utica, on the other hand, is the opposite. The Pioneers get off to quick starts in games, scoring nine of their team's 21 goals in the opening period. But, the Utica defense tends to wither as the game progresses, allowing ten goals in each of the second and third periods.
Who has the most balanced scoring in the league, you ask? Surprisingly enough, Neumann is at the top of the heap. The Knights three periods of scoring read 5-3-7. A quick start, and a strong finish to games, is one reason why five of Neumann's first seven games have been decided by one goal or less.
Power to Kill
Another interesting statistic, at least in this new world of Points of Emphasis, is power plays and penalty kills. Obviously, the play of the special teams has been highlighted this season with all of the extra penalties assessed, and are more critical to the success of a team.
Manhattanville and Utica are currently leading the pack, but only with a 22.2% power play conversion rate. RIT, who has had a power play percentage ranging between 28.1% and 42.7% the last four years, is only at a paltry 11.8% this year.
How much would RIT's coach Wayne Wilson pay for the old glory days of the power play this year? Given that RIT has had 34 power plays in four games so far, a 42.7% conversion rate would give RIT an extra 3.3 goals per game this season. Scary.
Only Hobart has had more power plays than penalty kill opportunities this season, and that just barely. The Statesmen have had to kill off 29 penalties, while enjoying 33 power plays of their own.
All of the other teams have taken more penalties than their opponents, a trend that might help to explain the ECAC West's below average non-conference record to date.
A Valiants Trap?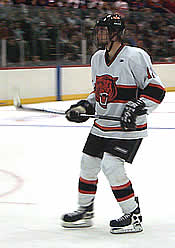 A preview of this weekend's game between RIT and Manhattanville was posted on the govaliants.com website earlier this week. In the story, it describes Levinthal as introducing a special "neutral zone scheme [that] will create more turnovers and consequent offense on the counterattack" just for the game against RIT.
But don't mention the word "Trap" around the rink at Playland Casino.
"Have you seen us trap before?" retorts Levinthal. "We'll have to see how it goes. We don't need to play this game wide open. We don't need to be in a run-and-gun game with RIT. They have some pretty quick kids at forward. We don't need this to be a high flying game."
Manhattanville has never played a true trap, as far as I have ever seen. But depending on how this special "scheme" plays out this weekend, we might have to start calling a spade, a spade.
And while we are speaking of the Trap … This is the second Division III coach who has taken me to task over the years for "accusing" their team of utilizing the Trap. When did "trap" become a four-letter word?