Joe Louis Arena, Detroit, December 29-30
Television: Fox Sports Net Detroit, DirecTV Ch. 636, Dish Network 430 (Mich. St/UNH game only)
Semifinals: Michigan (13-4-1, 11-1-0 CCHA) vs. Michigan Tech (1-14-1, 1-13-0 WCHA), 4:00 p.m. Wednesday
New Hampshire (11-3-2, 6-1-1 Hockey East) vs. Michigan State (8-9-1, 5-7-0 CCHA), 8:00 p.m. Wednesday
Consolation/Championship: 4:30 p.m./8:00 p.m. Thursday
Michigan
Players to watch: Jeff Tambellini, F (8-13-21); Milan Gajic (8-10-18); David Moss, F (5-12-17)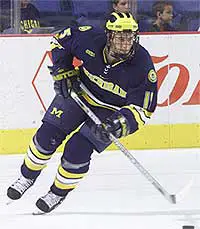 Notable: Michigan will suffer the most of all college teams in terms of World Junior losses over this holiday break. The Wolverines placed five players on the U.S. National team, including leading scorer T.J. Hensick and top goaltender Al Montoya. That leaves the Maize and Blue with junior Noah Ruden between the pipes — Ruden has seen just 27 minutes worth of action this season. This is the second straight season Ruden has served as Montoya's stand-in at the GLI. Last year, he fell to BC in the semis before beating Michigan Tech in the consolation game.
Michigan Tech
Players to watch: Colin Murphy, F (5-17-22); Lars Helminen, D (5-13-18); Chris Conner, F (7-6-13)
Notable: The Huskies, who have lost seven straight at the GLI, might want to call on ghosts of Christmas past as they enter this year's tournament. Michigan Tech's last win at the Joe came against this year's first-round opponent, Michigan, in the 2000 semifinals … When you take one look at the Huskies' offense, led by Colin Murphy with 22 points, you wonder how this team only has one win this year. Then a look at the goaltending statistics shows three goalies with save percentages below .900, and the top goals-against average on the team is an unflattering 4.69… Coach Jamie Russell might have been looking to give his team a boost of confidence last weekend when he took the Huskies to Lakehead University in Canada for two exhibition games. The Huskies won both, 5-1 and 7-2.
New Hampshire
Players to watch: Sean Collins, F (7-14-21); Brett Hemingway, F (12-8-20); Preston Callander, F (7-12-19); Jeff Pietrasiak, G (7-2-2, 2.69 GAA, .900 sv%)
Notable: New Hampshire has been a surprise team throughout the first half, maintaining and improving its national ranking despite losing top scorer Steve Saviano and goaltending sensation Michael Ayers after last season. Ayers' loss provided the biggest question mark entering the year, but the play of both junior Jeff Pietrasiak and rookie Kevin Regan has dispelled any myths that UNH might be in for a rebuilding year… New Hampshire's offense is ranked fifth in the nation (3.81 GPG), while its power play is sixth (23.2% efficiency). Quarterbacking that power-play unit is defenseman Brian Yandle, who is tied for fourth nationally in goals per game.
Michigan State
Players to watch: Colton Fretter, F (9-10-19); Jim Slater, F (6-12-18); Drew Miller, F (8-5-13); Dominic Vicari, G (6-7-1, 2.39 GAA, .917 sv%)
Notable: The up-and-down Michigan State Spartans will look to use the GLI as a catapult to a much-needed strong second half of the season. At this point, the Spartans sit below .500 at 8-9-1, resembling the 7-7-1 record Michigan State brought into the GLI two years ago. That year, the Spartans fell to Boston University, 6-1, in the semifinals before beating Michigan Tech in the consolation game … Michigan State has not won the GLI since 2000, when the Spartans beat Boston College and Michigan Tech to capture the title… The GLI begins a stretch of five straight games away from Munn Arena for the Spartans.
Quotable
"I think we're better than our record. I think we're very capable of putting together a very good second half. We have some guys who have had a very difficult first half. It's a puzzle, for sure. At the same time, it's a good group of great kids… Winning [the GLI] would be a good kickoff." — Michigan State head coach Rick Comley on his team's slow start and outlook for the GLI.
"A few years ago, it was our tournament to lose. Now it's our challenge to go in there and try and win that tournament – especially for the seniors." — Michigan head coach Red Berenson, on the Wolverines' recent dry spell at the GLI.
"We're enjoying these two weeks off. I think our kids needed to get away and take a break from it. They've worked very hard. I've been out recruiting. Even coaches need a break from it. We have three goals for the second half of the season: reduce our goals against, and improve both the power play and the penalty killing." — Comley, on the need for the break and his sights heading to the second half.
Outlook
One of the best-known holiday tournaments, the GLI once again has invited a strong team in New Hampshire to join the Michigan triumvirate. As in years past, it wouldn't be surprising to see the visiting team capture the title. Though Michigan should survive Michigan Tech in the first, the shorthanded Wolverines will have a tough go of it against a fully-stocked New Hampshire offense.