Happy New Year! Yes, we are through the holidays and the festive season of celebration. Sure there were some tournaments to be played and most played out as predicted with a few surprises. We took a look before the holidays as to what Christmas wishes should be answered for the teams in the three New England conferences, now entering the grind of weekly conference play, we take a quick look at "Who's Hot" and Who's Not" entering 2005.
Who's Hot!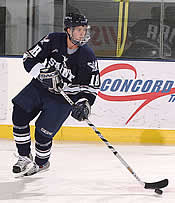 St Anselm — Coach Ed Seney's squad entered the break undefeated with only a tie against No. 14 ranked Bowdoin. They got out of the gate fast after New Year's with a rousing 8-2 win over Franklin Pierce and play at home against Skidmore and Castleton State to open league play in the second half. Seventeen different players have scored goals this season for the Hawks and defensemen Brian Dobler and Brett Smith are among the team leaders in scoring. Look for steady goaltending from Jim Merola to backstop the Hawks in a strong second half, and at least on paper, a top position in the league standings for ECAC East.
Trinity — Another undefeated squad, coach John Dunham's team is 8-0 following a non-conference win against Skidmore and a 1-1 tie with the US- Under 18 squad at the Middlebury Invitiational. Fighting the injury bug early in the season has helped a number of younger players get some valuable ice time and mature quickly giving the Bantams their best depth in a number of years. Trinity continues league play at home against Amherst and Hamilton this weekend which should go a long way in showing how good this team can be. Look for Doug Kiselius to show his All-American form of two seasons ago as Trinity looks to stay at the top of the NESCAC standings.
Southern New Hampshire University — Another of the six D-II schools in New England makes the "Hot" list based on their strong 9-1-2 start to the season. Coach Rene LeClerc hopes the break doesn't set his team back in their play as several freshmen have gotten off to impressive starts in their inaugural college season. Freshman forward Brandon Hammermeister already has eight goals in his first twelve games while senior pat Doherty has tallied 23 points including 14 goals already. More consistent goaltending from Martin Stehl and Tim Fewster will have a lot to do with the tam's results against the rest of the league. Their next six games will showcase their talents against challenging teams including league leader Curry, UMass-Dartmouth, Fitchburg State and D-II foe St. Anselm.
Babson — Although just 6-3-1, the Babson Beavers have won three in a row in convincing fashion including a 12-3 win over St. Michael's and a 7-2 win in the championship game of the Codfish Bowl over host UMass-Boston. Coach Jamie Rice believes he is getting his team healthy and playing well coming into the teeth of the schedule. Six of the next eight games are on the road and include Bowdoin, Colby and Norwich. Offense has not been an issue but a return to form for last year's rookie of the year John Sterbling in goal would be most welcome.
Bowdoin — The Polar Bears are fresh off their win at the Salem State tournament where they defeated No. 12 ranked Curry by a 5-2 score. Overall Terry Meagher's team is 6-1-1 and playing very sound hockey in all departments. Key to Bowdoin's success has been the emergence of goaltender George Papachristopoulos. The junior has been rock solid posting a 2.29 goals against average and .917 save percentage. "He's the kind of kid you can give the keys to the rink to, stated Coach Meagher. He locks everything up." Bowdoin will face early second half challenges from Babson as well as Middlebury and Williams, all at home.
Who's Not!
Wentworth — The Leopards finished the first half with a resounding 10-1 loss at Elmira, which left them with at 5-5 to open the season and 1-5 outside of conference play. Playing a complete 60 minute game is key for coach Jonathan Deptula's team coming out of the break especially with three of the next four on the road against non-conference foes including Geneseo, Brockport and resurgent Plattsburgh. Look for improved team defense and more consistent scoring to be focal points if Wentworth is to overcome it's shaky start and challenge for the league title in the Northeast.
Nichols — Coach Lou Izzi's team is just 1-7-1 to start the season and open with UMass-Dartmouth in a non-conference game. More promise was expected from the Bisons this season and they still have a chance to turn things around. Giving up 48 goals in nine games has not helped the cause so look for more focused defensive play and Ryan Davis to put up some goaltending numbers like his freshman year. Seven of their next ten games are on the road so playing well away from home will be key for any playoff hopes this season.
UMass-Boston — At 2-6, with both wins coming against Northeast teams, the Beacons are looking to change things around in the second half. Coach Mike Bertoni has infused some new blood for the second half of the season including six new freshmen. With just 19 goals in their first eight games, UMB needs some consistent offense to turn things around. New additions include Eric Olmstead, Jon Hutcheon and James Johnson. Of note look for Dominic DiMarzo to be an impact player as the re-tooled Beacons open league play with Colby, Bowdoin, St. Michael's and Norwich, all on the road.
Conn. College — It's almost difficult to put the camels in this category following their 5-2 consolation victory over Wesleyan in the Plattsburgh tournament. It's especially hard knowing they held a 3-1 lead entering third period against the host Cardinals before losing 4-3 in overtime. Coach Jim Ward's team is vastly improved despite their 0-5 conference record. Conn College gives up just over three goals a game but scores only two and a half and there lies the problem in getting off the short end of scores in the second half. Steve Oven continues his strong play including 54 saves against Plattsburgh. The offense needs to develop if the Camels are going to make a run at a playoff spot in the NESCAC conference.
New England College — The Pilgrims ended the first half with a solid 9-1 win over surprising Johnson & Wales but at 3-6 overall and 1-4 in conference, Coach Tom Carroll's team is going to have to pick it up quickly in the second half. Opening with Skidmore and Castleton State helps but three of their next six games come against ranked opponents including Trinity, Curry and Middlebury. Look for Nick Warriner and Michael Shimek to carry the load as NEC looks to get back in the hunt for a home-ice playoff berth.
The 400 Club Adds Another …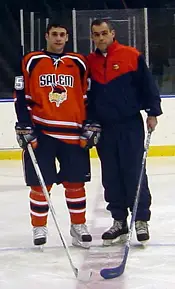 With Trinity's John Dunham and UMass-Dartmouth's John Rolli reaching the 400 win plateau earlier this season, it is equally nice to see Salem State's Bill O'Neill earn his 400th win over Fitchburg State earlier this week. Like his peers, O'Neill has reached that level while coaching at the same and only institution he has ever been at. In his 24th season, this milestone must have a little extra significance as his brother John shares bench duties with Bill and son Andrew is the team's leading scorer with 7 goals and 13 assists for 20 points in just 11 games. Congratulations to another good guy in the college game! At 7-4 entering the New Year, O'Neill's team could challenge in the ECAC East, especially should they fare well over the next eight games where they play six away from home.
Norwich Setting Up For Second Half
It always starts with the Time Argus tournament for the Norwich Cadets as they enter the second half of the season usually on a winning note. This year saw the Cadets win the preliminary game against Elmira in overtime before losing to second-ranked Manhattanville 3-2 in the championship game. Tuesday night found the Cadets on the short end of a 4-3 overtime loss to a strong Plattsburgh team that has Norwich 1-2 to start the New Year. "We only have one returnee on the blue line this year, Brian Mullally, so we are very young in the back," noted coach Mike McShane. "Our goaltending has been good but we haven't been scoring like we usually do." The offense may get a boost with the return of Mario Chinelli to the team, having recovered from a chronic back injury dating back to last season. "It would be a boost to get Mario back but we'll take it slow and see how he comes along," a cautious McShane noted. A little home cooking might also help the Cadets as well. They play their next four games at home against Southern Maine, Salem State, Babson and UMass-Boston.
'Tis The Season … For Transfers
The second half of the season and corresponding semester break usually is usually a time when we see some roster changes for a number of teams. As noted above, UMass-Boston has brought in six new freshmen to begin the second half. Over at Curry, the 12th ranked Colonels are making their push to win the ECAC Northeast with the additions of freshman defenseman Michael Watson and goaltender Michael Ronan. In fact, newcomer Ronan acquitted himself well in his first action for Curry making 28 saves in a 3-3 tie at Waterville Maine. The next couple of weeks should find some additional transitioning of rosters for teams in the area and it will be interesting to see who can help themselves the most with an influx of some new talent for the stretch run to the playoffs.