College hockey fans in Colorado Springs, Minneapolis, Boston, and Ann Arbor are trying to resist, but they just can't help it. Well aware that they could be jinxing their team with a kiss of death, they're scouring the web for the cheapest flights to Columbus, Ohio, for that second weekend in April.
On the other hand, as January floats into February and conference tournaments loom, fans in East Lansing, Providence, St. Cloud and South Bend are realizing that this may not be the year. So, if they can't click around on Orbitz.com, what can these people do when they should be working or studying? Well, they start by searching the Internet for recruits that may help their team to the promised land in '06 and beyond. Maybe there's a blue-chipper still out there that hasn't committed to Michigan, Minnesota or Boston College.
Fear not, college hockey nation, there is still talent available, and the eight listed below are among the best. So instead of wasting your valuable time finding someone to watch your dog during the Frozen Four, you can spend those hours fervently hoping that one or more of these guys decides to come to your school.
It should be noted that predictions are not guaranteed; I thought Catwoman would sweep the Oscars this year.
Jared Boll, F, Lincoln Stars (USHL)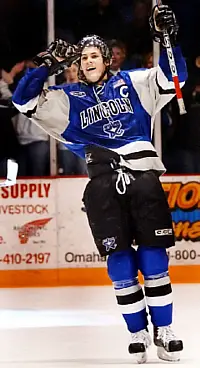 Boll's stock has risen considerably thanks to a breakout year in his second season in Lincoln. Through 34 games, Boll has as many goals (18) as he had points (14) a year ago. With 16 helpers to his credit and a WWE attitude (195 penalty minutes), the Stars' second-leading scorer has become a hot commodity. He'll be a fan favorite in one town, and on the most-wanted list in about 10 others over the next four years.
The short list: Bowling Green, Ferris State, Wisconsin, Minnesota-Duluth, St. Cloud State.
The frontrunner: Thus far, Boll has visited only Bowling Green, but has a number of other visits lined up. He won't single out a school at this point, but the Crystal Lake, Ill., native wants to play close to home and has his heart set on skating in the WCHA or CCHA. "I want to go somewhere I know I'll fit in and play," said Boll. "It has to be the right situation academic-wise and hockey-wise." He says the decision is coming in late February. One has to like Wisconsin's chances considering the proximity to his home. When you have an attitude like Boll's, it's best to have Madtown on your side.
Robbie Dee, F, Breck School (Minneapolis)
If not for Phil Kessel, Dee might be the uncommitted recruit with the biggest offensive upside. Through 19 games this season, the tall and wiry forward has piled up 63 points. Consider this: His linemate from a year ago, Blake Wheeler — the fifth overall pick in last year's NHL Draft — could have remained at Breck another year. Still, opposing goaltenders view that as little consolation seeing as how Dee has been carving defenses apart this season. "He'll bring a lot of offense to a college team," said Breck head coach Wally Chapman.
The short list: Dee feels he'll most likely spend a year in the USHL following this season, but he hopes to know where he's going by this summer. He has made visits to Wisconsin and MSU-Mankato, but he's been contacted by numerous schools. Those schools include the perennial powers of Hockey East, a league which he says fits his style of play.
The frontrunner: In Dee's words, "it's too early to say." Dee's game is up-tempo and he'll be looking for a school that fits that style. He hasn't tipped his hand yet, and he's not ruling out Hockey East. Still, it's hard to imagine his hometown Gophers not making a strong push to land another blue-chipper like Dee. Will he be reunited with Wheeler in 2006? Will Phil Kessel possibly play on the same line with the two of them? Shh, I think I can hear everyone in Buckyland collectively covering their mouths and sprinting to the nearest toilet at the thought of it.
T.J. Fast, D, Camrose (AJHL)
In addition to possessing the best hockey name since Colt King (forward for the Augusta Lynx in the ECHL), Fast will bring a solid defensive presence as well. Three WCHA powers — Denver, North Dakota and Minnesota-Duluth — are in the running for the 6-foot-1 defenseman, who wants to make a decision within the next week. "It's pretty even (among the three) right now," said Fast last week.
The short list: see above.
The frontrunner: Fast loves Ralph Engelstad Arena (what recruit doesn't?), while two of his current teammates (Mason Raymond and MacGregor Sharp) will be sharing an apartment in Duluth next year. But the smart money is on Denver, which reminds Fast of his hometown of Calgary. It doesn't hurt that Denver head coach George Gwozdecky knows a thing or two about developing college defensemen (see: Matt Carle, Brett Skinner and Ryan Caldwell).
Joe Finley, D, Sioux Falls Stampede (USHL)
At 6-foot-7 and 226 pounds, Finley has the NHL scouts salivating like Biz Markie at an Old Country Buffet. One NHL scout said he'd easily go in the first or second round of this year's Entry Draft … and he's still a junior in high school. It's likely that Finley will remain with Sioux Falls for another year, but he has toyed with the possibility of wrapping up his last few high school credits this summer and joining a Division I program in the fall. Because he hasn't finished his junior year, the contact Finley has had with coaches has been very limited. "I want to make the right decision," he said. "For that to happen, I feel I've got to be out there and I've got to be hands on and meet the coaching staffs and look around. I just want to get that feeling."
The short list: Finley isn't ruling anything out, but he's likely to go to a perennial power in the WCHA or Hockey East. That usually means the usual suspects of Minnesota, Wisconsin, North Dakota, Boston College, Boston University and Maine.
The frontrunner: Finley is from Edina, Minnesota but he is just as interested in Hockey East as he is in the WCHA. Because of his uncertainty for next year, this one is a toss up. For now, I'll go with BU, thinking that Finley will be thoroughly impressed by Agganis Arena.
Phil Kessel, F, USNTDP
Unbelievable skater. Incredible hands, vision, scoring sense, tenacity. Consensus number one pick in the 2006 NHL Draft. Blah, blah, blah. We already know all that. Where are you going, Phil? Please tell us because the rumors on the USCHO.com message board have me about as confused as Kid Rock at a MENSA convention. "Honestly, it's really not something I'm thinking about," Kessel told me as I yanked out a wad of my hair. "I'm really just thinking about the rest of this year because I honestly don't know where I'm going to school right now."
The short list: Those that have followed Kessel's situation know these five by heart: Minnesota, Wisconsin, Boston University, Boston College and Michigan.
The frontrunner: Some say Minnesota and its open style of play. Others claim Kessel loves the new BU arena. And some feel he'll stay in his current home of Ann Arbor with the Wolverines. But we'll keep Wisconsin as the frontrunner for now, judging by the words of Kessel's World Junior teammate and former Badger Ryan Suter, who told the Wisconsin State Journal, "I feel comfortable saying I think he should come (to UW). I think he's going to. I think he wants to be a part of this team and the University of Wisconsin."
Kevin O'Connor, D, Omaha Lancers (USHL)
In his final year of junior hockey, O'Connor has blossomed into a top defender for a top USHL team. O'Connor admits that the recruiting calls have been slow to come, but that hasn't hampered his play this season. He could be that second candy bar that slips out of the vending machine…a very pleasant surprise. He ranks among the top five in the league in scoring among defensemen with five goals among 19 points in 30 games. He also ranks fourth on his club with a +14 rating. His decision "could come within the next month," said O'Connor.
The short list: Western Michigan, Ferris State, Bowling Green, Mercyhurst.
The frontrunner: Western Michigan has shown the most interest in O'Connor, who is scheduled to visit the school in the next week. It would be a good fit for the Trenton, Mich., native who hinted at giving his word shortly after the visit.
Les Reaney, F, Williams Lake (BCJHL)
You'd think that the leading scorer in the British Columbia Junior Hockey League (78 points in 45 games) would have it made at this point. Nothing left for him to do but finish out the year, pack his bags and head off to school. The only problem is Reaney doesn't know what school that will be … and he's getting impatient. "It's been frustrating," he admitted. "I wish it was done already. It'd be a lot of weight off my shoulders."
The schools have called, but nobody has knocked his door down at this point. Ideally, Reaney would like to remain within driving distance of his hometown of Ceylon, Sask. He recently visited Alaska-Fairbanks, and Merrimack has made a bid for him as well.
The short list: North Dakota, Alaska-Fairbanks, Merrimack, Maine, Wisconsin, Michigan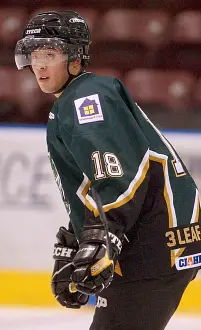 The frontrunner: North Dakota has always been Reaney's dream destination, but the lack of a solid offer and Reaney's frustration could lead him to take the Eastern route. That could end up being Merrimack or Maine.
Brandon Wong, F, Powell River (BCJHL)
Wong's stock has risen this season as a result of his offensive outburst with 61 points on 29 goals and 32 assists through 41 games this season. "This year has helped me out a lot," said Wong. "I'm looking for a place where I can play right away and show my skills, I guess." At 18 years of age, Wong isn't sure whether he'll don a college hockey uniform next year or spend another year at Powell River. Either way, more and more schools are taking notice of the gifted playmaker.
The short list: Several schools are bound to make serious bids for Wong, but Minnesota State and St. Cloud State are putting significant time into landing this big fish from Powell River.
The frontrunner: Wong may be content to wait until summer to make a choice, but he could make an immediate impact at St. Cloud State, a program that loves BCJHL products and could use an offensive boost.
Others to watch:
Brock Trotter: Lincoln Stars (USHL); Ty Raine: Stouffville (OPJHL); Ryan Angelow (OPJHL); Kris Fredheim: Notre Dame (AJHL); Chad Morin: USNTDP; Phillippe Paquet: Salisbury (USHSE); Drew Fisher: Moorhead (USHSW); Jon Ammerman: Moorhead (USHSW); Colin Young: St. Sebastian's (USHSE); Chay Genoway: Shattuck St. Mary's (USHSW)