And down the stretch they come …
What every coach dreams about is playing meaningful hockey in February. In all three conferences the races for playoff positions and seedings are coming down to the last three weeks of the season and crucial match-ups between teams fighting for the same things. "The head-to-head games are really four-point games, commented Johnson & Wales head coach Eric Noack. They're two points you can get and two points you can keep someone else from getting — those are big swings this time of the year when every point is important."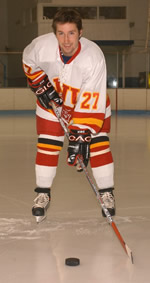 Noack is not alone in looking at some key games over the next couple of weeks. In the ECAC Northeast virtually everyone is still alive for making the playoffs and the battle from fourth to eighth is going to be waged among eight teams that still have a shot. In the NESCAC conference, Trinity leveraged their game in hand to eke out a two-point lead but there is still a tightly contested race throughout for making the top eight with all of the league's teams in the hunt. Lastly, while all of the D-III schools are in the league playoffs for the ECAC East, positions two through five are only separated by a few points and everyone would like to open the playoff chase at home if possible.
So in "coach-speak" here's to playing them one at a time, scoreboard watching and hopes for riding a hot goalie at the most important time of the year. It doesn't get much better than meaningful hockey games in February — and that's before the playoffs even start.
Trinity Takes Charge
After taking three of four points on the ever difficult road trip to Colby and Bowdoin and following up with a hard fought 5-3 victory over travel partner and in-state rival Wesleyan on Tuesday night, the Trinity College Bantams moved to the top of the NESCAC league standings. Leading the way is a trio of players — two you might expect to hear about and one surprise scorer who has really asserted himself this season. Captain Joseph Ori and goalie Doug Kiselius have brought their leadership and experience to the team's efforts at the crucial point of the season and have the Bantams ahead of perennial league leader Middlebury by two points with just six games remaining in the season.
"What can I say about Joe and Doug," commented associate head coach Dave Cataruzolo. Both guys have been immense for us this year. Joe has battled through some nagging injuries and just gives us a solid effort every night. He really has been a great captain and gives a lift to the rest of the team with his hard work. Dougie is always a gamer — he gives this team a chance to win every night." During the Maine trip, Kiselius kept the Bantams in the game against Bowdoin. Despite being badly outshot, Trinity earned a 4-4 tie that showed Kiselius's ability to make big saves at big moments including stopping sniper Adam Dann on a breakaway late in the game. "Both of these guys were a big part of our winning the league in 2003 and as seniors are really focused on getting a chance to win another title in their senior years," said Cataruzolo.
The surprise leader in the trio has been junior Cameron Finch. The forward leads the team and the conference in goals and is averaging better than one and a half points per game. "Cameron has really come into his own this year," said coach John Dunham. "He really is the prototypical power forward. He is solid on his skates; plays real well below the dots and has great hands with a great ability to finish. What makes him a bit unique is ability away from the puck and how he plays in all three zones. We have no problem putting Cameron out there in any situation at any point in the game. He just continues to improve and scores big goals for this team."
Even with the team's solid play of late, no one at Trinity is taking the schedule lightly or its position at the top of the league as a guaranteed spot. "Even with a win against Wesleyan we haven't guaranteed ourselves anything yet," scoffed coach Cataruzolo. "We're up right now but we still have three tough weekends to go — we haven't even clinched a playoff berth yet, that's how tight it is." Weekend match-ups with Skidmore and Castleton State should move the Bantams beyond the threshold for playoff qualification but looming are games with Williams and Middlebury on the road that may go a long way in determining who finishes at the top and earns the number one seed. "There is a lot of hockey left in three weeks," said Cataruzolo. "The way this league has been all season, anything can happen."
Northeast Free-For-All
OK — the top three in the league are pretty solid. Still to be determined is the order among Curry, Wentworth and UMass-Dartmouth with just a handful of games left on the schedule. Drop down a little lower and that's where the craziness starts. At this point in the season not one of the nine remaining teams is out of the hunt for a playoff spot and the battle for the final home-ice slot is hotly contested among four to five teams.
This year's Cinderella team, the Johnson & Wales Wildcats are currently residing in that fourth place slot and would like to keep it. To stay there and earn home-ice for the first round of the playoffs they are going to have to win head-to-head battles with their closest competitors including upcoming games against Plymouth State and Salve Regina.
"This is fun," said an excited Eric Noack, head coach of the Wildcats. "We're so young and the kids are going out and having fun every practice, every game. It's great to be playing games that mean something in the standings every night — the team knows that and so far they have responded pretty well."
Leading the way for J & W is an all freshman line that has been an offensive force for Coach Noack's team that one year ago finished last in the conference. Forwards Ryan Lord, Matt McGilvary and Ryan Jacobs have been very productive in just their first season of college hockey. "They are the first kids on the ice at practice and the last kids off the ice — they just love the game and the only time they complain is when they miss a chance to score," commented Noack. All are among the team leaders in points and aren't playing like freshmen anymore at this point in the season." Another freshman to emerge for J & W has been goalie Charlie Bacon. Bacon has seen action in thirteen games and is now the man between the pipes in the hunt for the playoffs. "Charlie has stepped up for us and now he needs to be consistent in February when every game has importance because there are so few left."
A key match-up this week will feature Johnson & Wales traveling to play Plymouth State in a game that may help determine who ultimately ends up with the four seed. Despite a heart breaking 1-0 loss at Wentworth and 8-0 loss at Curry this past week, Coach Brett Tryder likes what his team has put together and feels they are right in the mix for a home-ice berth in the playoffs. "We have been playing pretty well, Curry game aside, and need to take advantage of these key games we have at home with teams we are competing with directly for higher position in the playoffs. Karl (Helgesson) has been outstanding all season and really gives us a chance to compete with everyone, every night. We've got seven games to play and all of them can give us a leg up over a team we are fighting with for position."
Good Ties, Bad Ties and Working for Wins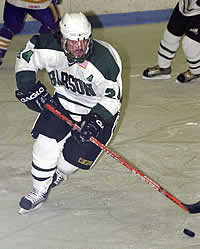 When Babson recently went on the road and came home with ties against D-III powerhouses Norwich (3-3) and Middlebury (1-1), there were things to be pleased with as well as disappointment. "We play to win every night so you're never excited about a tie, commented first-year Head Coach Jamie Rice. That being said, they were two very good games and in each, both teams had chances to win. The positives since coming out of the break are that we are playing much better team defense, getting better penalty killing and our goaltending has been more consistent. Those things will help us as we come down the stretch in February and build towards what we hope will be our best hockey of the season."
Leading the way for the Beavers are three juniors. Forward Johnny Kim leads the team in scoring with fourteen goals and fourteen assists for twenty-eight points. Sam Vatrano, a transfer from Fairfield, has six goals and eighteen assists for twenty-six points and defenseman Tom Sullivan has added seven goals and thirteen assists for twenty points from his spot on the blueline. Even more significant for Sullivan are his two game-winning goals, three power play goals and two shorthanded goals to go along with his team leadership. "Tom has been real special for us," said Rice. "When you look down the bench at a crucial point in the game, you just know that he wants to be out there. You never really know what kind of leadership someone brings to the table until you are around it. We are very fortunate to have Tom and he has been invaluable to this team both off and on the ice. He leads by example and is very well respected by everyone on this team."
Having made their way into the USCHO poll, the Beavers are not resting on any laurels. "I ripped up the poll in front of the kids," joked Rice. "We can't get ahead of ourselves — right now we just need to worry about Conn College, that's all. If we are ranked in March then we will have focused on the important stuff and everything else will take care of itself."
The Beavers are chasing the Norwich Cadets who have been very consistent in the second half of the season and can point to some maturing freshmen and the return of an experienced senior as reasons to be optimistic for a strong finish despite a difficult schedule. "We have been going pretty good," said head coach Mike McShane. "The win over Trinity was probably our best game of the year and over a very good team. We have a very difficult final three weeks and it will tell a lot about where we are. Babson is right there with us so we need to keep playing well against some difficult teams."
Of note, McShane has been pleased with the progress of freshman forwards Raphael Robitaille and James Duhamel. "Both guys have made some strides in their game," said McShane. "We hope they can continue to develop and take advantage of the return of Mario Chinelli who is a big boost. Just playing his first games this past weekend, Mario should be well rested and ready to go down the stretch — his experience will be a big plus." Chinelli returned to action after missing most of the season with a chronic back injury. In two games he has a goal and three assists for four points. With a return to form, Chinelli could help the Cadets to a strong finish and who knows where in March.