The Playoffs Are Here!
The Playoffs Are Here!
The most wonderful time of the year is here! This is the time of the season that all of the teams have been striving for and the time when the pressure really mounts. Lose now and you go home! Battles for league supremacy, division championships and NCAA berths are all on deck as we move into March so let's take a look at each of the conferences and figure out what the league final four groupings could possibly look like after the quarterfinal round this weekend.
ECAC East
The match-ups are set with all eight teams at the D-III level participating. While some might see the first round being somewhat predictable, funny bounces, a hot goalie or a couple of calls either way could change the outcome of a game. Don't think that will happen, but here's a game-by-game capsule of round one.
#8 Castleton State vs. #1 Norwich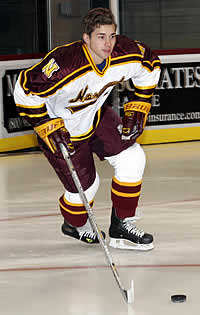 Regular Season Match-up: Norwich won only game 10-0
Playoff Outlook: Castleton State has yet to win a game this season and while the law of averages says they have to win one sometime, it's not going to happen at Northfield with the Cadets staggering off consecutive losses at home against Williams and Middlebury to end the season. Norwich could use a tune-up at home to get younger players acclimated to the playoff intensity that is sure to arrive hosting the final four for the conference next week. "It's nice to be home, that's what you play so hard in the regular season to get," noted Norwich Head Coach Mike McShane. "We need to rebound this week after a tough weekend and play well in our own building."
Player to Watch: Freshman forward Raphael Robitaille has had a successful rookie campaign with ten goals and thirteen assists for twenty-three points, good enough for third on the team scoring list. He's sure to prosper from the experience of captain Kurtis McLean who has been through the playoff wars in each of his four seasons.
#7 UMass-Boston vs. #2 Babson
Regular Season Match-ups: Babson won two games by 5-1 and 7-2 scores including the championship game of the Codfish bowl tournament.
Playoff Outlook: Babson is one of the hottest teams in the country going unbeaten in its last fourteen regular season games. While these two are travel partners and have played more than the usual single game with each other, Babson's depth and experience should carry them through to the next round. Coach Jamie Rice's team is focused on playing their best hockey now and many remember the heartbreak of losing in the final last year at Norwich. Babson won't lose focus on getting back to Northfield this time around.
Player to Watch: Junior goalie Craig Weiner has been nothing less than solid for the Beavers especially in the second half of the season. He's posted an 11-3-1 record with a stingy 2.14 goals against average and .911 save percentage. Those numbers, if duplicated, usually lead to playoff success.
#6 Skidmore vs. #3 Southern Maine
Regular Season Match-up: Southern Maine won 5-2 on last weekend of the regular season
Playoff Outlook: A second trip to Maine on successive weekends would not bode well for any team making the trip and Skidmore is going to have a tough time going back to face USM. southern maine fought New England College down to the last day of the season to take the third seed so don't look for the Huskies to take their home-ice advantage for granted. solid goaltending from either David Beckles or Ryan Sullivan should help USM punch their ticket to Northfield next weekend.
Player to Watch: USM senior forward Erik Kent is the team's leading scorer with nineteen goals and twelve assists for thirty-one points. Kent also has a knack for scoring big goals which are so important come playoff time, as he has four game winning goals, seven power play goals and one short-handed goal included in his total.
#5 Salem State vs. #4 New England College
Regular Season match-up: NEC won 5-2 on the road
Playoff Outlook: Having lost out on the three seed, NEC still plays its first round game at home which does not make it easy for visitor Salem State. NEC has improved their play significantly in the second half of the season and is "playing solidly in all facets of the game at the right time of the year," according to head coach Tom Carroll. Sophomore Scott Gray has solidified goaltending for the Pilgrims and senior leadership from Nick Fouts and Nick Warriner has set the tone with improved play on special teams. salem State can be offensively explosive but don't know if they can win a shootout with the Pilgrims on their home ice.
Player to Watch: NEC freshman forward Mike Carmody has been a pleasant surprise and has emerged as the team's leading scorer with fifteen goals and twenty assist for thirty-five points. Of note, Carmody has been devastatingly efficient on the power play where he has eleven tallies of his fifteen total.
ECAC Northeast
With the final match-up in the quarterfinal round determined by Salve Regina's upset of Johnson & Wales on Wednesday night, the playoffs have some interesting pairings and some dangerous ones if past regular season games matter in the equation. "You always worry about running into a hot goalie, or giving up one or two bad goals as difference makers," commented Curry head coach Rob Davies. "Teams are going to pack it in like a Framingham State and that can limit some of your scoring opportunities when pucks hit a shin guard or don't get to the net. You can't take anything for granted in the playoffs and we'll be ready." There are probably eight coaches echoing those sentiments as the second season begins on Saturday.
#8 Framingham State vs. #1 Curry
Regular Season Match-up: Curry won 3-2 at home
Playoff Outlook: On paper Curry has an obvious advantage in talent and depth. They finished the season riding a 41-game regular season unbeaten streak that they would like to carry throughout the playoffs. Hoping to avoid a dose of "Morgan magic" from senior goalie Paul Morgan of Framingham State who almost stole the early regular season game on Curry's home ice. Too much firepower and the knowledge that only a conference title earns them a return ticket to the NCAA's should propel the Curry Colonels into the semifinals.
Player to Watch: Senior captain Brian Doherty has been immense for the Colonels coming down the stretch totaling 14 goals and thirty-seven assists for fifty-one points. The four-time captain looks to end his college career with a flourish and his senior leadership will be key to Curry's quest for the elusive conference title.
#7 Salve Regina vs. #2 UMass-Dartmouth
Regular Season Match-ups: UMD took two games from Salve Regina by 8-4 and 6-3 scores
Playoff Outlook: UMD has surprised some compiling an impressive 14-1 regular season record to finish just one point behind league leader, Curry. While many expected a Curry/Wentworth duel at the top, UMD has earned the two seed with a key road win at Wentworth which may turn valuable next week in hosting a semifinal game with the Leopards. UMD solid from goal out and has too many offensive weapons for the Seahawks.
Player to Watch: Junior forward Eric Frank leads team and nation in scoring for the Corsairs. His twenty-three goals and thirty-four assists add up to fifty-seven points in just 23 games played this season. While most teams automatically recognize the need to stop him, not many have been able to keep him off the score sheet this season.
#6 Johnson & Wales vs. #3 Wentworth
Regular Season Match-up: J & W took regular season game by 3-2 score
Playoff Outlook: In what has been a surprising season for both of these teams, Wentworth clearly has the most at stake in the playoffs. Having finished in last just a season ago, Eric Noack's young Johnson & Wales team contended right up to the last game for a potential home-ice berth. For three-time defending league champion Wentworth, the playoffs represent the final chance to play consistent solid hockey and defend their crown. Having lost to J & W in the last couple of weeks, Wentworth just got some additional motivation for advancing to the next round. Look for seniors Brad Carpenter and Shawn Metheral to lead the way to the semifinal match-up with UMD.
Player to Watch: Junior defenseman Mike Prsa has had a knack of coming up big for the Leopards in big games. His seven goals and eleven assists lead the defense corps in scoring. All of Prsa's goals have come on the power play this season which may be a valuable weapon if J & W doesn't stay disciplined and out of the penalty box.
#5 Fitchburg State vs. #4 Plymouth State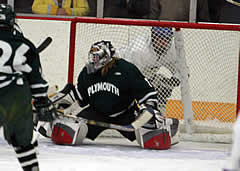 Regular Season Match-ups: Teams split two games this season. FSC won first game 7-4 with PSC taking the league contest by a 5-3 score.
Playoff Outlook: Home-ice was a goal for the Plymouth State Panthers this season and they reached it with solid play in the second half of the season. Both teams are evenly matched and Dean Fuller's Fitchburg State teams always make strong showings in the playoffs. Difference in this one may come down to the hot goaltender and home ice look for PSC to earn the right to visit Curry next week in a hard fought contest.
Player to Watch: Freshman goalie Karl Helgesson has been a huge difference maker for the Panthers having earned the starting job after the first several games of the year. The Swedish native has compiled an 11-6-1 record with a solid 2.46 goals against average and impressive .910 save percentage. He will be the key to the Panthers advancing in the playoffs.
NESCAC
You can throw everything out the window in this conference come playoff time. "I don't remember seeing parity like this before," said Trinity head coach John Dunham. "Each of these teams can win in these match-ups and all have a goaltender who can steal one for you. I don't think we have had too many seasons where one through four [seeds] made it through to the finals and I wouldn't be surprised if that's the case this year." With final playoff positions for 2-6 being determined in just the final weekend of the season, the second season. playoffs, are sure to be exciting based on the match-ups. With the chance of the final four being hosted somewhere other than Middlebury for the first time in the conference's history, look for some interesting quarterfinal games this Saturday.
#8 Tufts vs. #1 Trinity
Regular Season Match-up: Trinity won game on final weekend by 5-2 score.
Playoff Outlook: Tufts may have played possum last week in anticipation of this week's quarterfinal by sitting starting goaltender James Kalec. While the Jumbos have impressed everyone with wins against perennial NESCAC powerhouses this year, Trinity has been the league's most consistent team and has the important playoff experience found in their five seniors. "Having Joseph Ori and Doug Kiselius, in fact all of our seniors, will be big for us in dealing with the ups and downs within a single playoff game," said Dunham. These kids have earned this number one seed and will play very hard against a challenging Tufts team." Look for the Bantams to host the NESCAC final four in Connecticut next weekend.
Player to Watch: Former All-American goalie Doug Kiselius has the experience and talent to keep trinity on the road to playoff success. Posting a 14-2-2 record with a 2.75 goals against average and stellar .915 save percentage, Kiselius has been known to make some very big saves at important times in games. Expect the senior to be at his best when it counts most.
#7 Hamilton vs. # 2 Middlebury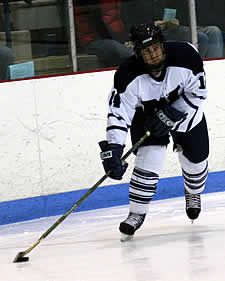 Regular Season match-up: Hamilton won at home by 3-2 score.
Playoff Outlook: Defending NESCAC and national champion Middlebury has re-tooled their team this year and gone through some transition particularly up front. Hamilton has been streaky at times, and as junior forward Gus Katsuras goes, so go the Continentals. Freshman forward Mickey Gilchrist has emerged as a top goal scorer for the Panthers and freshman goalie Ross Cherry has been solid in splitting time with Yen-I Chen. No one really likes the long trip to Clinton, N.Y. to meet Hamilton and this time the Panthers return the favor by winning on their home-ice in an effort to repeat as conference champs.
Player to Watch: Junior forward Gus Katsuras from Hamilton has been nothing less than spectacular this season. He leads his team in scoring and has seven game winning goals among his twenty-two goals this season including the game winner in the win over Middlebury earlier in February. He has the ability to take over a game and will need to cash in his chances if Hamilton is to advance.
#6 Williams vs, #3 Colby
Regular Season Match-up: Colby won January match-up at home 5-2.
Playoff Outlook: Williams comes in very hot having won at Norwich last weekend behind goalie Brad Shirley. Colby took just one of three points in the final weekend to finish third and earn the quarterfinal game with the Ephs. Trip to Maine is always difficult for any team but this game has all of the elements to be a classic. If Shirley can continue his torrid play, don't be surprised if this is a first round upset by seeding position only. Colby won't make many mistakes and will need to capitalize on Williams' playoff inexperience.
Player to Watch: Colby senior forward Nick Bayley is among a core group of seniors who have had very successful careers in their four years in Waterville. He leads the team in scoring and along with Cory Ernst and Patrick Walsh will try to leverage their leadership and experience into the semifinal round.
#5 Amherst vs. #4 Bowdoin
Regular Season Match-up: Amherst won last game of the regular season by 4-2 score.
Playoff Outlook: Another game in the quarterfinal round where both teams have fresh memories based on playing just a week earlier. The Lord Jeffs have surprised some with their steady play including a conference win over #1 seed Trinity during the regular season. For Bowdoin, they have been very consistent and balanced and rely heavily on their 6-4 goalie George Papchristopoulos. Bowdoin always plays very well at home so look for the Polar Bears to advance in a very tight game that will probably be decided by one goal.
Player to Watch: Amherst captain Beau Kretzman is winding up an impressive four-year career and would like to go out with a conference championship. He is tied for the team lead in goals with fifteen and leads in overall points with thirty-nine. Most important has been his influence on the younger players including freshman forward, Kyle Schoppel. Kretzman will have to play big to steal one away at Bowdoin.
Northeast 10
With just six D-II teams competing for the Northeast 10 conference championship, the quarterfinal round pits seeds 3-6 in action while top seeds, St. Anselm and St. Michael's have first round byes and await the winners in next week's semifinals. As all of these teams compete in D-III conferences but are not eligible for conference tournament play, the Northeast 10 tournament is a focal point of the regular season in establishing seeding against their fellow D-II schools.
#6 Stonehill vs. #3 Southern New Hampshire
Regular Season Match-ups: SNHU won first game by 5-2 score with second game on 2/24
Playoff Outlook: SNHU has had a very strong season reaching the fifteen win plateau versus the ECAC Northeast while Stonehill has been going through a re-building year and skating a number of young players without much experience. SNHU is very dangerous offensively and will need to find a goalie to step up and be consistent if they expect to advance very far in this three-game championship series. Expect SNHU to stay focused and earn semifinal match-up with St. Michael's.
Player to Watch: Senior captain, Pat Doherty leads the Penmen in virtually every offensive category and more importantly has been a steadying influence both on and off the ice. With twelve power play goals, Doherty is deadly in man-up situations which could be a key factor in deciding this quarterfinal game.
#5 Franklin Pierce vs. #4 Assumption
Regular Season Match-ups: Assumption is 1-0-1 in two games, winning the first 3-2 and tying the second 2-2.
Playoff Outlook: Both games have been tight between the two teams this season with the Ice Dogs eking out a win in the first game by just one goal. Assumption has been playing their best hockey during the last month and have a chance to finish above the .500 mark for the first time in several seasons. Look for the better offense to emerge here as Assumption boasts talented scorers Jeff Ilvonen and Scott Hersom.
Player to Watch: Junior captain Geno DeAngelis has come all the way back from off-season brain surgery (check USCHO on Monday for a feature story) to lead his team into the playoffs while contributing ten goals on offense. Ice Dogs have rallied around their captain and are focused on finishing the season on a high note.