At the beginning of the season, very few people expected to see either Geneseo or Trinity in the NCAA playoffs. Even fewer, if any, would have selected them to face off against each other in the quarterfinal round. Yet, here they are, and both plan on making the best of it.
"They are on a mission," Geneseo coach Brian Hills said of his team. "They believe in themselves."
"Knowing we got the Pool C bid, we're just happy to be going anywhere," Trinity coach John Dunham said.
Not only are fans of D-III hockey not too familiar with these teams, they don't know much about each other as the only common opponent was an exhibition game against the U.S. Under-18 Team. Trinity tied that game 1-1 while Geneseo lost to the national team, 7-0.
"I don't know much about them," Dunham said. "I know they must be a very good team to win the SUNYAC playoffs and finish second by a point in the regular season. I know they have some speedy forwards and some good defensemen. They have to be good to compete in such a tough conference."
"They're new to us," Hills echoed. "Sounds like they have a real good goalie, good forwards, and they're a real speedy team."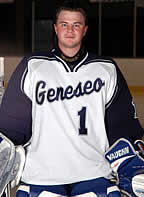 Geneseo comes in on a roll while Trinity came in through the back door. The Ice Knights won the SUNYAC championship, and two aspects of their game stood out the past two weeks — goaltending and the power play. Brett Walker kept his team in every game whenever they were being outplayed and his glove save on a Plattsburgh breakaway late in the second game still has fans talking.
In the four conference playoff games, Geneseo went an astounding 10 for 23 on the power play. Beyond those two aspects, the most impressive attribute of Geneseo is how they never panic when in a bind during a big game. Whether it was their calm demeanor in a key game against Oswego late in the season or their patient comeback against Plattsburgh, they seem to believe they will be okay.
For that reason, Hills is not worried they will suffer the "just glad to be here" syndrome.
"I don't think these guys have that in their heads at all," he said. "They just want to keep winning, just trying to run as far as they go."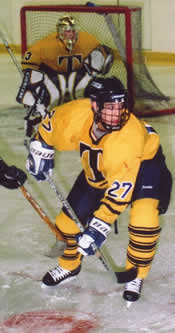 Trinity also has a potent offense with a solid goalie, Doug Kisielius, who plays the majority of his team's minutes. Like Geneseo, the Bantams also have learned to remain calm and deal with a difficult situation. Due to their home rink not being available, Trinity, despite being the higher seed, has to play on the road.
"Obviously, it's a challenge to go into any team's building in a big game with a good crowd behind them," Dunham said. "We've had a number of tournaments on the road with big crowds, so we're used to it. Our players don't seem to be affected at all in practice. We knew all along we couldn't host a playoff game. I don't think it's a factor."
Then there is overcoming the loss in their conference semifinals. "You learn from your experiences," Dunham said. "We played well. It wasn't a bad game against Bowdoin. It just came out the way it did. If anything, we came out with too much energy. We treat every game as a learning experience, whether we win or lose."
Okay, the teams weren't expected to get to this point, and they don't know much about each other, so just how will they approach this game?
"We play everything 20 minutes at a time," Hills said. "We don't worry about the next game or the next week. Just the next 20 minutes. I'm not going to change anything. We got a good thing going. We'll change minor things, but if your players believe in what you are doing, you keep things the same."
"Too late to change anything at this late stage of the season," Dunham said. "Both teams have to play to their strengths. I imagine it will be a fast-paced game, and being the playoffs, everybody will be closing the gaps and finishing their checks."
Neither team has ever won a NCAA playoff game. That of course will change for one of the teams after Saturday night in a game nobody expected to see at this point of the season.