Legend has it that longtime Maine head coach Shawn Walsh pointed to a 16-2 drubbing at the hands of Minnesota as the turning point in the Black Bears program. It was January 4, 1986, and Minnesota had already thumped Maine 8-3 the night before.
It was Walsh's second year at the helm of the Black Bears. His previous season, the team had totaled a disappointing 12 wins, and 1985-86 was even worse with only 11. But something happened in the summer of '86 that changed Maine hockey forever.
In just his third year as head coach, Walsh lead the Black Bears onto the national stage, posting an impressive 24-16-2 record to take Maine to its first-ever NCAA tournament bid. That year, Walsh lost to his mentor, Ron Mason of Michigan State, in the national tourney. But that was the first of 15 NCAA tournament appearances in 19 seasons for Maine — including two national championships and three runner-up finishes.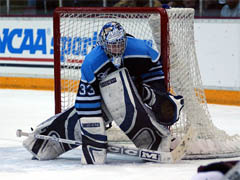 Among those NCAA tournaments, Maine and Minnesota have collided for some classic matchups. In 2001, Walsh won his last game as a coach, 5-4 in overtime, against the Golden Gophers. It was Minnesota's first tournament appearance under second-year coach Don Lucia.
That victory was Walsh's last behind the Maine bench, as the legendary bench boss succumbed to cancer before the following season. That set the stage for an emotion-filled 2001-02 season for the Black Bears, under then-interim coach Tim Whitehead.
The Black Bears' season culminated in the national championship game in St. Paul, Minn., again versus Minnesota. Maine held a lead with a minute left in regulation before giving up the tying goal to Matt Koalska at 19:07 to send it to overtime. The Gophers then won the overtime thriller before their hometown fans on Grant Potulny's goal, in a contest which enjoyed the largest television audience of any game in NCAA hockey history.
The "interim" tag was removed from Whitehead's job title in the following offseason, after which Maine and Minnesota took two years off from meeting head-to-head in the NCAAs. In the interim, the two programs both enjoyed great success.
In 2003, Minnesota became the first team since Boston University in 1971-72 to repeat as national champion. A year later, Maine came within an eyelash of its third NCAA title, losing 1-0 in the national championship to Denver.
Fast-forward to 2005, and it was fitting that the Gophers and Black Bears found themselves in overtime for the third time in five years in the NCAA tournament — once again, on Minnesota's home ice.
"It was my third time with Maine since I have been at the University of Minnesota, and all three have gone to overtime," said Lucia.
The result, a 1-0 Minnesota win, was just Lucia's second as a coach over the Black Bears.
"It was a great hockey game — obviously a tough one for us," acknowledged Whitehead on the end of Maine's season.
It was the Black Bears' second 1-0 exit from the NCAA tournament in as many years. In both nailbiters, Jimmy Howard was the goaltender of record, losing despite outstanding performances.
"We owe it all to this guy [Howard]. What he did was phenomenal," added Black Bear senior captain John Ronan.
Ronan a freshman when Minnesota beat Maine in overtime in 2002, acknowledged the similarities. "This is comparable [as a feeling]," he said. "I am a senior now. You always want to win your last game."
"I thought it was a terrific college hockey game," said Lucia, "two heavyweight programs going at it."
And odds are, if these two U-of-Ms meet in next year's NCAA tournament it will be another classic.