The 2005 winner of the Patty Kazmaier Memorial Award, given to the year's most outstanding women's college ice hockey player by the USA Hockey Foundation, is junior forward Krissy Wendell from the University of Minnesota.
Wendell, who beat out linemate Natalie Darwitz and rival forward Caroline Ouellette from Minnesota-Duluth in the award's final tally, finished second nationally in points and goals scored and led the nation in shorthanded goals. A 2002 U.S. Olympian renowned for her skating ability, Wendell netted the game-winners in both Gopher wins over top rival Minnesota-Duluth and the WCHA championship game against Wisconsin, as well as a hat trick against ECACHL champion Harvard. She has scored 105 goals and 130 assists in 100 games played over her three-year college career.
A two-time All-American selection, Wendell was also named the WCHA's Player of the Year for the second consecutive year. She is the first Minnesota player and WCHA player to win the honor.
In her acceptance speech, Wendell singled out the two other finalists for the award.
"Caroline Ouellette, I've played against you many times, and our teams have developed quite a rivalry," Wendell said. "But I have so much respect for you and your ability.
"Natalie has been my teammate, my linemate, and my friend for more than five years now," she continued. "She makes me a better player on the ice, and I enjoy coming to the rink to play with you. If I could share this award with you, I would."
Wendell also thanked her teammates, coaches, friends and family.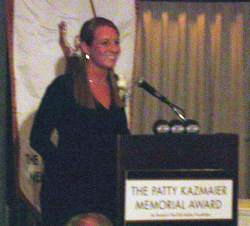 Last season, Wendell and her teammates captured the NCAA Championship in women's ice hockey, and her team rematches Harvard in the NCAA final on Sunday. This season, Minnesota has earned the No. 1 position in every single USCHO.com Division I Women's Hockey Poll released.
The award was presented in front of a sellout crowd of 300 people. Olympic gold medal-winning swimmer Donna de Verona was the guest speaker for the event, emcee'd by broadcaster Mike Emrick.
The Kazmaier nomination process begins as each coach of a Division I hockey team nominates up to two players from their squad, and a nationwide vote of coaches narrows the list to 10. Then a selection committee of 13, including coaches, media members, and a representative from USA Hockey, chooses three finalists and the eventual winner in early March. The nominating and voting process was overseen by accounting firm PricewaterhouseCoopers LLP.
The Kazmaier Award is named after Patty Kazmaier, a defenseman that played at Princeton in the early 1980s. Besides being a four-year letter winner in hockey, she played field hockey and lacrosse. She passed away in 1990 following an extended battle with a rare blood disease, and she and her family have been pioneers in women's athletics for years. The award in her honor has been presented annually since 1998.
Winners for the award are chosen for on-ice ability, as well as personal character, sportsmanship, competitiveness, individual and team skills, performance in the clutch and a love of hockey.