If it's your first day at a new job, you don't want the boss walking into your office while you're playing video games.
If it's your first night out with a dream date, you don't want a sudden attack of gastric distress.
And if you're Boston College in the NCAA tournament, you don't want to dig yourself a hole by giving up a goal in the first minute of play.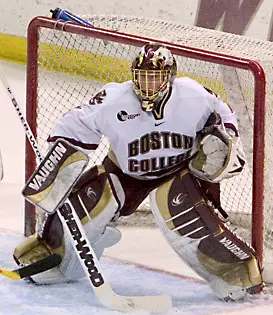 In the East Regional opening round, the Eagles did exactly that against Mercyhurst. A goal just 31 seconds into the game gave the Lakers hope that as the tournament's bottom seed they could topple the number one. Boston College dodged that bullet, but only barely, 5-4.
Facing North Dakota one night later, the Eagles compounded the error. Not only did they surrender a Travis Zajac goal at the 42-second mark, they allowed Fighting Sioux tallies at 4:59 and 10:10.
Digging a one-goal hole for yourself is bad enough against a number-16 seed; spotting the Sioux — 7-1-2 in their last 10 games — three goals borders on playoff suicide.
The fatal flaw, however, in what would become a 6-3 loss wasn't that the Eagles fell behind early. Despite a 26-6-7 record, they had allowed their opponents to get on the scoreboard first 15 times this season, but had rebounded in those games to post an 8-2-5 record.
The fatal flaw was in the failure to stop the bleeding in the defensive end. While an 0-for-9 power play certainly didn't help, the stunner was how poorly the defense played for the second straight night. In two games — the two most important ones of the season — BC gave up more two-on-ones and breakaways than in the last two months total.
"It was uncharacteristic for us," BC captain Ryan Shannon said. "Both teams really hit seams well. They went through the neutral zone and cut across the ice and it confused our D a little bit. They did a good job of getting behind our D and creating odd-man rushes."
Shannon paused, mindful of the end of his collegiate career, before adding, "I wish we could have stopped it."
But they couldn't. One win away from the Frozen Four, North Dakota kept the goals coming and coming off breakdown after BC breakdown. The Sioux' second tally came off poor coverage in front on a faceoff goal. The third was on a breakaway.
The game appeared up to be back for grabs after a Shannon home-run pass off the boards to David Spina set up a breakaway shorthanded goal to make it 4-2 in the third period. But just when it seemed safe to assume that BC's defense was back on track, yet another breakaway resulted in a 5-2 North Dakota lead and the final nail had been pounded into the coffin.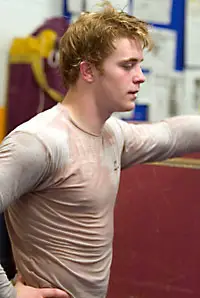 What happened to the nation's second-best team defense? Only once all year, a 4-1 loss, had BC allowed more than three goals. How does a team go from a 38-for-39 mark of holding teams to three or fewer goals — including four games against New Hampshire, the nation's second-best offense — to 0-for-2 in the NCAAs?
"When you play teams in your conference — I've played them for four years — you know all their tendencies," All-American defenseman Andrew Alberts said. "You get to know the players and what they're doing, and you can read the situations.
"Then you come into the regionals and it's like you're playing blind. Other teams catch you off guard and that makes it real tough. But that's the challenge of playing teams from out West.
"Mercyhurst had a great game plan, too. They hit the seams, too. We didn't really recognize it with Mercyhurst and they had a number of odd-man breaks. North Dakota did the same thing. Give them credit."
Of course, had Boston College played poorly and advanced to the Frozen Four anyway, there would have been jubilation on Chestnut Hill with the expectation that what was broken could be fixed.
Instead, the season ended for the Eagles with the collegiate careers over for 10 seniors. It was a baffling, madding way to go out. But then again, there is no satisfying way for a top seed to end its season short of a national championship.