If the decision backfired, the negative headline was already written: It Wasn't Broke.
All season long, Denver coach George Gwozdecky had employed as pure of a goaltending rotation as possible. Sophomore Glenn Fisher would take the opening game of a weekend and freshman Peter Mannino would follow the next night. Heading into the Frozen Four, their times between the pipes were as identical as possible considering that the Pioneers had played an odd number of games. Fisher had started 21, Mannino the other 20. Fisher had accumulated 1247 minutes to Mannino's 1225.
"[We've] become real good friends," Mannino said. "We clicked right away. We've known that we're splitting games and that's the way it's going to be and we've just enjoyed it. It's been a great season together. Technique-wise, we've helped each other out.
"It's competitive, but definitely in a good way. We're pushing each other, helping each other out, and we're winning for each other every other game."
With Denver entering the Frozen Four as the top remaining seed, Gwozdecky had more than the usual reasons to say, "If it ain't broke, don't fix it."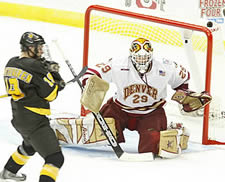 In 2002, a year in which the Pioneers also won the WCHA regular season and tournament titles, he had employed a similar rotation with Wade Dubielewicz and Adam Berkhoel throughout the regular season only to abandon it in the playoffs. In hindsight, the decision not to "dance with the one you brought" was one that Gwozdecky came to question after the Pioneers lost their NCAA tournament opener to Michigan, 5-3, despite being the top Western seed.
Dubielewicz had statistically outperformed Berkhoel in terms of save percentage, .943 to .917, and goals against average, 1.72 to 2.34. So the decision had made apparent sense. But it hadn't been broken, so why had Gwozdecky tried to fix it?
Similarly, this year Mannino held comparable advantages, .922 to .889 and 2.25 to 2.84. Those numbers, however, were subject to the chicken-or-the-egg question. Are a goalie's statistics better because of his play or because of his teammates in front of him?
"Our skaters seem to have performed better on the second night of a series and that's been fairly consistent throughout the season," Gwozdecky said. "Wade Dubielewicz and Adam Berkhoel were in a similar situation where the team would play mediocre on the first night of the series and play much better and much more motivated the second night of the series. Wade Dubielewicz was given the chore of handling the duties that first night where Adam could watch the game and kind of get a feeling for his opponent and be ready the second night.
"That's similar to our rotation this year. I think Glenn has had more of a challenging situation to go into. With all due respect to Peter and how well he has played, there's no question that the majority of the games when we have played very effectively have been played the second night of a series."
As a result, Gwozdecky stuck with the rotation through the Northeast Regional and both goaltenders recorded wins to put the Pioneers back in the Frozen Four with the chance to repeat as national champions. The semifinal game, which pitted them against archrival Colorado College, would be Fisher's start based on the usual rotation.
Dance with the one that brought you?
For any other opponent, the answer would likely have been "yes." For the Tigers, the answer became "no." Fisher had lost both of his games against Colorado College, allowing a total of six goals. Mannino, in eye-catching contrast, had won all three starts, including two shutouts in March, the latter coming in the WCHA championship game. As a result, Gwozdecky took the chance of being second-guessed about repeating the 2002 Dubielewicz "mistake" and selected Mannino.
The freshman disappointed only those looking to draw parallels to 2002. Most headlines would point out the Denver power play's abuse of the CC penalty kill, scoring six times and in every way possible. The remaining headlines, however, would go to Mannino and his 41 saves.
Not until the Pioneers held a 3-0 lead did Colorado College get one past him. A deflection off a skate on which Mannino had no chance, it came at 9:49 of the second period, stopping his scoreless streak against the Tigers at 153 minutes and 52 seconds. The only other blemish came with less than seven minutes remaining and Denver holding a 5-1 lead.
"I thought Peter Mannino was terrific," Gwozdecky said. "[Colorado College] put a lot of pressure on us. They generated a lot of scoring chances [but] Mr. Mannino was there to save us countless times. There was a save I still can't believe he made in the second period where we were up by two and I thought for sure the puck was in the net. I was thinking, 'How in the heck did he save that?' but obviously he did."
When Gabe Gauthier was asked at what point in the contest the Pioneers knew that Mannino "had their back," the star forward turned the question around.
"Going into the game, I knew Peter had our back," he said. "Just the preparation he has and the mentality he has before the game, it's tremendous. Playing in front of him, it's a special thing because he has so much poise and confidence that it gives us a chance to do what we know how to do best.
"You know, he doesn't play like a freshman; he plays like a junior or senior. To have him behind us gives us tremendous confidence in the defensive zone and in the offensive zone. I knew that he was ready to play before this game."
With Mannino's performance, there would be no second-guessing. Gwozdecky's comments earlier in the playoffs espousing "dancing with the one that brought you" couldn't be thrown in his face after he reversed course two games removed from a national championship.
"I don't want to say [it was] a gamble," he said, "but when you've got two inexperienced goaltenders like we have, and all of a sudden you're changing — even though the odds say and the experts say you should do this — you're taking a risk. You're taking a chance because you're putting them out of their comfort zone, their rhythm that they're used to being in, that rotation that they're very supportive of and have come to believe in and rely on."
All of which begs the question of which goalie will play in the title game on Saturday. Gwozdecky isn't showing any of the cards in his hand. The rotation could be back, albeit in flip-flopped fashion, with Fisher getting the nod or Mannino could see his first back-to-back action of the year. Either way, it'll be a step forward for the freshman from a year ago.
"I was watching Denver last year win it," Mannino said. "It was exciting just watching them, knowing that I was going to be part of that team that won a National Championship last year.
"To be part of it this year, it's been a real exciting ride and I'm just happy to be where I am now."