During the regionals, ESPN analyst Barry Melrose likened Denver's power play to taking a pretty girl on a date. It looks good, he said, but in the end, you still didn't score.
After Thursday's NCAA semifinal, you can call Denver's power play Don Juan. The six power-play goals it scored was an all-time single-game NCAA tournament record, and propelled the Pioneers to their second straight championship game.
After going 1-for-13 in the regional, Denver's power-play was 3 for its last 48 coming into the Frozen Four. But the Pioneers never panicked.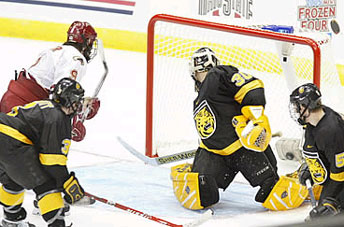 "The last month or so, our power play has been getting good looks," said Denver defenseman Brett Skinner. "Maybe not scoring but creating momentum for our team. So I never really think it was that big a concern for our team. I know you guys made kind of a big deal out of it — Barry Melrose, he gave us a little motivation, I think, tonight. … Our power play came to play tonight, maybe we took Barry's advice and took the puck to the net a couple times."
It was especially important for Denver to control the special teams, because 5-on-5, the Tigers had the better of the play.
"Coming into this weekend, we know that especially playing a team like Colorado College, it's going to be tough getting chances 5-on-5," said Denver junior Gabe Gauthier, who scored twice. "So taking advantage on the power-play opportunities is huge, and every guy on both units knew they had to do something to get a chance."
Of course, all squads work on special teams during practice, and this week has been no exception for Denver. But there's no doubt the Pioneers put some extra attention on it.
"Just different set plays and looking for different options," said defenseman Matt Carle of the tweaks. "And it just clicked and good things happened."
Some of it, of course, was just getting bounces.
"The goal Fulghum scored, I shot it, it went off four guys, and hit Fulgham's butt and went it," said Skinner. "So maybe that's what we needed."
Said Carle, "It was just a matter of us being due. We just weren't burying our chances. Finally, things started going in for us. I think we really moved the puck well today, and had them running around a bit and things opened up."
Colorado College's perspective, of course, was a bit different.
"Those older defensemen or some of those skilled defensemen handled the puck so well and they moved it so crisply," said CC coach Scott Owens. "I don't think they've been phenomenal in their power play the last few games, but they were certainly good today and some of it was our fault.
"We didn't rotate very quickly or very cleanly, but they were very sure — it's a great shooting team and they picked the corners and they got pucks through and they changed the shooting angles, and they were outstanding at it. And we've practiced it, and our penalty killing's gotten pretty good up until this game and it just fell in tonight and that's a credit to Denver."
Though not making excuses, Owens also pointed out the difference in the way the game is called outside the WCHA this season, which was something the Tigers had trouble adjusting to a few times this season.
"I think some things were called differently than we're used to, a little bit tighter," Owens said. "[But] I felt we were dumb on a lot of penalties. We made poor decisions when we had people in a position, and I thought we got a little frustrated and we haven't been in this position a lot. I thought we got frustrated with everything and lost our composure a little bit, and I very rarely say that about our team."
One of those frustrated players was Brett Sterling. The Hobey finalist was contained the whole night.
"We just didn't play smart. We played well 5-on-5," Sterling said. "I think we had their number 5-on-5. We just took some stupid penalties at times but that's what happens in these kinds of games."
And, of course, the best penalty killer is usually your goaltender. On that score, Curtis McElhinney, who was named All-American earlier in the day, did not play particularly well, concluding a subpar NCAA tournament.
"He fought through it against Colgate, he fought through it against Michigan, and he didn't fight through it as well today," Owens said. "So he's had a phenomenal career here, and I'm sure he'll have good days ahead of him, but I was going to stay with him no matter what. He's my senior and he got us here and I'm very proud of his career and his year and he got hung out to dry a little bit."
Despite the resurgence, Denver doesn't expect six power-play goals in the championship game.
"We definitely have some changes to make after today, and I think we'll be a different team Saturday," Skinner said.