There's no way to know for sure how Phil Kessel and the rest of the Minnesota freshman class will fare this season, but if they even come close to matching their potential, the Golden Gophers have a great thing going.
And that's not even mentioning the rest of the scoring punch, a well-stocked defense and a veteran goaltender — all of which have Minnesota at the top of the heap when it comes to preseason WCHA predictions.
Yes, such an honor often is a ticket to a mid-range spot in the league standings, but given everything that appears to be in Minnesota's favor this season, it's hard not to put coach Don Lucia's team at or near the top of the predictions.
The Gophers, who had the fifth-best offense in the country last season, return their top five scorers and 81 percent of their goal-scoring, and add four freshman forwards who accounted for 117 goals in the USHL or with the U.S. Under-18 team last year.
That makes the question this season not about how the key components will do but how well the new generation of players will blend with the veterans.
"That's a big thing, to try to figure out who's going to be playing with who because we have, we feel, some high-impact freshmen coming into our lineup," Lucia said. "We have to figure out who's going to be playing with who, and it'll be fun to figure that out."
Between high-scoring forwards like Tyler Hirsch, Ryan Potulny and Danny Irmen and rookies with high-scoring potential like Kessel and Blake Wheeler, there should be no shortage of individuals able to finish plays. But if there's something to be scrutinized, it's whether the offense will have enough players willing to get dirty to make plays.
Some will say that's something to keep an eye on; others will say it's rubbish. Lucia points to the size his team adds with the freshmen — Wheeler is listed at 219 pounds and Ryan Stoa at 213 — and that Kessel and Justin Bostrom both play strong despite smaller frames to show his team has the size to make things happen.
"We're certainly bigger than what we were a year ago," Lucia said. "Last year, we were too small up front."
Kessel will get the attention as last season's top recruit and a possible No. 1 pick in next year's NHL entry draft. The 6-foot, 190-pound center led the Under-18 team with 52 goals and 98 points last season in cementing his status as one of America's top young players.
The consensus is that the jump to the college game won't faze Kessel, who has appeared to be playing at or above that level for a while. He has always received his share of attention, too.
"I don't think that's anything new for him," Lucia said. "In some ways, it's good for Blake Wheeler. I think a lot of people have forgotten about Blake. He's kind of underneath the radar, which is probably good for him. He looks great and he works hard. I really like the skill level of our four freshman forwards."
There are also five players returning who scored at least 10 goals last season, making for an interesting battle for spots on the top lines. Irmen and Potulny, in particular, might have something to prove after limping toward the finish line last season scoring-wise. Neither scored a goal in the NCAA tournament, and they combined for only 12 points in the last 10 games.
"Really, our team last year became if Potulny and Irmen didn't score, we had trouble scoring," Lucia said. "When the burden falls on just a couple of guys, I think it becomes easier as the year goes on for other teams to focus on those guys and try to keep them off the scoresheet."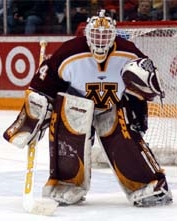 The Gophers defense lost only captain Judd Stevens from last season's team and figures to be better if it can stay healthy. Derek Peltier, Alex Goligoski and Nate Hagemo all missed time with injuries last year, throwing a wrench into the group's consistency, especially in the second half.
Senior Peter Kennedy still is feeling the effects of offseason surgery for a hip injury, Lucia said, and may be slow to come along early in the season.
Lucia said the goaltending situation will be better because freshman Jeff Frazee is expected to provide a realistic challenge to junior Kellen Briggs' starting spot.
"I do think I made a mistake last year and overplayed Kellen early, and I think that might have affected him the second half of the season," Lucia said. "So as the year begins we'll probably start rotating our goalies and see how that goes. If they both play well they'll both continue to play, and if somebody surfaces that they're clearly outplaying the other, then that person will get more of the games."
That's something new for Lucia and the coaching staff — which again includes assistant coach John Hill, who moved back from the Alaska-Anchorage head coaching spot — to deal with. But one thing they won't have to overcome is a player leaving early for the pros.
A year after losing forward Thomas Vanek and defensemen Keith Ballard and Jake Taylor, the Gophers got through the NHL's return from a lockout unscathed.
"Hopefully we can take advantage of that this year because I think that's the hardest thing in our profession today, you just don't know how long you're going to have kids from year to year," Lucia said. "It's getting more and more difficult to keep kids their junior and senior year."
Sounds like a good reason for the Gophers to make things happen this year.